X-Men actress Fan Bingbing has been photographed in public for the first time since her disappearance in the summer amid speculation she was being investigated for tax evasion.
It comes as the director of the star's latest film Air Strike announced the release has been cancelled in the wake of the controversy.
Fan, who has been a household name in China for years, was ordered to pay almost £100m in taxes and fines earlier this month.
Tax authorities issued the 884 million yuan fine but reportedly said they would spare the 37-year-old – one of the highest-paid stars in her country – from criminal prosecution.
She has now been pictured outside Beijing airport, marking the first time she has been seen in public in more than three months.
Posting on social media website Weibo for the first time since June, the actress – who appeared in X-Men: Days Of Future Past and the Chinese version of Iron Man 3 – wrote: "I am unworthy of the trust of the society and let down the fans who love me."
She said she accepted the tax authorities' decision and would "try my best to overcome all difficulties and raise funds to pay back taxes and fines".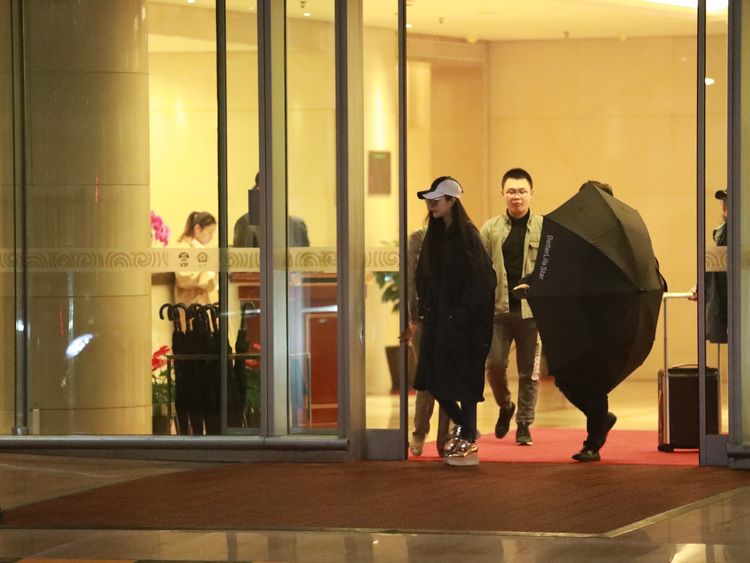 State media said Fan evaded taxes by using two separate contracts for her work on Air Strike, which also stars Bruce Willis.
Director Xiao Feng has now said the film's release has been cancelled.
Also posting on Weibo, he said it was "time to let go" after eight years of work on the Second World War film.
More from China
Her disappearance coincided with a crackdown by Chinese authorities on high salaries for actors which can make up a huge amount of the cost of a film's production.
In June, regulators capped star pay at 40% of a TV show's production budget and 70% of the total paid to all the actors in a film.
[contf] [contfnew]
[contfnewc] [contfnewc]