"It's really disgusting," Superintendent Eddie Johnson said.He was angry — and much of the city felt the same way about John Rivera. Wait, who? In the sensational aftermath of the Jussie Smollett hate crime investigation, you could be forgiven for asking the question.While Smollett's name had dominated the headlines for weeks, Johnson's disgust had nothing to do with that case. He was speaking for a department deeply wounded by the violent death of one of its own. And police believe that, unlike Smollett, 23-year-old Officer Rivera really was the victim of a crime born out of hate.Smollett has continued to insist that he told the truth about being the victim of a racist and homophobic attack, even after he was accused of filing false reports and charged with 16 felony counts of disorderly conduct.All the noise surrounding the actor's case had drowned out the grieving and anger over the manner of Rivera's death."My son Daniel… worked with Officer Rivera in the 6th District," Johnson said. "Those officers … they're suffering right now. They lost a friend, and Chicago lost a young guardian who wanted nothing else than to dedicate his life to making the city that he grew up in safer."
Gunned down while off duty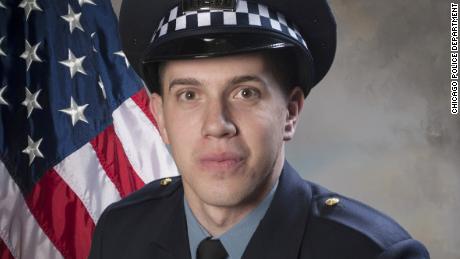 Investigators say Rivera was off duty, sitting in his personal car with friends and colleagues, when he was shot to death in Chicago's trendy River North area on March 23. His suspected killers, police say, are two black men, one of whom had just been in a fight with a group of Hispanic men. When the suspects returned with a gun, they couldn't find the men they had been fighting with, so they shot Rivera instead — the first Hispanic person they could find, police say. The suspects, 32-year-old Jovan Battle and 24-year-old Menelik Jackson, are being held without bond.At a press conference following the arrests, Johnson said the department is pursuing hate crime charges, which are still pending. It's unclear if the two men have attorneys.The next day, with emotions still raw, Johnson got the news that the Smollett case was imploding. While Rivera's death had pierced the department's heart, the abrupt dismissal of the Smollett case was about to attack its pride.
Battling a murder 'epidemic'
Johnson had begun the day at a police graduation ceremony — one day after announcing the arrests in Rivera's killing.Rivera had himself graduated two years earlier, arriving on the force at a critical time. National scrutiny of Chicago's gun violence had reached a peak. The city's 762 homicides in 2016 rivaled numbers not seen in nearly two decades.President Donald Trump, meanwhile, was generating headlines with tweets calling for "Federal help" to address an issue of "epidemic proportions."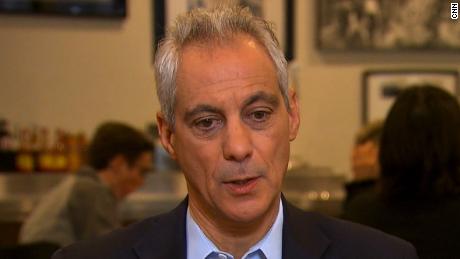 Putting more police on the streets was a top priority for Johnson and Mayor Rahm Emanuel, who promised 1,000 additional officers on patrol. Rivera was assigned to Auburn Gresham, which not only is where Johnson's son, Daniel, currently works, it's also the same South Side neighborhood where Johnson cut his teeth as a patrol officer for 10 years. He later returned there as a district commander.A lifelong Chicagoan, Johnson grew up in the former Cabrini Green housing project until he was 9, then moved to Washington Heights, a neighborhood on the South Side. For 27 years on the force, Johnson said he never once applied for a job."I kind of went where I was told to go and did it to the best of my abilities," Johnson said in 2016 — when he was being tapped to lead the entire Chicago Police Department.
Chicago police in crisis
His ascension to superintendent came as the department was in a tailspin. The police shooting of Laquan McDonald had sparked deep mistrust in the community, especially when the officer who fired 16 shots, killing 17-year-old Laquan, wasn't charged.The city settled with Laquan's family, but refused to release dashcam video of the shooting. A judge compelled the release of the tape, and the sight of a fleeing black teen shot in the back by a white officer inflamed residents already weary of police misconduct.
The officer, Jason Van Dyke, was later convicted of second-degree murder. He was sentenced to six years and nine months in prison.The McDonald case was a flashpoint for many marginalized communities, especially African-Americans who felt they were being ignored — left out of city investment that had energized the affluent downtown and North Side. Protests stretched from the South Side to the Loop and Michigan Avenue — Black Friday shopping was brought to a halt on the famed Magnificent Mile. Emanuel believed it was time for change.He fired Superintendent Garry McCarthy and eventually replaced him with Johnson. The ills of the department, and perhaps the city, were Johnson's to fix.
Smollett case raised fresh questions for city
Three years later, at the start of 2019, Johnson had progress to which he could point. Chicago's homicide rate had plunged 26% in two years — 201 fewer murders in 2018 than just two years before. The work was far from over, but on Johnson's watch the tide of negative headlines had come to an end. "Chicago murder rate drops for second year in a row" read a CNN.com headline. A few months earlier, there was an even more dramatic take in the Chicago Sun-Times: "FBI: Drop in murders in Chicago accounts for more than half of national decline."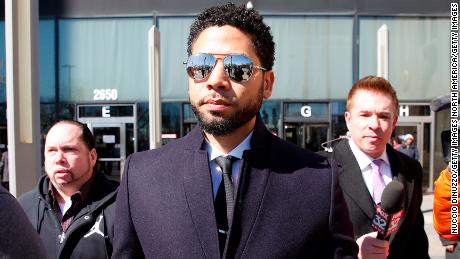 At least in the public eye, Chicago was turning a corner.Then came Jussie Smollett. And the headlines were about to change.Suddenly, the city — long viewed as a haven of liberalism — was thrust into a corner it had rarely seen. Smollett, who is a black, gay man, alleged he was beaten and doused with bleach by two masked men who put a noose around his neck and shouted, "this is MAGA country," an apparent reference to President Trump's campaign slogan "Make America Great Again."The allegations had Chicago questioning itself. A column in the Chicago Tribune was headlined "The attack on Jussie Smollett has surprised Chicagoans. But it shouldn't."
Actor took advantage 'to further his career'
When detectives concluded the allegations were a hoax, Johnson didn't just announce the finding, he proclaimed it to the world — and reshaped the growing dialogue around Smollett's actions.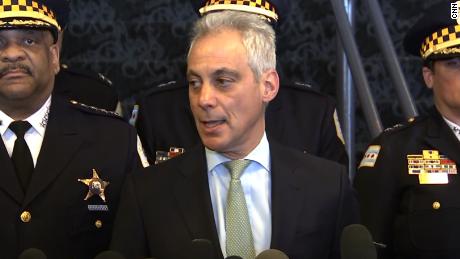 "The accusation within this phony attack received national attention for weeks," Johnson said defiantly. "Celebrities, news commentators and even presidential candidates weighed in on something that was choreographed by an actor… Jussie Smollett took advantage of the pain and anger of racism to promote his career."That press conference marked a transformative moment in Johnson's tenure. His emotions were now pinned to his uniform alongside his badge. Some considered his unapologetic slam of Smollett to be out of line, even damaging. "The presumption of innocence, a bedrock in the search for justice, was trampled upon at the expense of MrRead More – Source
[contf] [contfnew]
[contfnewc] [contfnewc]