The US first lady has been criticised for choosing to wear a pith hat while on safari in Kenya, after its connections to colonialism.
Melania Trump is in Africa for her first extended solo trip as first lady, and visited Nairobi National Park to see its conservation work.
She laughed as she lost her footing when one baby elephant appeared to storm toward her, and later fed formula to two of the elephants which have been raised in the park.
But it was her attire which drew concern on Twitter, as she donned a white pith hat, with her riding trousers and boots.
Pith helmets were originally worn by European explorers to cope with warmer climates, and soon became a key part of commanding officers' uniforms, as they led local troops.
It spread to civilians and became a symbol of oppression and colonial rule.
Pauleen Mwalo, from Nairobi, tweeted: "That Pith helmet you have carried was used by colonialists during the dark days. Doesn't sit well with us Africans. Who advised you?"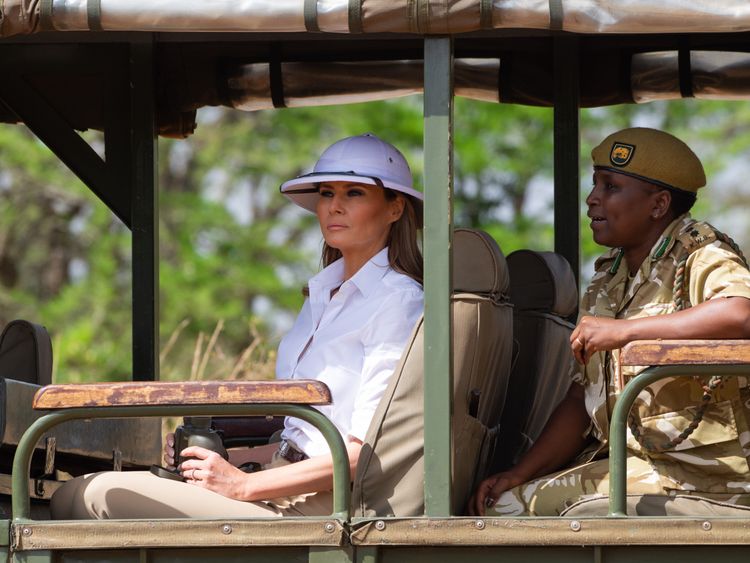 Kim Yi Dionne, an African politics expert at UC Riverside, tweeted: "Melania Trump wearing a pith helmet on her trip to "Africa" is more than a silly sartorial choice. It's a reflection of her outdated understanding of Africa."
Many drew comparisons with Meryl Streep's character in Out Of Africa, while some said she was completing the look of "colonialiser".
Mrs Trump's visit to Kenya was the third stop on her Africa tour, which began on Tuesday in Ghana.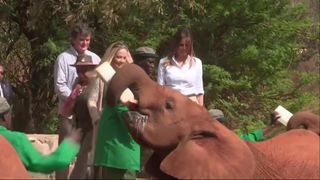 She was shown a pile of ashes, after the park burnt 105 tonnes of ivory to dissuade people from the trade.
As well as the national park, she visited an orphanage and watched a children's performance at the city's national theatre.
More from Kenya
She will visit Egypt as her last stop.
Her trip has included promoting the work of the US Agency for International Development, a department which has seen its funding cut twice by Donald Trump.
[contf] [contfnew]
[contfnewc] [contfnewc]