Celebrities took to social media to mourn Supreme Court Justice Ruth Bader Ginsburg, who died at age..
130 cameras in 10 countries Jimmy Kimmel will host the show from the Staples Center in Los Angeles b..
Souza served as a photographer in the Reagan White House before he was approached about chronicling ..
Seventy-five awards (some juried categories have multiple winners) have been awarded so far to 26 di..
Created by newcomer Evan Romansky, the eight-episode Netflix drama (and no, this isn't designed..
The actress who died in July at the age of 57 after a private battle with breast cancer costarred wi..
Kim Kardashian West and dozens of other celebrities have announced they will freeze their social med..
Keith Urban is hosting the event. Among the scheduled performers are Taylor Swift, Carrie Underwood,..
Jim Carrey will play the Democratic nominee and former vice president on this season of "SNL," NBC a..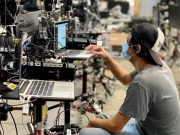 The first major entertainment industry awards since the pandemic struck will be broadcast on ABC and..