The White House has called claims in a book that Donald Trump did not want to win the US presidency "laughable" – as Mr Trump's lawyers try to block publication.
The President's legal team has sent a "cease and desist" letter to author Michael Wolff and his publisher, threatening libel action.
But the book's publishers Henry Holt & Co have announced they are bringing publication forward from next week to tomorrow "due to unprecedented demand".
The upcoming book, Fire And Fury: Inside The Trump White House, caused a storm of interest when excerpts were released.
White House press secretary Sarah Huckabee Sanders has told reporters that Mr Trump and his family "would not have put themselves through" the campaign if they did not believe they could win, or want to win.
Calling the claims in the book "ridiculous", she added: "Donald Trump is a winner."
The tell-all book about the President includes revelations that his former chief strategist Steve Bannon questioned his fitness for office.
And in the book, Mr Bannon is quoted as saying a meeting between Mr Trump's son, Don Jr, and a group of Russians was "unpatriotic" and "treasonous".
The President had already hit back, claiming his former close confidant had "lost his mind" after losing his White House role last year, and Mr Trump has since noted Mr Bannon spoke positively about him on his Breitbart radio show.
:: Comb-overs and cheeseburgers: Top Trump revelations from explosive new book
Mr Trump told reporters: "He called me a great man last night."
The President claimed his counter-attack had its desired outcome, saying: "He obviously changed his tune pretty quick… I don't talk to him."
In a crackdown on leaks, the Trump administration also announced on Thursday that staff and guests at the White House will not be able to use their personal mobile phones from next week.
In the letter to Mr Wolff, Charles Harder, a famous US defamation and media lawyer, said Mr Bannon's contributions "give rise to numerous legal claims including defamation by libel and slander, and breach of his written confidentiality and non-disparagement agreement with our clients".
He added: "Legal action is imminent."
The letter demanded the publisher, Henry Holt & Co, "immediately cease and desist from any further publication, release or dissemination of the book" or excerpts and summaries of its contents.
Mr Trump's lawyers have also asked for a full copy of the book as part of their investigation.
:: US troops 'ready for combat' against North Korea, says top American general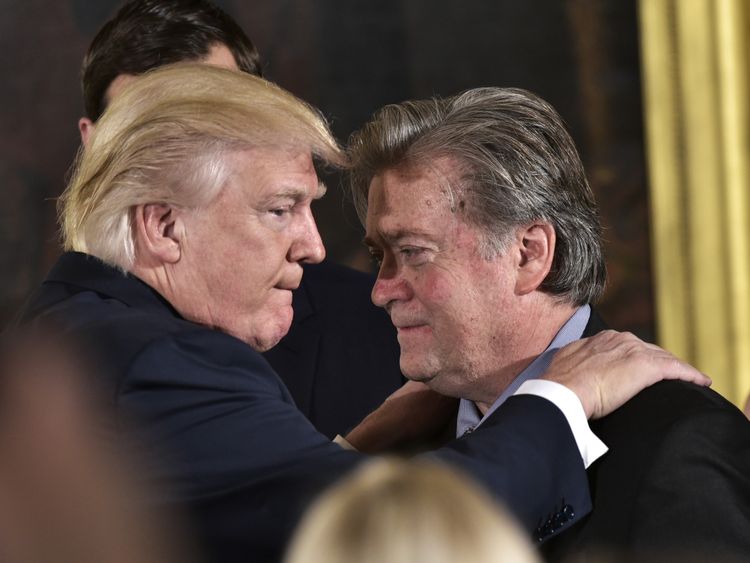 On Wednesday, the President accused his former ally of "spending his time at the White House leaking false information to the media to make himself seem far more important than he really was".
First Lady Melania Trump's office called the book something which would be found in the "bargain fiction" bin.
The book also claims that Mr Trump only entered the presidential race to boost his brand and deliver "untold opportunities".
Mr Bannon, viewed by many as the architect of Mr Trump's campaign, left the White House in August after a string of disagreements with the President and his allies.
The strategist had contradicted Mr Trump's policy on North Korea in a media interview, had taken attention away from the President.
He was viewed by some as a symbol of the far right who could be bad for the former magnate's image.
Mr Bannon runs Breitbart News, considered a right-wing mouthpiece.
Raheem Kassam, London editor of Breitbart News in London, told Sky News: "I think this whole thing will blow over in a few days."
More from Donald Trump
He added: "I look at the last year and what (Trump) inherited: a crisis in Afghanistan, North Korea, the Middle East at war, an EU pulling itself apart and the US wondering what we do about this. You've had new judges, a tax reform bill, decimation of IS in Iraq and Syria.
"People will think, we feared the worst but actually it's been pretty good."
[contf] [contfnew]
[contfnewc] [contfnewc]