US president Donald Trump has announced a 25% tariff on $50bn in Chinese imports.
The move will escalate the trade dispute between the world's two largest economies and deepen the trade war between the US and a host of others, including the European Union.
Beijing has previously warned it would retaliate against such an action and within minutes of Mr Trump's announcement, the country's commerce ministry confirmed this.
On its website, it said: "China is unwilling to have a trade war, but the Chinese side has no choice but to strongly oppose this, due to the United States' myopic behaviour that will harm both parties."
Mr Trump has also previously warned of "additional tariffs" should China hit back.
In a statement, he said: "The United States can no longer tolerate losing our technology and intellectual property through unfair economic practices.
"These tariffs are essential to preventing further unfair transfers of American technology and intellectual property to China, which will protect American jobs."
The tariffs cover 1,102 separate product categories, including jet engines, water pumps, and industrial dishwashers, according to the US Trade Representatives Office.
It comes after an "exhaustive investigation" found that China's "acts, policies and practices related to technology transfer, intellectual property, and innovation are unreasonable and discriminatory, and burden US commerce", the USTR said.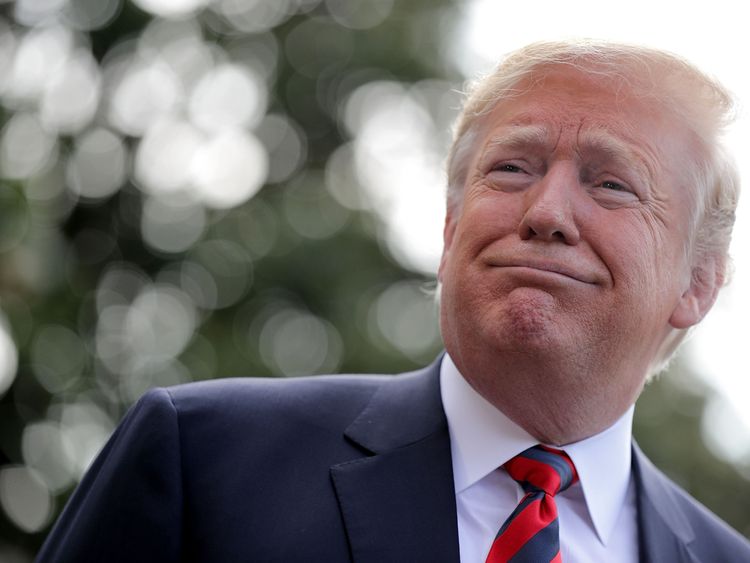 US trade representative Robert Lighthizer said: "China's government is aggressively working to undermine America's high-tech industries and our economic leadership through unfair trade practices and industrial policies like Made in China 2025.
"Technology and innovation are America's greatest economic assets and President Trump rightfully recognises that if we want our country to have a prosperous future, we must take a stand now to uphold fair trade and protect American competitiveness."
The FTSE 100 had been hovering around 0.8% down but slid further to be just over 1% down in the minutes after the announcement, while the pan European STOXX 600 fell 0.6%.
Wall Street stocks also fell in early trading following the news.
Just a few weeks ago, Mr Trump brought in 25% tariff on steel and a 10% tariff on aluminium from the EU, Canada and Mexico, citing national security interests.
[contf] [contfnew]
[contfnewc] [contfnewc]