Ray BLK never expected to win the BBC's Sound of 2017.
"I just remember thinking it was a prank," she laughs. "I wasn't prepared for it at all."
The soul singer was the first unsigned artist to top the annual list, which predicts the biggest new stars in music – but she resisted the temptation to rush out an album.
"It would have been too soon," she says. "People were only just getting to know me at that point."
On her first single of 2017, Patience (Freestyle), the 24-year-old explained she'd only bother us when she had something to say.
"They're running just to get in first place / I'm walking, going at my own pace," she sang. "They say slow and steady wins the race."
That's not to say Ray, who was born Rita Ekwere in Nigeria, has been dragging her heels.
Over the last 12 months, she's appeared on albums by Tinie Tempah and Gorillaz, spoken in Parliament, been nominated for two MOBO Awards and sold out her first headline tour of the UK.
Ahead of the announcement of the Sound of 2018 next week, the singer reflects on the highs and lows of her first year in the spotlight.
My first autograph was improvised
I went to the Brits in February and someone asked me for my autograph. I was like, "Wait, I don't really have one!". So I had to make it up on the spot, which was hilarious.
But that night was very exciting, to be honest. It was inspiring to see all of these people I look up to performing. It made me want to hustle and grind so I could be there one day.
I forced a stranger to take my Instagram photos
I was in LA by myself and I just really, really wanted a picture by the pool. I mean, if you're in LA, you have to get a picture by the pool to make everyone in London jealous.
So, the only person by the pool was this like 60-year-old guy sunbathing and I just begged him, "Please will you take a picture of me?' and he was like, "I'd looove to".
In the end, I had him kneeling on the floor to get my angles right- because if you take a picture pointing the phone up it gives you longer legs!
He did a great job, although I think he enjoyed it a bit too much.
I stayed independent, and took my time
I've received offers from record labels – but one of the reasons I think people are drawn to me is because of the authenticity of [my music], and I think that comes from my autonomy – being able to do things my way, which I don't think I'd be able to if I was signed by a label.
So I haven't really felt the pressure to put an album out this year. I've spent a lot of time in the studio collecting the songs I want to release.
2018's going to be dope.
Speaking at the House of Commons was humbling
That was emotional. More emotional than I thought it would be. I was part of a panel of influential women speaking to these young girls – some of which were from my secondary school – and giving any words of wisdom we had.
I shared some of my lyrics with them – about how I can have any job I want, and I don't have to dilute myself to make people feel better about themselves. And I also reflected on what I would tell my 15-year-old self.
What sort of stuff? Oh, a few things! Your acne will go away! Not to focus on boys but to focus on my career.
Glastonbury was one massive party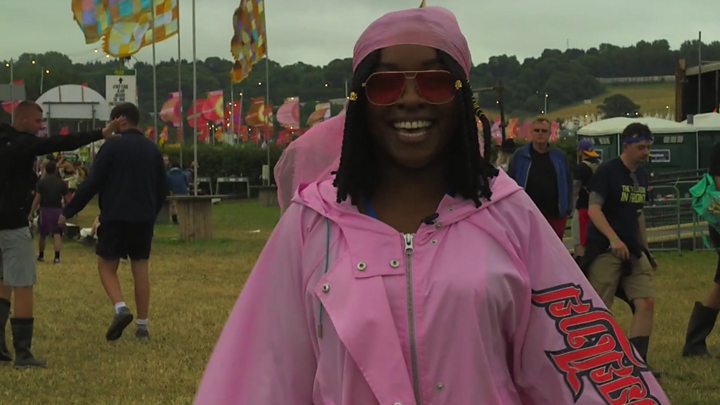 It was my first proper round of festivals this year and doing Glastonbury's always been a dream. There was so much food and so much freedom and self-expression. I remember watching Solange and just singing my heart out and singing and dancing with my friends.
Performing there was really, really overwhelming. There were so many people! I had to hold it down while I was on stage – but as soon as I got off, I just burst into tears.
The Artists for Grenfell charity single meant I could give something back
It was just such an emotional time. I was on tour in the US but, in between dates, I found some studio time and sent over my vocals.
I was really glad I got to be a part of that, just to do something – because it felt like nothing was being done. Even now, it still feels that way.
The Mobo Awards let me recreate Catford on stage
Ray started her performance sitting in the audience, where she premiered a brand new song.
It came out of a break-up, to be honest, where you realise you can do better, and you should never accept less. For me, that's one of the themes of my album – female empowerment and self-love.
Ray went on to perform My Hood, as dancers acted out vignettes from her South London neighbourhood.
I didn't really have much time, I was a last-minute booking, and I just kind of took inspiration from My Hood – the things that you see where I'm from. You're likely to see a homeless person, you're likely to see a drunk person, and you constantly hear police sirens. That's something you can't get away from in London generally, but especially where I'm from in Lewisham.
It was very rewarding because we worked very hard to make it happen. I wanted it to have an impact on people beyond just being entertained. I wanted people to feel something, so it really meant a lot to me that they did.
My first ever headline tour of the UK sold out
That was incredible. I'm still on a bit of a high from it. The last night was at Shepherd's Bush Empire and I had my in-ear [monitors] in, so I couldn't hear the crowd but everyone said people were literally screaming the lyrics back at me.
Just having that connection with the crowd was amazing. That was the best gig of the year.
My advice to the Sound of 2018 winner is…
Don't change anything about yourself, don't feel any pressure.
Winning is just so overwhelming. Everyone's like, "You're supposed to be the next Adele, the next Sam Smith," and it makes you think, "Oh no! What do I do? Am I the next Adele? Maybe I should make an Adele song!".
But my advice would be: Just keep doing what you're doing. Build it your way.
The top five acts in the BBC Sound of 2018 will be announced on BBC Radio 1 and BBC News daily from Monday. The winner will be revealed on Friday 12 January.
Follow us on Facebook, on Twitter @BBCNewsEnts, or on Instagram at bbcnewsents. If you have a story suggestion email [email protected]
[contf] [contfnew]
[contfnewc] [contfnewc]