Oprah Winfrey is knocking on doors to get voters to make history by backing a black female Democrat to become Georgia's governor.
Voters were given a big surprise as they answered their doors in the Atlanta suburbs on Thursday to one of the most famous women in the world.
Oprah is campaigning for Stacey Abrams, 44, in the Republican-leaning state of Georgia to become America's first black female governor.
Actor Will Ferrell was seen in the state earlier this week campaigning for the Democrats, and former president Barack Obama is due to make an appearance on Friday to support Ms Abrams.
The actress and talk show host, 64, gave a rousing speech to Democrat supporters ahead of next Tuesday's vote in which she called Ms Abrams a "changemaker".
Speaking to a mostly female audience north of downtown Atlanta, Winfrey said: "I am here today because Stacey Abrams cares about the things that matter.
"I'm here today because of the men and because of the women who were lynched, who were humiliated, who were discriminated against, who were suppressed, who were repressed and oppressed.
"I refuse to let their sacrifices be in vain."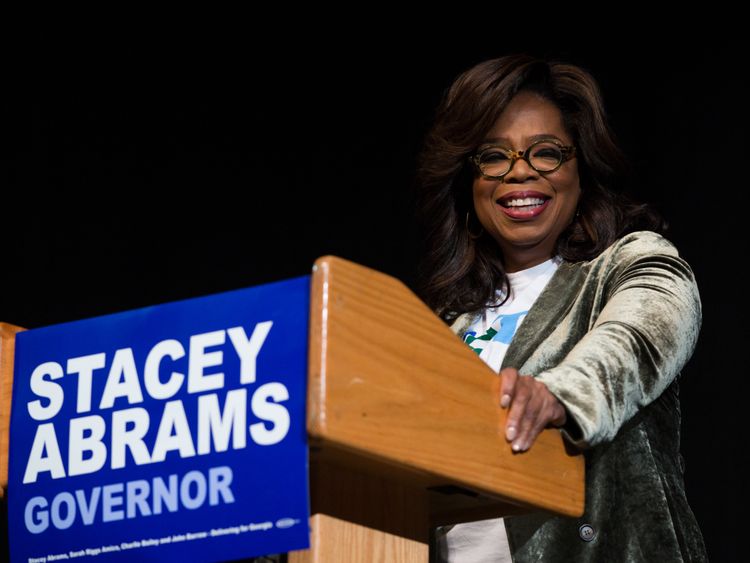 Winfrey, who rarely makes political endorsements, said she is a registered independent who was not in Georgia at anyone's request.
She explained that she tracked down Ms Abrams' mobile phone number and called her to say she wanted to offer assistance in the final days of the campaign.
"I paid to come here myself, and I approved this message," she said to cheers.
Denying she would be running for president in 2020, she added: "I'm not here because I'm making some grandstand for myself. I don't want to run. I'm not testing the waters."
She encouraged women of all races – "sisters not just 'sistahs'" – to remember they would have been "just a piece of property" with no ballot barely a century ago.
The TV star hit out at Republican adverts, which she saw in her hotel room, saying Ms Abrams was "too extreme" and "too radical" for Georgia.
More from Oprah Winfrey
She said the ads were "noise…designed to confound you with fear".
[contf] [contfnew]
[contfnewc] [contfnewc]