Hurricane Michael was a fickle beast. It left some structures standing and exploded others, tossing roofs, bits of car, steel and anything else that could go airborne with abandon.
We drove past a school with the side of the library ripped off, books still nearly on shelves, cushions on the floor.
Down the road, one property featured a garage complete with motorbike, untouched, next to a home that had been splintered to pieces by three huge trees.
As we drove through mile after mile of swamp and pines, power and clearance crews worked in the heat.
"This is just awful", one remarked, as he gazed down a lonely stretch of road almost entirely covered with impassable debris and snapped power lines dangling into the branches.
Amid all this cruelty, communities are working out how to meet some basic, life-sustaining needs.
We talked to the National Guard which was staging search and rescue missions.
It said there were still people stuck in flooded areas, or cut off by fallen trees.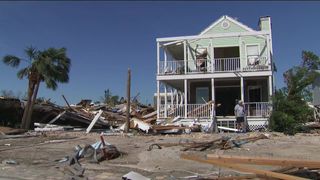 The cruelty of the storm extended to the difficult decisions being made in the Emergency Operations Center in Port St Joe.
A medevac dispatcher told a hospital official that she did not have the resources to chopper someone out unless they were going to die if she did not.
In some rural communities it could be weeks without power or water supply to tens of thousands of people, some of who no longer have a roof over their heads.
More from Florida
Many are among the most vulnerable – those without the means to leave – are the elderly, the sick and the poor.
It is astonishing there was not more loss of life when Michael hit, but having witnessed just some of the havoc it wreaked, there are almost certain to be more deaths than the 16 already confirmed in the aftermath.
[contf] [contfnew]
[contfnewc] [contfnewc]