Terry Bryant faces a felony grand theft charge after a judge ruled that there was enough evidence for the case to move forward.
McDormand won the best actress award for her role in Three Billboards Outside Ebbing, Missouri, but her statuette disappeared after she had it engraved at the post-ceremony Governors Ball.
Cesario Tio, a film academy worker who had been escorting a photographer taking photos at the ball, told the court in Los Angeles that he heard on a walkie-talkie that the Oscar was missing.
He saw a man he identified as Bryant holding a statuette and yelling: "We did it! We did it!".
The photographer took an image that showed part of McDormand's name when zoomed in.
Tio said Bryant told them that he had won the award for best producer on Get out, but Tio said he knew there was no such award.
Tio said that when he tried to take the Oscar from Bryant, the 47-year-old told him he was "holding it for a friend".
The award was retrieved later and handed to security.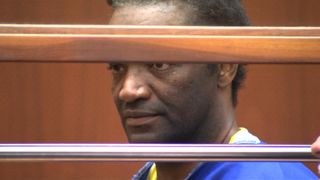 Bryant's lawyer Daniel Brookman had argued the charge should be dismissed, adding: "There was never any intent to deprive the owner of the property on a permanent basis."
He also said McDormand, who was not at the hearing, did not want Bryant to be prosecuted.
Most of the discussion in court surrounded the value of the statuette.
A lawyer for the academy said they paid between $2,300 and $2,500 for it but that it was priceless to most winners.
The lawyer said winners could not sell the statuettes or give them away to anyone except heirs.
More from US
Bryant was heard to say "God is on my side" after the judge announced the case would go ahead.
He will be arraigned on 8 August.
[contf] [contfnew]
[contfnewc] [contfnewc]