A new poll reveals that Americans do not agree on whether a "non-consensual hug" should be considered sexual harassment. Seven other hypothetical situations were also put before people to determine what was appropriate or not.
The majority of Americans agree that non-consensual groping or kissing should be considered sexual harassment, according to a Reuters/Ipsos poll released Wednesday. However, the poll found that Americans of different genders, races and ages bring diverse opinions to the workplace when it comes to other behaviors.
The December 13-18 poll asked more than 3,000 American adults about eight different hypothetical situations, and whether they should be considered sexual harassment.
Only 38 percent of those polled agreed that "unwanted compliments about your appearance" should be considered sexual harassment, while 47 percent said they should not. However, the poll found that Americans were split when it comes to telling "dirty jokes" in the workplace, with 41 percent agreeing it constitutes sexual harassment, and 44 percent saying it doesn't.
Read more
Nearly half, 44 percent, of those polled said they consider non-consensual hugs from a co-worker to be sexual harassment, while 40 percent said they did not.
The poll found men and women had very different opinions on touching a co-worker without their consent, with 19 percent of men saying that they do not consider it to be sexual harassment, compared to only 11 percent of women. The poll did not specifically define non-consensual touching.
There was also a difference of opinion among Americans of different races, with 52 percent of minorities agreeing that non-consensual hugging is considered sexual harassment, compared to only 39 percent of whites. Americans of different ages were also divided, with 94 percent of baby boomers, who were born 1946-64, agreeing that sending "pornographic pictures" to a co-worker constitutes sexual harassment, compared to only 83 percent of millennials born after 1982.
The Equal Employment Opportunity Commission, which is responsible for enforcing federal discrimination laws in the workplace, defines sexual harassment as any "unwelcome sexual advances, requests for sexual favors, and other verbal or physical harassment of a sexual nature."
While the EEOC says that "simple teasing," "offhand comments," and "isolated incidents" are not against the law, they note that such behavior can become illegal when it is "so frequent or severe that it creates a hostile or offensive work environment or when it results in an adverse employment decision."
Read more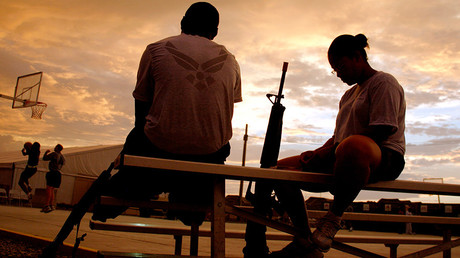 Without a clear definition of sexual harassment from the government, Suzanne Goldberg, director of the Center for Gender and Sexuality Law at Columbia Law School, says that it is up to employers to define what constitutes harassment.
"The onus is on employers," Goldberg told Reuters. "Even if the co-workers don't object or go to management to complain."
In the wake of NBC firing "Today" show host Matt Lauer for "inappropriate workplace behavior," the media company has issued new "zero-tolerance" anti-harassment rules to specify what constitutes harassment.
Staffers at NBC are now required to report any inappropriate relationships in the workplace to human resources. Any staff members who fail to "snitch" on their co-workers' affairs can be fired, according to Page Six of the New York Post, which obtained a copy of the guidelines.
"Staffers have been told that if they find out about any affairs, romances, inappropriate relationships or behavior in the office, they have to report it to human resources, their superior or the company anti-harassment phone line," A source told Page Six. "Staffers are shocked that they are now expected to snitch on their friends."
The guidelines also reportedly contain rules on conduct in the office, including how to socialize and even the proper way to hug a co-worker.
"If you wish to hug a colleague, you have to do a quick hug, then an immediate release, and step away to avoid body contact," one source told Page Six.
The guidelines also include rules on how to socialize with co-workers, which prohibit sharing taxis or "taking vegans to steakhouses."
In a memo to employees earlier this month, Chairman of NBC News Andy Lack said that the company hired an outside firm to conduct mandatory anti-harassment training, and a "culture assessment" of the media firm.
The culture assessment involved grouping employees together to discuss what would prevent their co-workers from coming forward with their allegations, as well as "in-person, interactive training on workplace behavior and harassment prevention."
[contf] [contfnew]
[contfnewc] [contfnewc]
The post Hug it out? Americans divided over sexual harassment standards – poll appeared first on News Wire Now.