Emily Blunt has described her husband John Krasinski's new film as an "intense family member" as well as "the perfect project to do together".
The Hollywood couple's new horror A Quiet Place tells the story of a family trying to stay alive in a world where deadly creatures will come for humans – but only if they can hear them.
It's directed by Krasinski and stars both him and Blunt as parents desperately trying to protect their children by keeping silent.
Blunt, who has two daughters with her co-star, told Sky News that while they didn't let it take over their home life, the project did become a big part of their worlds while they were making it.
"I think inevitably breakfast with the kids is the barrier," Blunt told me.
"So we don't discuss it at breakfast and we just hang out but, on the drives in and drives home, it was a rather intense family member for a while this film.
"I think I really saw the benefits of us being a married couple for this specific project, and I think inevitably, whether it's consciously or sub-consciously, a lot of our life experience that we've had together, and then with children, sort of made its way by osmosis into this film.
"I felt very deeply connected to him during the process, not only because it was our first experience in it together, but because of the nature of the subject matter and it being so much about family – it just seemed like the perfect project to do together."
Krasinski agrees that it was the ideal movie for the them to tackle as a pair.
"I think that she saw my script was all about family – I mean it really is a metaphor for parenthood – so this is a love letter to my kids, which sounds ridiculous, but it's true," he said.
I asked Krasinski how you go about casting your wife in a film – if he asked her to audition.
"Man I wish I had, that would have been so much cooler if I had like tape of her auditioning for me," he said.
"No, what happened was I actually did the complete opposite – I didn't tell her anything, I told her ideas, what I was doing with the script… and it wasn't until she actually read the script herself that she said 'Can I be in the movie?'
"And the reason I didn't do it was because I thought it would go one of two ways: One, I say will you be in it and she says no. That's an awful dinner conversation. Or two, I say will you be in it and she says 'yes I'll be in it for you', which I don't think I could live with.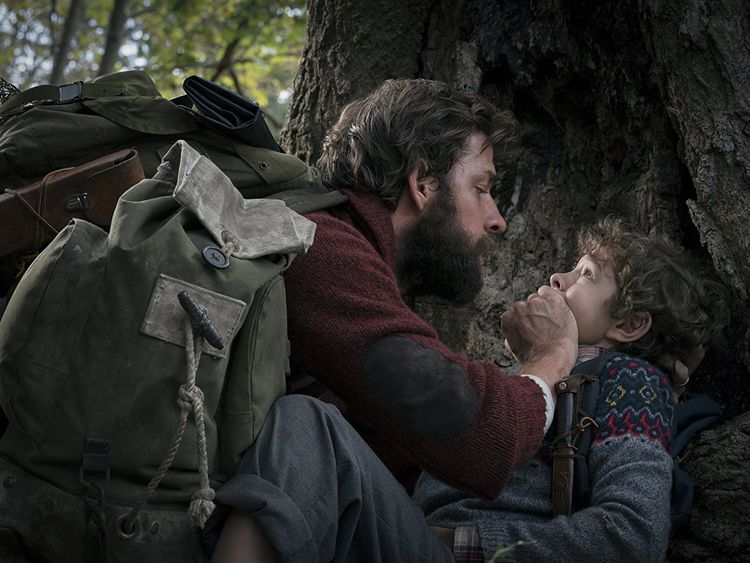 "I think it's even worse than her saying no because I've seen the intelligence, the taste level, the incredible dedication that it's taking her to make the choices that she's made.
"I needed her to fall in love with it for herself, I always wanted her to do it, and so weirdly, it organically happened that way."
Blunt admits she was won over by her character who she describes as "fierce".
"She's the heart of that family and yet it was also tough to do because what she experiences would be my worst nightmare, so it was a very personal role," she said.
But she admits the nail-biting moments when the family accidentally makes sound are a lot scarier to watch than they were to make.
"Being on a film set is just not necessarily as precious as you might think – I mean we had to remind the crew members that this was a film where sound was so important, they wanted to hear the slightest little creak, so I think the crew members were like 'this is a silent movie now' so they were just like chatting while we were acting.
More from Entertainment
"It was that kind of thing."
A Quiet Place is out in cinemas in the UK now.
[contf] [contfnew]
[contfnewc] [contfnewc]