A teacher at an Upper Manhattan high school and his twin brother have been arrested on suspicion of running a bomb factory in their Bronx apartment. Police recovered some 30 pounds of precursors and a bomb-making manual.
Christian Toro, a teacher at a charter school in Manhattan, allegedly enlisted his students' help to manufacture explosives. Christian, along with his twin brother Tyler Toro, also devised a way to get rid of the incriminating evidence, the former's confiscated diary indicates.
Read more
At a press conference on Thursday, NYPD Commissioner James O'Neill revealed that the arrests were a result of a two-month long investigation into a bomb scare at the school on December 4. Police initially traced the threat to a 15-year-old student, who was then arrested. At that point, neither of the Toro brothers were implicated in the investigation. It was only when Christian abruptly resigned on January, 10, that he got on the law enforcement's radar. A school laptop his brother returned two days later became the key to uncovering a larger plot involving both twins. A technical staffer accidentally discovered what appeared to be a bomb-making manual on the laptop and alerted the police.
"Staff of the school was crucial. Good people step forward with information crucial for law enforcement," John Miller, Deputy Commissioner of Intelligence and Counter-terrorism of the NYPD told a briefing.
At this point, the FBI and NYPD Joint Terrorism Task Force joined the investigation, which led to the FBI questioning Christain about the bomb-making materials and eventually seeking a warrant to search the brothers' Bronx apartment. Christian denied that he plotted to manufacture any explosive devices, insisting that he had not downloaded the manual and only briefly looked at it for the purpose of research. However, at least two students at the school told the agents they were paid $50 to harvest explosive black powder from fireworks and put it into separate containers for unclear purposes, O'Neil said.
Read more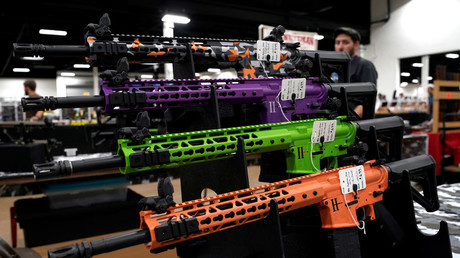 After the FBI descended on the flat, they recovered a huge supply of materials that could be used to make explosives, including about 30 pounds of chemical precursors or bomb-making ingredients, as well as a bag with metal spheres, according to the police complaint.
The agents also discovered a diary that apparently belongs to Tyler, in which he documented the pair's preparations for an attack, mentioning "operation Flash," which was supposedly aimed at disposing of the physical evidence.
"If you're registered as a sex offender, things will be difficult. But I am here 100% living, buying weapons. Whatever we need," one of the bizarre records reads, apparently referring to rape charges of a minor that were brought against Christian when he was arrested on January, 31.
O'Neil also quoted a line from the backpack index recovered during the search that read "under the full moon the small ones will know terror," adding that, at this stage of the investigation, the law enforcement didn't know "the full breadth of what these materials mean."
Christian was also charged with unlawful manufacture of a destructive device and distribution of explosives to a minor. It is unclear if the 15-year-old suspect in a bomb scare case is the same person he provided the bomb to. Tyler was also charged with one count of manufacturing an explosive device. Police said that neither of the twins were known to the authorities before the investigation, and neither had a criminal record.
Both are now in custody and have pleaded not guilty to all the charges. Tyler is being held without bail, while a bail hearing for Christian is scheduled for February, 21. A first court hearing has been set for March, 19.
[contf] [contfnew]
[contfnewc] [contfnewc]