A fire that killed 12 people, including four children, is thought to have been started by a child playing with a stove.
New York fire commissioner Daniel Nigro has told reporters the fire started in a kitchen on the first floor when a young boy, aged three-and-a-half, was "playing with the burners on the stove".
He said the child's mother was alerted by the boy's screams and she quickly escaped the apartment with the child – but she left the apartment door open.
Flames tore through the apartment and out into the communal stairwell. Mr Nigro said the staircase acted "like a chimney".
According to local media, a one-year-old toddler, a two-year-old and a seven-year-old are among the dead, along with an unidentified boy, four men and four women.
Another four people are in hospital "fighting for their lives", the mayor said.
Mr Nigro earlier described the blaze, which broke out at around 7pm local time, as "historic in its magnitude".
More than 160 firefighters were called to the five-storey building near Bronx Zoo and worked to extinguish the fire in freezing conditions, with water sprayed from hoses turning to ice on the street.
New York City mayor Bill De Blasio said the blaze would "rank as one of the worst losses of life to a fire in many, many years".
NY Fire Commissioner Daniel Nigro told a news conference that those killed ranged in age from one to 50 and added that "people died on various floors of the apartment".
Excluding the 9/11 terror attacks, it was the worst fire in the city since 87 people were killed at a social club fire – also in the Bronx – in 1990.
And in 2007, a fire in the Bronx killed nine children and an adult.
Mr De Blasio later tweeted his thanks to the New York Fire Department "for their bravery and quick action".
He continued: "I want to offer my prayers to all the families who have lost their loved ones this evening or who are struggling. I ask all New Yorkers to keep them in your prayers, too.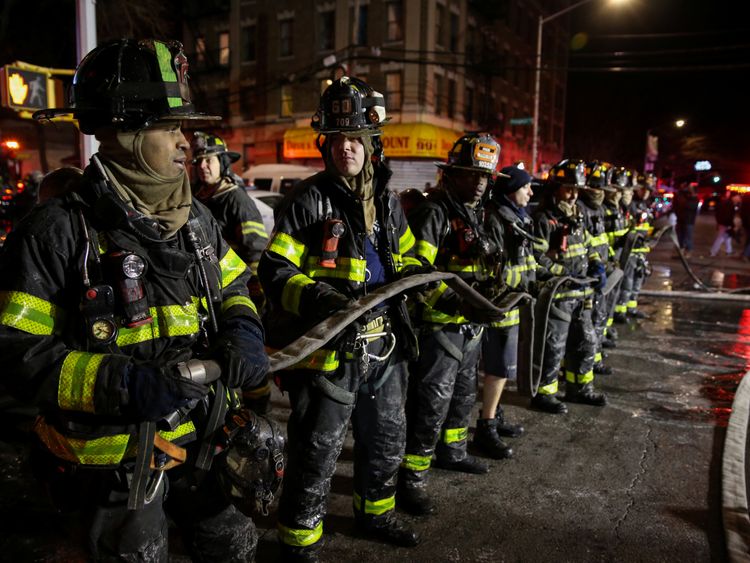 "Tonight in the Bronx we've seen the worst fire tragedy in at least a quarter of a century. It is an unspeakable tragedy, and families have been torn apart."
Mr Nigro added: "We may lose others as well. Our hearts go out to every person who lost a loved one here and everyone who is fighting for their lives.
"In a department that's certainly no stranger to tragedy, we're shocked at this loss."
Tonight in the Bronx we've seen the worst fire tragedy in at least a quarter of a century. It is an unspeakable tragedy, and families have been torn apart. pic.twitter.com/0kCFMzxt79

— Bill de Blasio (@NYCMayor) December 29, 2017
Windows on some upper floors were smashed and blackened as the flames ripped through the building, which according to city records did not have an elevator.
Neighbourhood resident Robert Gonzalez, who has a friend who lives in the building, said she got out on a fire escape as another resident fled with five children.
More from US
Another local, Jamal Flicker, told the New York Post: "The smoke was crazy, people screaming, 'get out!' I heard a woman yelling, 'we're trapped, help!'."
Witnesses have described seeing burned bodies being carried away on stretchers and young girls who had escaped the flames standing barefoot outside with no coats in temperatures as low as -9C.
[contf] [contfnew]
[contfnewc] [contfnewc]
The post Bronx fire that killed 12 was 'started by a child' appeared first on News Wire Now.