More than 13 million people are under blizzard warnings, from Virginia all the way to Maine. The bomb cyclone, which developed overnight, occurs when a low-pressure system has a significant, rapid drop in atmospheric pressure. That spells wind gusts as strong as 80 mph along the coast, CNN meteorologist Dave Hennen said. It's basically like enduring a weak hurricane — except getting blasted by snow instead of rain.Chunks of ocean ice could fly inland, thanks to mammoth 13- to 18-foot waves, and coastal flooding is likely, he said.Now, millions of Americans are paralyzed by the storm — with thousands of flights grounded, hundreds of schools closed and grocery store shelves emptied.
Latest developments
•Deadly conditions: At least 16 people have died this week due to severe weather, officials said. Six deaths were reported in Wisconsin, four in Texas, three in North Carolina, and one each in Michigan, Missouri and North Dakota.• Massive snowfall expected: Damaging winds and heavy snow are the main concern Thursday. Forecasters predict more than a foot of snow in Boston; up to 8 inches in New York City; and up to 6 inches in Philadelphia. IN PHOTOS: Brutal cold torments the US• Going dark — with no heat: More than 40,000 customers in Virginia and North Carolina had no power Thursday morning, according to provider Dominion Energy. And a day after the storm struck the Southeast, more than 8,000 customers were also without power in Florida, according to Duke Energy.• Travel nightmares begin: More than 3,100 US flights have been canceled for Thursday, according to Flightaware.com. At New York City's LaGuardia Airport, 90% of Thursday's flights are canceled. And American Airlines has suspended all departures from Boston.Winter storm wipes out thousands of flights• Schools shuttered: At least 11 major school districts in the Northeast closed Thursday, including those in New York City, Boston, Philadelphia, Baltimore, and Providence, Rhode Island. Weak phone connection? Get the text-only version of top stories, also en Español
Governor: Power won't be fixed in extreme winds
In Connecticut, Gov. Dan Malloy urged residents to stay off roads. The forecast calls for a minimum of 6 inches of snow and winds as strong as 50 mph, potentially hindering utility repairs should power lines go down."We cannot and will not order people up in trucks to fix lines when the winds are too high," Malloy said. Virginia Gov. Terry McAuliffe declared a state of emergency and urged Virginians to prepare for the storm, which could dump as much as a foot of snow in parts of eastern Virginia.Track severe weather across the country"With this forecast in mind, all Virginians should take the necessary precautions now to ensure they are prepared for the travel disruptions, power outages and other threats to health and safety that could arise during this significant weather event," McAuliffe said.
Expect more bone-chilling temperatures
New York City sanitation workers are preparing to deploy 2,200 plows to help clear the streets, with 4 to 6 inches of snowfall expected. The snow, combined with "exceptionally strong winds," means crews will be working in near-whiteout conditions, New York City Sanitation Commissioner Kathryn Garcia said.And after the snow, this weather phenomenon, known as bombogenesis, will usher in single-digit or subzero temperatures to the Northeast.In New York and Philadelphia, temperatures are expected to dip to 3 degrees this weekend. Boston could see minus 7 degree temperatures paired with about 12 inches of snow, forecasters said.
Snowfall blankets the Southeast
Before the storm pushed north, cities in the Southeast that rarely see snow became winter wonderlands. But the novelty also turned dangerousRunways at Charleston International Airport closed, and the South Carolina Highway Patrol reported dozens of wrecks as snow and sleet fell. In Georgia, the Savannah/Hilton Head International Airport — typically booming with tourists this time of year — closed on Wednesday due to severe winter weather conditions. In South Carolina, some areas had seen 5 to 6 inches of snow by Wednesday afternoon, requiring more than 13,000 tons of salt, Gov. Henry McMaster said.Steady snowfall blanketed Charleston, recording at least 5.3 inches on Wednesday. It was the most snow the city had seen in one day since 1989.McMaster warned of dangerous conditions as evening temperatures were expected to remain below freezing through Monday. He also urged people to stay indoors as much as possible to minimize risk of injury.
Bomb cyclones collect cold air
Bomb cyclones often draw colder air in from the north, then blast out icy temperatures.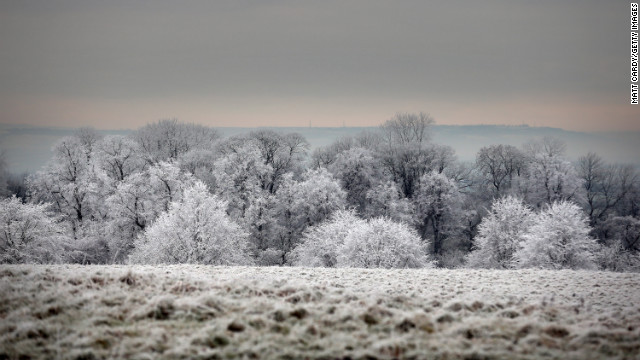 They frequently occur in North America, when cold air collides with warm air over the Atlantic Ocean — though they've also been reported in eastern Asia and South America.The bomb cyclone now blasting the Northeast actually doubled the rate necessary to earn it that classification.It rapidly intensified overnight, undergoing bombogenesis — or a pressure drop of 24 millibars in less than 24 hours.This bomb cyclone dropped 53 millibars in just 21 hours, intensifying faster than any such occurrence in recent history.
CNN's Tina Burnside, Chuck Johnston, Kristina Sgueglia, Jennifer Varian, Keith Allan and Evan Simko-Bednarski contributed to this report.
Original Article
[contf] [contfnew]
[contfnewc] [contfnewc]