The World Trade Organisation (WTO) has taken aim at US president Donald Trump's protectionist agenda while downgrading its global trade forecast.
The arbiter of trade disputes said developments since its earlier warnings around trade wars had now had an impact on growth expectations for both this year and next.
However, it did admit that US-inspired measures – particularly against China – only had a modest effect on business to date.
It forecast world trade in goods would grow by 3.9% this year, down from the 4.4% it had expected in April.
The figure for 2019 was reduced to 3.7% from 4%.
It also blamed the effects of rising interest rates by major central banks.
Speaking less than 24 hours after the US Federal Reserve raised its key rate for the third time this year, the WTO said such moves were inflicting extra costs that developing market economies could not afford.
In the months since the WTO's April forecast, the White House has taken aim at the EU, Canada and Mexico on trade but concentrated its firepower on China – the world's second-largest economy behind the US.
While seeking to tackle, what Mr Trump sees, as massive trade imbalances he has also accused Chinese enterprises of piracy through intellectual property theft and of meddling in US elections.
There are now steep US tariffs on more than $250bn worth of imports from China – amounting to almost half the value of its exports to the US.
Beijing has hit back with its own measures though it is running out of US goods to hit with extra charges.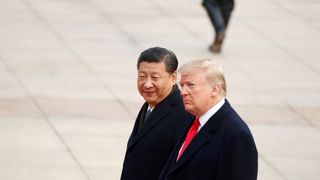 Mr Trump has threatened to target virtually all Chinese goods unless the country backs down.
Scheduled peace talks have faced delays.
WTO director-general Roberto Azevedo said of the tit-for-tat tariffs: "The direct economic effects of these measures have been modest to date but the uncertainty they generate may already be having an impact through reduced investment spending.
"While trade growth remains strong, this downgrade reflects the heightened tensions that we are seeing between major trading partners.
"More than ever, it is critical for governments to work through their differences and show restraint.
"The WTO will continue to support those efforts and ensure that trade remains a driver of better living standards, growth and job creation around the globe."
Mr Trump is also focused on reform of the WTO itself and has blocked the appointment of judges who preside over disputes – threatening to disrupt its work at a time when the UK may have to trade with the EU under WTO rules without a Brexit deal.
The WTO said the US trade war was not the only factor behind its downgrade.
:: Fed hikes key rate for third time this year
It also cited tightening monetary policy – rising interest rates – for damaging trade in developing markets as the value of local currencies has been eroded.
More from Business
Analysts have blamed a stronger dollar for driving up interest payments in countries such as Argentina and Venezuela and also making their imports more expensive.
"Developing and emerging economies could experience capital outflows and financial contagion as developed countries raise interest rates, with negative consequences for trade," the WTO said.
[contf] [contfnew]
[contfnewc] [contfnewc]