Donald Trump has ordered the military to be on alert over a US-bound migrant caravan as he declared a national emergency.
Referring to the caravan from Honduras, the president tweeted: "Sadly, it looks like Mexico's Police and Military are unable to stop the Caravan heading to the Southern Border of the United States.
"I have alerted Border patrol and Military that this is a National Emergency."
He added that the US would begin "cutting off, or substantially reducing aid" to three Central American countries.
Around 5,000 Central American migrants are attempting to enter the US, despite Mexican efforts to stop them at the border.
The convoy of migrants gave up trying to enter Mexico legally because the asylum application process was too slow and circumvented police at a border bridge.
They swam and rafted across the river from Guatemala before deciding to reform their mass caravan and continue their journey towards the US.
The migrants have continued their journey over the last few days and are about 900 miles from the US border.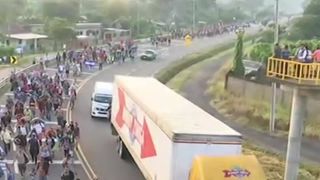 In further tweets, Mr Trump said: "Every time you see a Caravan, or people illegally coming, or attempting to come, into our Country illegally, think of and blame the Democrats for not giving us the votes to change our pathetic Immigration Laws! Remember the Midterms! So unfair to those who come in legally.
"Guatemala, Honduras and El Salvador were not able to do the job of stopping people from leaving their country and coming illegally to the U.S. We will now begin cutting off, or substantially reducing, the massive foreign aid routinely given to them."
Thousands of mainly Honduran migrants crowded into the Mexican border city of Tapachula at the weekend after trekking from the Guatemalan border.
More from Donald Trump
They defied threats by Mr Trump to close the US-Mexico border if they went any further.
Mexican police in riot gear shadowed the caravan's arrival along a southern highway but did not stop the migrants.
More follows…
[contf] [contfnew]
[contfnewc] [contfnewc]