Two black men who were arrested while waiting at a Starbucks in Philadelphia have settled with the city for less than half the price of a large Frappuccino.
Footage of Rashon Nelson and Donte Robinson being taken away by police officers in handcuffs on 12 April sparked outrage across the US when it went viral on social media.
Their arrests prompted an apology from the company and the announcement that more than 175,000 employees would undergo "racial-bias" training.
Starbucks CEO Kevin Johnson said he hoped to "meet personally with the two men who were arrested to offer a face-to-face apology", while Philadelphia mayor Jim Kenney said the incident had left him "heartbroken".
Their arrests appeared to "exemplify what racial discrimination looks like in 2018," Mr Kenney added.
Mr Nelson and Mr Robinson spent hours in jail after being taken into custody but faced no charges, and have now agreed separate financial agreements with both Starbucks and the city of Philadelphia.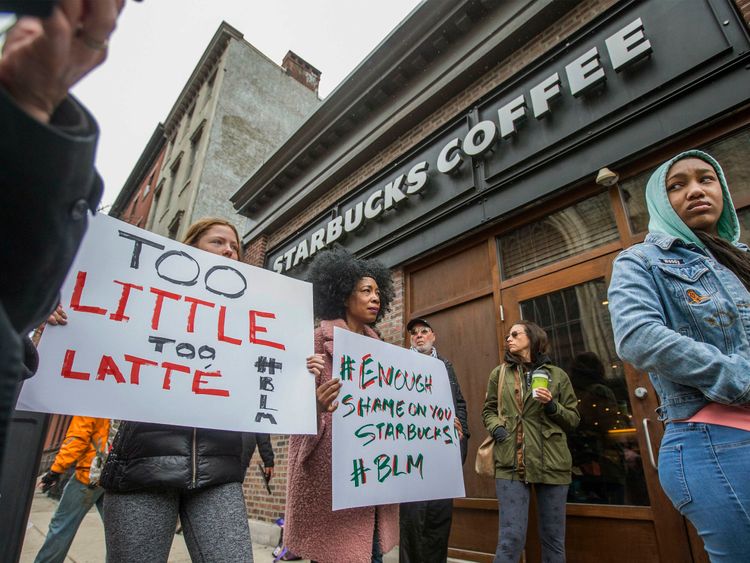 Under the settlement reached with the city, the pair will receive a symbolic $2 between them.
They have also agreed that $200,000 will be invested in a new scheme for young entrepreneurs in the city.
Their agreement with Starbucks will allow them to complete their degrees through a partnership the coffee chain has with Arizona State University, but the rest of the terms will remain confidential.
More from US
There have been calls for Starbucks to match the city's $200,000 pledge, with one person tweeting: "Everyone tweet @Starbucks asking them to match the $200k for diversity & entrepreneurship!"
Another suggested Mr Nelson and Mr Robinson should receive "coffee and muffins for life".
[contf] [contfnew]
[contfnewc] [contfnewc]