Sky News has tracked down Sir Philip Green at a health resort in Tucson, Arizona, a day after he was named in connection with harassment allegations.
The Topshop billionaire refused to comment on the claims after Sky News' US correspondent Greg Milam questioned him outside the Canyon Ranch resort – a favourite with Hollywood stars – on Friday afternoon.
Wearing sports gear and clutching a white towel which he slung over his shoulder, the Arcadia Group owner tried to grab a Sky News producer's mobile phone as they filmed him.
He said: "Can you put that away. You need to leave.
"Can you go away. You're starting to really annoy me.
"I believe you're being intrusive."
A member of staff then got in between the crew and Sir Philip got onto a golf cart and reversed before he sped off.
Off-camera Sir Philip later told Sky News he could not comment on developments in the UK for legal reasons "even if I wanted to".
It is the first time the 66-year-old tycoon has been seen since Lord Hain, a former Labour cabinet minister, used his parliamentary privilege to identify the billionaire in the House of Lords on Thursday.
The Daily Telegraph reported earlier in the week that an unnamed businessman had been granted an injunction to prevent them revealing alleged sexual harassment and racial abuse of staff.
A statement issued by Sir Philip after he was named said he "categorically and wholly denies" allegations of "unlawful sexual or racist behaviour".
He added that he would not comment on anything that happened in court or was said in parliament on Thursday.
The businessman owns a £2.3m nine-bedroom home, which he built, in the grounds of the luxury health resort.
He is believed to have flown to the retreat on Monday from Los Angeles, California, just before the allegations emerged.
In 2010 Sir Philip said he likes to visit his home in the Santa Catalina nature reserve "to have time, space".
Meals at the resort are healthy and calorie-counted and there is no alcohol, with phone use limited.
There are more than 35 daily activities on offer, from yoga to art classes, as well as massages, facials, body treatments, spiritual guidance and access to spa and fitness facilities.
Sir Philip went walking for several hours on Thursday on a nearby trail, it is believed.
Meanwhile, the former cabinet minister said he was "completely unaware" a law firm he is paid to advise was acting for the Telegraph in the case.
The peer acts as a global and governmental adviser for Gordon Dadds and denied his work for the company led him to name Sir Philip in the Lords.
He insisted he took his decision acting in a "personal capacity", adding: "I categorically state that I was completely unaware Gordon Dadds were advising the Telegraph regarding this case."
Legal experts have questioned Lord Hain's decision to exercise his right to name Sir Philip because the case is going through the courts.
Since Lord Hain named Sir Philip there has been a growing number of calls for the businessman to be stripped of his knighthood if the claims are true.
The Cabinet Office would not comment on Thursday on whether it would review Sir Philip's knighthood.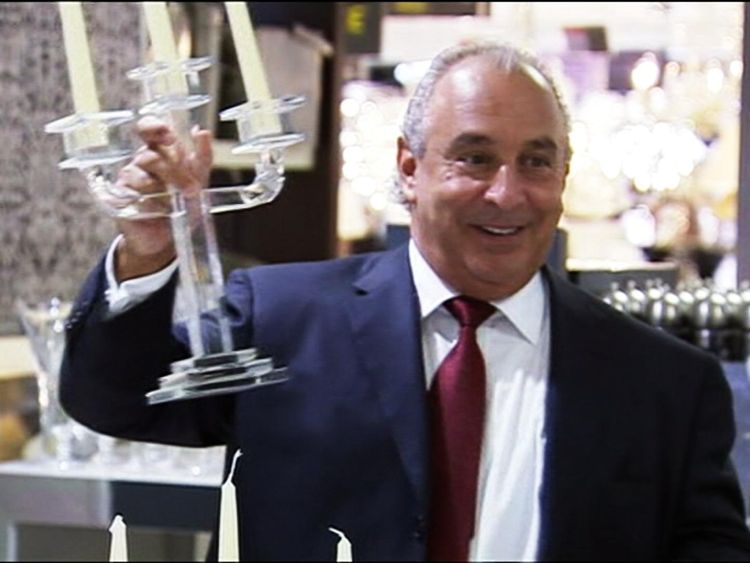 The forfeiture committee, which has a majority of independent members and is chaired by a top civil servant, makes recommendations for honours to be revoked.
The Queen has the sole authority to rescind a knighthood, after taking advice from the government.
More from World
On Wednesday, Prime Minister Theresa May told MPs it is "clear" some employers are using non-disclosure agreements "unethically", but refused to comment on "a particular case that is currently before the courts".
Mrs May said the government will look at ways to improve rules around non-disclosure agreements and make it "explicit" to companies when they cannot be used.
[contf] [contfnew]
[contfnewc] [contfnewc]