Donald Trump has said his eagerly-anticipated summit with Kim Jong Un in Singapore later this month is back on – having called it off a week ago.
The announcement follows a meeting with senior North Korean official Kim Yong Chol, who arrived at the White House to deliver a letter from the country's leader on Friday.
Speaking to reporters afterwards, Mr Trump said the meeting had been a "getting to know you kind of situation" and that "the relationships are building and that's very positive".
He described the letter as "very nice" and "very interesting", but later told reporters he had not read it. Mr Trump then added: "I may be in for a big surprise, folks."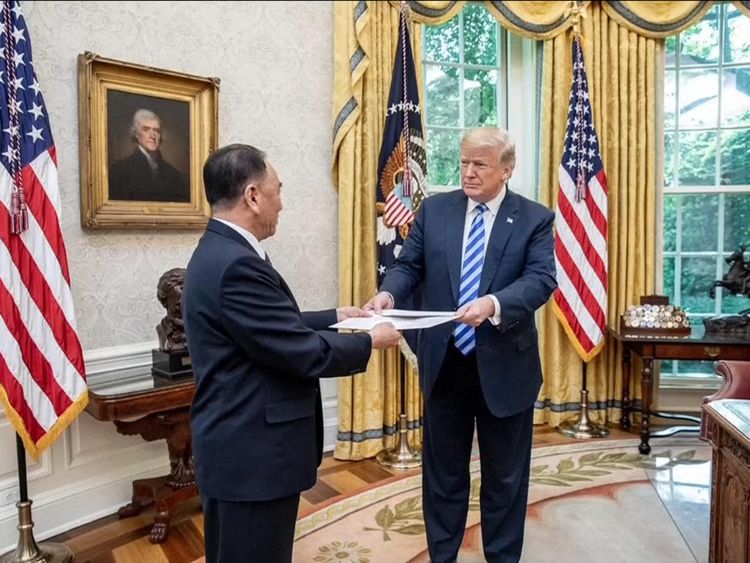 The president stressed that the negotiations between the countries were a "process", but said he believed it would be "ultimately very successful" and could mean the end of the Korean War.
Envoy Mr Kim is the most senior North Korean official to visit the White House in 18 years, and his visit to the United States has been hailed as symbolic easing of tensions following nuclear tests last year.
A week of negotiations have hoped to secure a historic meeting between Donald Trump and Kim Jong Un, but so far plans for the 12 June summit have been on-again-off-again, derailed by belligerent statements from North Korea and cancellations from Mr Trump.
Analysts have welcomed Mr Trump's statement, but urged caution following the tumultuous course of talks so far.
Good progress today during our meetings with Kim Yong Chol and his team. #NorthKorea and the world would benefit greatly from the denuclearization of the Korean Peninsula. pic.twitter.com/QfeALSsxGA

— Secretary Pompeo (@SecPompeo) 31 May 2018
Earlier this week, envoy Mr Kim met US secretary of state Mike Pompeo, who described the preliminary discussions as "good" and "moving in the right direction".
"Our two countries face a pivotal moment in our relationship, and it would be nothing short of tragic to let this opportunity go to waste," he said, adding that he believed North Korea was "contemplating a strategic shift".
Commenting on the details of the continuing process between the two countries, Mr Trump said China's President Xi Jinping had helped with ensuring the summit would take place.
More from US
The US president said sanctions would remain on North Korea during the negotiations, but that new restrictive measures would only be imposed if talks broke down.
He had not discussed human rights with Mr Kim, he said.
[contf] [contfnew]
[contfnewc] [contfnewc]