Another day has brought another Twitter row to Donald Trump's White House.
The US President likes to share his views with his 45 million followers on all manner of subjects – from world diplomacy to TV shows.
In his latest Twitter outburst, he has warned Kim Jong Un that he has a nuclear button which is "much bigger" than that of the North Korean leader.
Here's a look back at some of his other controversial tweets.
:: Britain First
In what could be his most controversial tweets yet, Mr Trump shared anti-Muslim videos posted online by the far-right group Britain First's deputy leader Jayda Fransen.
The posts included unverified footage purporting to show Muslims committing crimes, which British Prime Minister Theresa May's official spokesman condemned as "wrong".
:: LaVar Ball
Mr Trump lashed out at LaVar Ball, father of Los Angeles Lakers point guard Lonzo Ball, labelling him "ungrateful" after he refused to thank the President for helping his son LiAngelo Ball following his arrest in China.
Following their release, LiAngelo Ball and his UCLA teammates Cody Riley and Jalen Hill have thanked Trump and the US government, but LaVar Ball has played down the president's intervention.
…LaVar, you could have spent the next 5 to 10 years during Thanksgiving with your son in China, but no NBA contract to support you. But remember LaVar, shoplifting is NOT a little thing. It's a really big deal, especially in China. Ungrateful fool!

— Donald J. Trump (@realDonaldTrump) November 22, 2017
:: Kim Jong Un
In perhaps one of his strangest attempts at Twitter diplomacy to date, Mr Trump criticised North Korean leader Kim Jong Un for calling him old – by suggesting he was taking the moral high ground.
In the past, he has referred to him as "Little Rocket Man".
Why would Kim Jong-un insult me by calling me "old," when I would NEVER call him "short and fat?" Oh well, I try so hard to be his friend – and maybe someday that will happen!

— Donald J. Trump (@realDonaldTrump) 12 November 2017
:: Meryl Streep
During her Golden Globes speech, the Hollywood star accused the President of bullying behaviour. But Mr Trump said he was unimpressed with Streep, one of the most successful actresses of her generation.
Meryl Streep, one of the most over-rated actresses in Hollywood, doesn't know me but attacked last night at the Golden Globes. She is a…..

— Donald J. Trump (@realDonaldTrump) 9 January 2017
Hillary flunky who lost big. For the 100th time, I never "mocked" a disabled reporter (would never do that) but simply showed him…….

— Donald J. Trump (@realDonaldTrump) 9 January 2017
"groveling" when he totally changed a 16 year old story that he had written in order to make me look bad. Just more very dishonest media!

— Donald J. Trump (@realDonaldTrump) 9 January 2017
:: Arnold Schwarzenegger
Schwarzenegger replaced the President as host of the Celebrity Apprentice reality show, but then said he was leaving. Mr Trump was not a fan – just one incident of a long-running feud between the men.
Arnold Schwarzenegger isn't voluntarily leaving the Apprentice, he was fired by his bad (pathetic) ratings, not by me. Sad end to great show

— Donald J. Trump (@realDonaldTrump) 4 March 2017
:: Whoopi Goldberg
Goldberg, who presents US show The View, criticised Mr Trump on air for racially-charged comments he had made during his presidential campaign. He responded by sharing his opinions on daytime television scheduling.
:: Macy's
Mr Trump's attack on Macy's was prompted by the department store's decision to drop the Trump menswear brand from their stores – after a campaign-trail speech portraying Mexicans as murderers and rapists.
I hope the boycott of @Macys continues forever. So many people are cutting up their cards. Macy's stores suck and they are bad for U.S.A.

— Donald J. Trump (@realDonaldTrump) 16 July 2015
:: Hillary Clinton
In retweeting – and then deleting – a GIF of himself knocking what appears to be Hillary Clinton to the floor with a golf ball, Mr Trump raised serious questions over his attitudes toward violence against women.
He also routinely refers to his former presidential rival as Crooked Hillary.
:: Ted Cruz
Few things underpin the gravity of accusations of misconduct more than a Jim Carrey movie, and to really highlight the importance of his concerns Mr Trump photoshopped Ted Cruz's head onto a movie poster.
:: CNN
Observers were dumbfounded by a Tweet, adapted from a past appearance on WrestleMania, that appeared to show Mr Trump attacking the CNN logo in a sinister realisation of his "fake news" crusade.
:: Mika Brzezinski
Mr Trump has long harboured a grudge against the presenters of TV show Morning Joe. But his particularly gendered insult toward host Mika Brzesinski raised alarm bells even with some from his own party.
I heard poorly rated @Morning_Joe speaks badly of me (don't watch anymore). Then how come low I.Q. Crazy Mika, along with Psycho Joe, came..

— Donald J. Trump (@realDonaldTrump) 29 June 2017
…to Mar-a-Lago 3 nights in a row around New Year's Eve, and insisted on joining me. She was bleeding badly from a face-lift. I said no!

— Donald J. Trump (@realDonaldTrump) 29 June 2017
:: Hamilton
When the cast of the popular musical addressed Vice President Mike Pence, who was in the audience, he responded by saying he'd enjoyed the show. But the that didn't stop Mr Trump taking issue with the criticism online.
The cast and producers of Hamilton, which I hear is highly overrated, should immediately apologize to Mike Pence for their terrible behavior

— Donald J. Trump (@realDonaldTrump) 20 November 2016
:: Honorary mention
More from Donald Trump
While not an attack on anybody, this was one of Mr Trump's most baffling tweets. It has since been deleted, but not before giving rise to endless speculation – and mockery – online.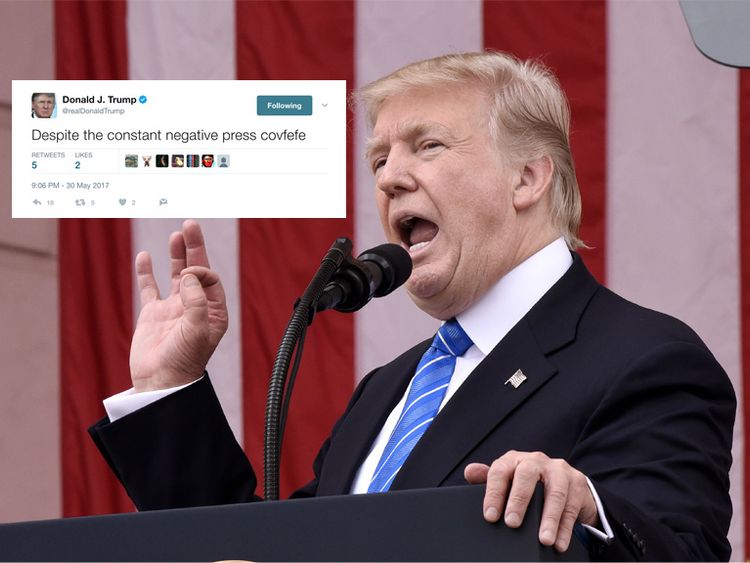 [contf] [contfnew]
[contfnewc] [contfnewc]