Around a dozen of the fires that devastated northern California's wine country last year were sparked by power lines, according to state officials.
The fires began on 8 October and killed 46 people as they spread through several counties north of San Francisco.
More than 170 fires scorched at least 245,000 acres of land and destroyed almost 9,000 homes and other buildings.
Some 11,000 firefighters were deployed from 17 states and Australia, and the state's insurance commissioners assessed insured losses from the tragedy at $9bn (£6.7bn).
The California Department of Forestry and Fire Protection (CalFire) investigated 12 of the fires – in Sonoma, Napa, Mendocino, Lake, Butte and Humboldt counties – which killed 18 people.
According to the investigation, the power lines were owned by Pacific Gas & Electric (PG&E) and evidence was found of "alleged violations of state law".
These alleged violations are in eight of the cases and have been referred to prosecutors, authorities said.
Among the causes were downed power lines and trees blown into electrical wires by strong winds.
The Atlas fire in Napa County, for example, was a result of a large limb breaking from a tree and coming into contact with a power line. At a second location, a tree fell onto the same line.
The Atlas fire killed six people, destroyed 783 buildings and burned more than 51,000 acres.
CalFire spokesman Michael Mohler said investigators looked for specific lapses ranging from maintenance and equipment failures to improper vegetation clearance.
He would not discuss specific findings as the matter is still being investigated.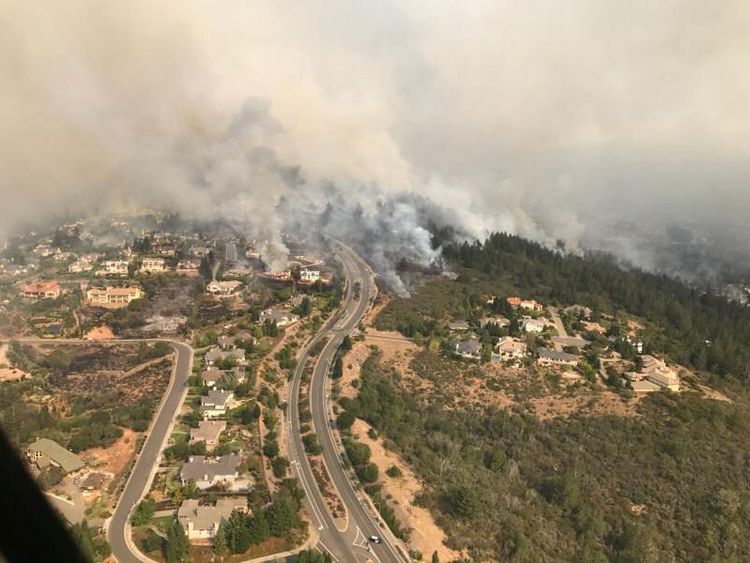 San Francisco-based PG&E said in a statement: "The loss of life, homes and businesses in these extraordinary wildfires is simply heartbreaking, and we remain focused on helping communities recover and rebuild.
"Based on the information we have so far, we continue to believe our overall programs met our state's high standards.
"For example, PG&E meets or exceeds regulatory requirements for pole integrity management, using a comprehensive database to manage multiple patrol and inspection schedules of our more than two million poles."
The company added that years of drought, extreme heat and millions of dead trees had "created a 'new normal' for our state that requires comprehensive new solutions".
More from California
State Senator Bill Dodd, who represents Napa, Sonoma, Solano, Yolo, Sacramento and Contra Costa counties, said the findings of alleged violations of state code were "disappointing and deeply concerning".
PG&E shares were down 0.6 percent in after-market trading following the CalFire statement.
[contf] [contfnew]
[contfnewc] [contfnewc]