Culture is contributing to the opioid crisis in the US; drug companies ease supply, and lobbying raised the demand from doctors, while they and patients were misled about the risks, law professor Richard Ausness told RT.
Life expectancy in America has declined for the second year in a row, and figures show that powerful painkillers were affecting it as opioids played a bigger role in overdose deaths last year than any other legal or illegal drug.
According to a recent report by the Centers for Disease Control and Prevention (CDC), there were over 63,600 drug overdose deaths in the US in 2016. In comparison, 58,220 US soldiers died during the more than decade-long Vietnam War.
RT discussed the opioid crisis in the US with Richard Ausness, Associate Dean for Faculty Research and Stites & Harbison Professor of Law at the University of Kentucky College of Law, who has written about the failure to prosecute drug companies.
"The federal government is going to have to take the lead in developing the policy to combat opioid addiction. On the other hand, it is going to take a lot of money and a lot of time. And I am not sure that we are there yet. I think a lot of work needs to be done developing a policy before we'll see much of the improvement," Ausness said.
Read more
Ausness pointed out that the culture is the contributing factor: "in many of the areas the country that has the worst problem with opioids – there is a tendency to use drugs, either legal drugs or illegal drugs, or to abuse them."
"I think, that doctors tend to prescribe opioids when there is private health insurance perhaps more so than in Europe where there are government programs," he noted.
According to Ausness, the part of the problem is that the drug companies developed lobby at the medical profession.
"And [they] developed a demand among doctors to prescribe these drugs for chronic pain which they weren't really designed to be used for. That perhaps has as much to do with that as direct to consumer advertising," he continued.
In his view, drug companies are largely responsible for the crisis.
"They facilitated the distribution of drugs to pain clinics which were very common at one time in certain parts of the country, and they certainly encouraged doctors to prescribe drugs and patients to use them in inappropriate ways," Ausness explained.
In Ausness's opinion, the drug companies downplayed the addiction risks associated with the opioid use.
"And therefore both physicians and patients were somewhat misled about the risks. Clearly, an educational program would have helped that, and certainly, it is needed now to try to prevent the problem from getting any worse," he concluded.
'Quick fixes prioritized over complex solutions'
Stress, anxiety, and uncertainty caused by many factors, including growing economic disparity, have contributed to the opioid crisis, says Andrew Tatarsky, an American psychologist, founder and director of The Center for Optimal Living.
Read more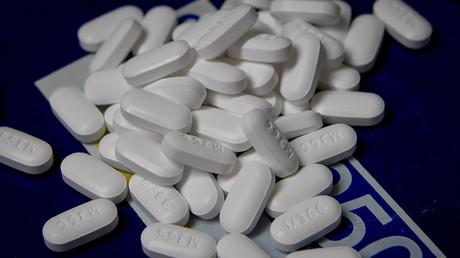 "Since 9/11 the US has been in the state of perpetual war. And increasingly we've had a growing economic disparity that has created tremendous economic uncertainty and suffering. More recently, we are amidst the political divisiveness and conflict which I think has created what some people have called "the age of anxiety in the US." We've got a tremendous amount of stress, anxiety and uncertainly that increased people's vulnerability to turn to substances to cope, to manage, to escape, to feel better," he told RT.
"We are a country, a culture that tends to look for quick fixes, for simple solutions and particularly, as it relates to drug use, we think that drug users are criminals or they are morally defective, and we stigmatize them," Tatarsky explained.
"We offer them inadequate treatments: the focus on drugs as a solution rather than looking at human problems and suffering in a much more complex and nuanced way…The overemphasis and drug prescribing rather than seeking more comprehensive, more complex solutions both to the problem of addiction, but more generally to the problems of human suffering," he told RT.
[contf] [contfnew]
[contfnewc] [contfnewc]
The post Opioid crisis: 'Drug companies lobbying contributed to demand among doctors' appeared first on News Wire Now.