Taylor Michael Wilson, 26, of St. Charles, Missouri, was first arrested back in October on state charges after he entered a secure area of an Amtrak passenger train in rural Nebraska, the complaint states. He allegedly played with the controls and applied the emergency brakes, causing the train to stop with intent to harm those aboard, the complaint states. Wilson, who had a fully loaded weapon on him, was charged with use of a deadly weapon to commit a felony and felony criminal mischief, both state charges. He was released on a partially secured bond on December 11, court documents state. But a further search warrant and investigation from the FBI led to the discovery of a stash of firearms at his residence and several connections to what the complaint describes as white supremacist groups. He was arrested again on December 23 and he was ordered detained on January 2, according to the complaint.Investigators found an arsenal of weapons, ammunition and a hand-made shield at his residence and learned that he had told his roommate he was interested in killing black people, according to the criminal complaint. Investigators also learned that Wilson had been involved in neo-Nazi groups, and that he was once suspected of pointing a firearm at a black woman in a road rage incident, the complaint states.Jerry Sena, Wilson's attorney, said Wilson plans to plead not guilty to the charges. Sena added that Wilson does not have any history of mental illness, no history of drug abuse and little or no criminal history.Wilson faces up to life in prison if convicted on the terrorism charges.
Attempted train takeover
Wilson boarded the Amtrak train in Sacramento, California, and was traveling to Missouri when he entered a secure area and triggered an emergency stop on October 22, according to the complaint. Two Amtrak conductors told the FBI that Wilson continually egged them on as they attempted to detain him, saying "What are you going to do, shoot me?"Wilson also went through drastic mood swings and "would start saying crazy things about going to the moon," one conductor said.The train engineer and Amtrak personnel detained him, and he was arrested when police arrived, the complaint states. A deputy with the Furnas County Sheriff's Office found a fully loaded handgun in his waistband and a fully loaded speed-loader, the complaint states. In addition, a backpack belonging to Wilson contained three more loaded speed-loaders, a box of ammo, a fixed blade knife, a gas mask and other items.
Connections to white supremacy
When he was booked at the Furnas County Sheriff's Office, Wilson was in possession of a business card for the National Socialist Movement, a neo-Nazi party, according to the complaint. He also had a card for the Alabama preacher William Davidson of The Covenant Nation Church, a church based on the belief that "White people are part of the Lost Ten Tribes of Israel," according to the complaint.A search warrant for his cell phone showed that he had a banner with the annotation "'Hands up don't shoot' is Anti-white fake news — Altright'" over an unknown highway, the complaint states.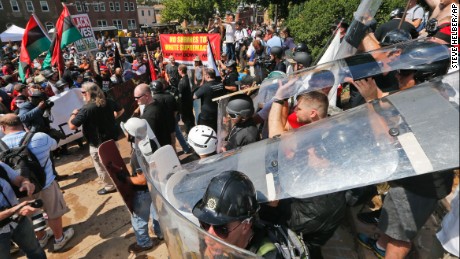 Later, the FBI interviewed Wilson's cousin and roommate, who said Wilson had joined an "alt-right" group that Wilson had found researching white supremacy forums online, the complaint states. Wilson also traveled with what the complaint describes as a neo-Nazi group to the "Unite the Right" protests in Charlottesville, Virginia, that became violent, according to his cousin. The cousin said he wasn't sure if Wilson brought anything other than a shield and a bulletproof vest, but he said that Wilson had about 20 to 25 firearms and normally carried a firearm on him.His cousin said Wilson expressed an interest in "killing black people" and others besides whites, especially during the protests in St. Louis this fall after the acquittal of a St. Louis police officer who fatally shot a black man, the complaint states.Wilson also made statements that the cousin interpreted to mean that Wilson and his group were behind "Whites Only" signs that were placed on businesses, the complaint states.In September, several bars and restaurants in The Grove neighborhood of St. Louis discovered the "Whites Only" stickers on their businesses, CNN affiliate KMOV reported.The "alt-right" generally refers to the right-wing movement that strictly opposes immigration and argues that white people are under attack in society. White supremacist groups believe that the white race is better than other races and should therefore dominate society, while the term neo-Nazis generally refers to white supremacists who support genocide or ethnic cleansing.The complaint states that investigators conducted a search warrant of his residence and located a hidden compartment behind his fridge that contained a large amount of weaponry: a tactical vest, scores of ammunition magazines and a handmade shield as well as white supremacy documents and paperwork.Wilson's father, Michael Wilson, provided investigators with his son's firearms, ammo and tactical body armor. One of the firearms was a fully automatic rifle, and another was converted to a short rifle, both possible federal crimes, the complaint states.Wilson had no evident criminal history, but investigators discovered that he was a suspect in a road rage incident in which he allegedly pointed a handgun at a black woman in St. Charles, the complaint states. The woman told police the license plate number of the man's vehicle, which was then traced to Wilson. But police were later unable to locate her, so the case was placed in inactive status, the complaint says.Wilson told his cousin about an incident in which he pointed a gun at somebody while driving, according to the complaint, a story that the complaint says fits the description of the road rage incident in St. Charles.
CNN's Carma Hassan, Deanna Hackney and Pierre Meilhan contributed to this report.
Original Article
[contf] [contfnew]
[contfnewc] [contfnewc]