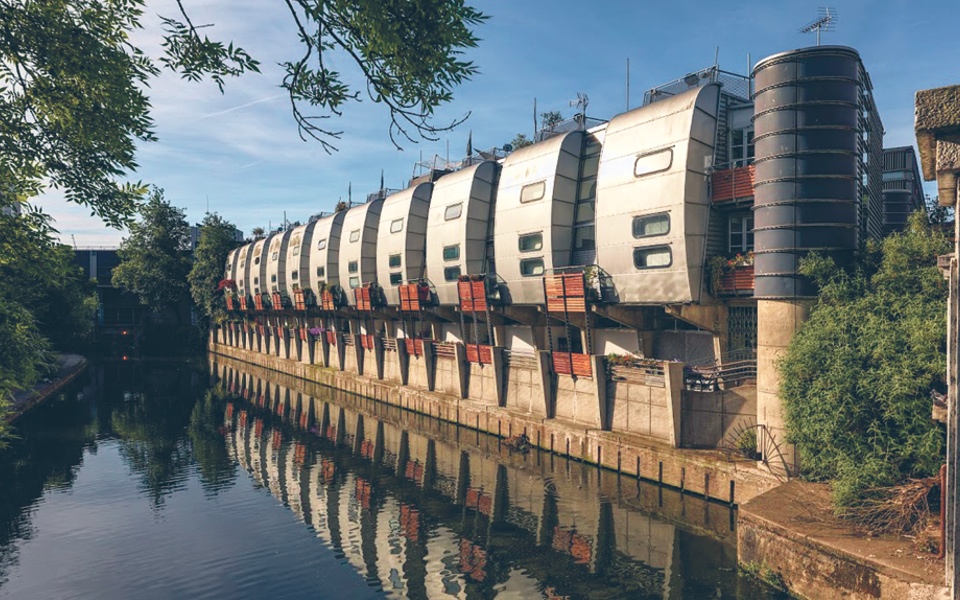 Do you love them or hate them? Whatever your opinion, the row of homes at Grand Union Walk in Camden Town is now officially architecturally significant, having been awarded grade II listed status by Historic England last week.
The ten three-bedroom houses and two flats in NW1 were designed by Sir Nicholas Grimshaw in the late 1980s, as part of a commission from Sainsburys to create a visually interesting supermarket on the same site.
The project, which Historic England describes as "unapologetically futuristic," is an example of high-tech architecture: a branch of modernism that borrows design elements from the engineering and industrial world.
Examples include the Lloyds building in the City and the Centre Pompidou in Paris, as well as Grimshaws own later career credits such as the Eurostar terminal at Waterloo station and the Eden project in Cornwall. However, examples of housing in the high-tech style are very rare. So has this unique heritage translated to a bump in values for Grand Union Walk?
According to Rightmove, a three-bed home put up for sale on the street in April has recently been sold subject to contract off a guide price of £1.15m. The average sale price of a house on Grand Union Street in the last five years was £1.01m, according to Zoopla. That figure accounts for just two sales, suggesting that owners have tended to stay put – but it does not compare favourably to the £1.51m average for terraced homes in Camden Town.
Hal Currey, the founding director of HAL Architects who designed his own home in Camden Town in 2000, says this is not necessarily a result of the properties Marmite design. "I suspect that the lower values achieved by the Grand Union Walk houses in Camden owes less to the style of architecture and more to the fact that they are single-aspected towards the north," he says. "[The street] is also a little isolated from its neighbours."
Charlie Cockcroft, direRead More – Source