Microsoft co-founder Paul Allen has died aged 65 from "cancer complications", his family said.
The billionaire was suffering from non-Hodgkin lymphoma and died in Seattle on Monday afternoon.
He started the US software giant with his childhood friend Bill Gates in 1975 and was estimated to be the 46th richest person in the world at the time of his death, with a net worth of $20.2 billion (£15.4bn).
Two years older than Mr Gates, he persuaded him to drop out of Harvard to start up Microsoft, after the pair met in the computer room at school in Seattle
His sister, Jody Allen, said in a statement: "My brother was a remarkable individual on every level. While most knew Paul Allen as a technologist and philanthropist, for us he was a much loved brother and uncle, and an exceptional friend.
"Paul's family and friends were blessed to experience his wit, warmth, his generosity and deep concern.
"At this time of loss and grief for us – and so many others – we are profoundly grateful for the care and concern he demonstrated every day."
Some personal news: Recently, I learned the non-Hodgkins lymphoma I battled in 2009 has returned. Ive begun treatment & my doctors are optimistic that I will see a good result. Appreciate the support Ive received & count on it as I fight this challenge. https://t.co/ZolxS8lni5

— Paul Allen (@PaulGAllen) October 1, 2018
On 1 October Mr Allen revealed the non-Hodgkin lymphoma he successfully battled in 2009 had returned, but his doctors were "optimistic that I will see a good result".
Satya Nadella, the current head of Microsoft, said: "Paul Allen's contributions to our company, our industry and to our community are indispensable.
"As co-founder of Microsoft, in his own quiet and persistent way, he created magical products, experiences and institutions, and in doing so, he changed the world.
"I have learned so much from him – his inquisitiveness, curiosity and push for high standards is something that will continue to inspire me and all of us at Microsoft.
"Our hearts are with Paul's family and loved ones. Rest in peace."
Mr Allen served as Microsoft's executive vice president of research and new product development until 1983 when he resigned after being diagnosed with cancer for the first time at just 30-years-old.
He never married, had no children, and was often considered reclusive, not wanting to be in the limelight.
Mr Allen founded Vulcan Inc in 1986 to oversee his diverse business activities and philanthropic efforts, from sports teams to conservation projects.
The keen sports fans owned the Seattle Seahawks American football team, the Portland Trail Blazers basketball team – which he bought when he was 35-years-old – and was a part-owner of the Seattle Sounders FC.
He was often seen at games or chatting in the locker room with players of the three teams.
In 2010 he publicly pledged to give away the majority of his fortune, saying he believed "those fortunate to achieve great wealth should put it to work for the good of humanity".
During his lifetime he gave more than $2bn to a variety of causes including education, wildlife and environmental conservation, the arts, health and community services.
Mr Allen founded the Allen Institute for Brain Science, the Institute for Artificial Intelligence, the Institute for Cell Science and Stratolaunch Systems, a space transportation venture.
In May he donated $1m to a gun control drive in Washington state called Initiative 1639, which calls for enhanced background checks, safety training courses, secure storage standards and raising the semi-automatic rifle purchase age to 21.
He was also a keen musician and in 2013 released a blues-rock album called Everywhere at Once, under Sony's Legacy Recordings.
Mr Allen and his band were famous for playing on his 414ft (126m) super yacht, Octopus, at the Cannes film festival every year – when singers including Usher and Dave Stewart would join in.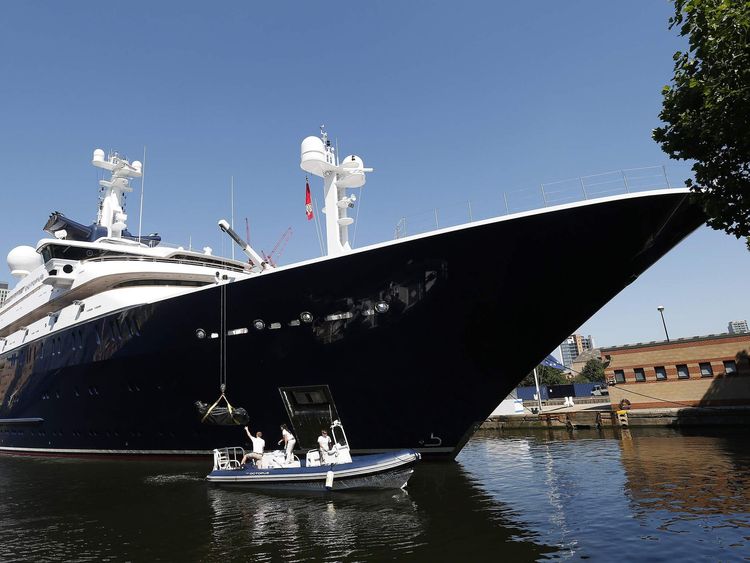 The boat features two helicopters, a submarine, a remotely operated underwater vehicle, a swimming pool, a music studio and a basketball court.
More from World
He loaned it out for a number of operations, including the search for a missing American pilot and two officers whose plane disappeared off Palau in the western Pacific Ocean, and the study of a rare fish called a coelacanth.
He also owned Tatoosh, one of the world's 100 largest yachts.
[contf] [contfnew]
[contfnewc] [contfnewc]