"If there has indeed been an infraction…I will not hesitate to revoke Oxfam's right to operate in Haiti," Aviol Fleurant, Haiti's minister of planning and external cooperation, told CNN in an interview Friday in the capital, Port-au-Prince. Fleurant is in charge of the oversight of aid agencies. Oxfam's leaders are accused of attempting to cover up the behavior of some senior staff members while in the Caribbean nation in the aftermath of the devastating 2010 earthquake. The aid workers — including the Oxfam country director at the time, Roland van Hauwermeiren — are accused of turning a villa rented by the organization into a makeshift brothel.The charity also faces allegations that its staff used sex workers in the African nation of Chad in 2006"If Oxfam is found (guilty) of any wrongdoing and also guilty of diverting funds (to pay for sex) and if the leaders at the time were also to be found guilty of sexual crimes, both will pay," Fleurant said.Oxfam hasn't denied the accusations against its staff members but denied a cover-up, saying it launched a swift internal investigation after becoming aware of the allegations. Four people were fired and another three resigned, including van Hauwermeiren, the charity said.In an open letter this week to a broadcaster in his native Belgium, van Hauwermeiren acknowledged his behavior was unacceptable. "I myself, indeed I am not perfect, I am not a saint, a man of flesh and blood, and have made mistakes (not easy to admit), and I am deeply ashamed," he wrote in the letter. Van Hauwermeirn admitted he had intimate relations with a woman in Haiti, but denied allegations that he paid for sex in the villa the charity had rented for him in the wake of the 2010 earthquake.
Oxfam under threat of losing UK funding
Oxfam has agreed to withdraw from bidding for UK government funding until the country's Department for International Development is satisfied that proper safeguards are in place to prevent abuse, International Development Secretary Penny Mordaunt said in a statement Friday.Oxfam received about £32 million (about $44 million) from the government last year. It is one of the UK's largest and most prominent aid organizations, operating development programs in more than 90 countries. The agency also offers assistance to people after emergencies and disasters. Mordaunt said she discussed the issue with Oxfam CEO Mark Goldring and the chair of trustees, Caroline Thompson, and received a formal response from the charity Friday. "I made three demands: that they make clear how they will handle any forthcoming allegations around safeguarding — historic or live; that they report staff members involved in this incident to their respective national governments; and that they fully cooperate with the Haitian authorities, including handing over all evidence they hold. Oxfam has now confirmed that they have complied with all of these points."The UK Charity Commission, an independent regulator of charities in England and Wales, has opened a statutory inquiry into the allegations."Clearly Oxfam (has) a long way to go before they can regain the trust of the British public, their staff and the people they aim to help," Mordaunt said "… I am determined that we do our utmost to prevent exploitation and abuse happening — and ensure that where it does happen it is identified and dealt with appropriately."
Urgent review
Oxfam announced Friday that an independent commission would carry out an "urgent" review into the allegations alongside a "comprehensive action plan to stamp out abuse."In a statement, the charity's international executive director, Winnie Byanyima, said Oxfam is "absolutely committed to ensuring justice for survivors of abuse."
"What happened in Haiti and afterward is a stain on Oxfam that will shame us for years, and rightly so," she said. "From the bottom of my heart I am asking for forgiveness."Byanyima also urged abuse victims to come forward on Twitter.UN Secretary-General Antonio Guterres warned this week that a culture change is required to enable women across the world to work without fear of sexual harassment.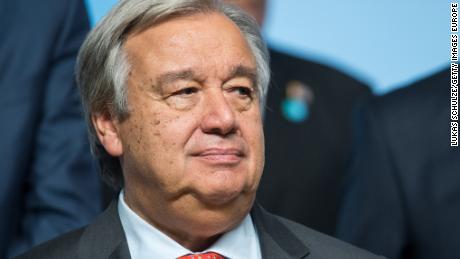 In an interview with CNN, Guterres said the allegations that have engulfed Oxfam were a reminder of the "serious problem that is everywhere."The United Nations has faced its own abuse scandals. In 2016, there were 80 allegations of sexual exploitation and abuse by uniformed United Nations personnel and 65 allegations against civilian workers who support the peacekeeping missions, according to a report by Guterres published last year.UN peacekeepers accused of raping civiliansAs a result of the report, Guterres unveiled recommendations from a task force attempting to eradicate sexual abuse by peacekeepers in the field."The cameras from the entire world were turned on Haiti on its plight, and its plight of its future, but behind the curtains sexual crimes were being committed against the people, to the detriment of their dignity," said Fleurant, the Haitian minister. "… As a human being, as a Haitian, I am profoundly shocked and saddened."
CNN's Cyril Vanier, Natalie Gallón, Nic Robertson and James Masters contributed to this report.
Original Article
[contf] [contfnew]
[contfnewc] [contfnewc]