George Herbert Walker Bush was the longest living president in American history – and it was a life lived to the full.
He grew up in a large, affluent family where he developed a dedication to traditional American values and a commitment to public service in war and in peace.
On his 18th birthday he enlisted in the armed forces and as the youngest pilot in the Navy, he flew 58 combat missions in the Second World War.
On one – as a torpedo bomber pilot – he was shot down over the Pacific by Japanese anti-aircraft fire and had to be rescued from the shark-infested waters by a US submarine.
He was awarded the Distinguished Flying Cross for bravery in action. Barely had the war finished when he married the woman who was to become the love of his life, Barbara Pierce.
It was to become the longest marriage in US presidential history. They had six children, including one, Robin, who died as a child. Another, George W Bush, was to become a two-term president.
After graduation at Yale University, he embarked on a career in the oil industry in Texas that was to make him a multi-millionaire. But, following in the footsteps of his father, a senator, Mr Bush became interested in politics and public service and served two terms as a representative in Congress.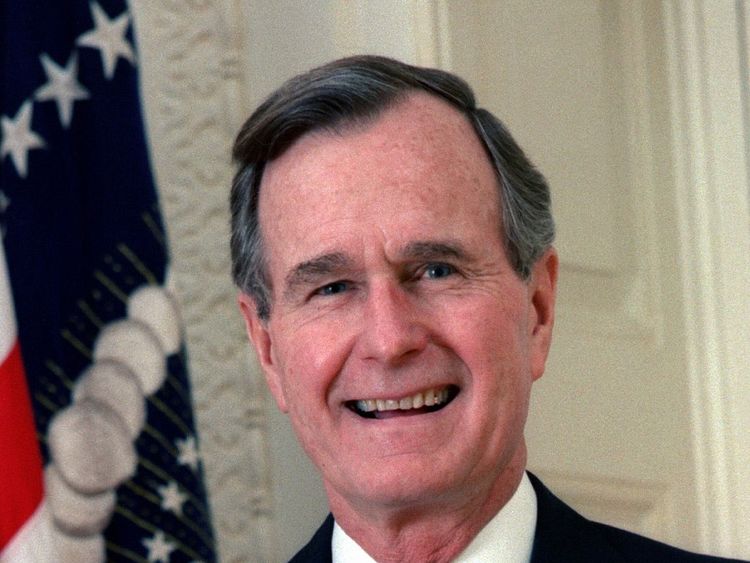 He had a stellar political career and was appointed to a series of high level positions including ambassador to the United Nations and director of the Central Intelligence Agency.
In 1980 he campaigned for the Republican nomination for president but lost and was chosen as a running mate by Ronald Reagan. After two terms as vice president, he finally won the nomination in 1988 and defeated Michael Dukakis in the election.
As president he faced a rapidly and dramatically changing world as the Soviet Union collapsed and the Berlin Wall fell. It was largely the consequence of events that took place under the Reagan presidency but Mr Bush had to deal with the fall-out which included the resignation of the reformist Russian leader Mikhail Gorbachev.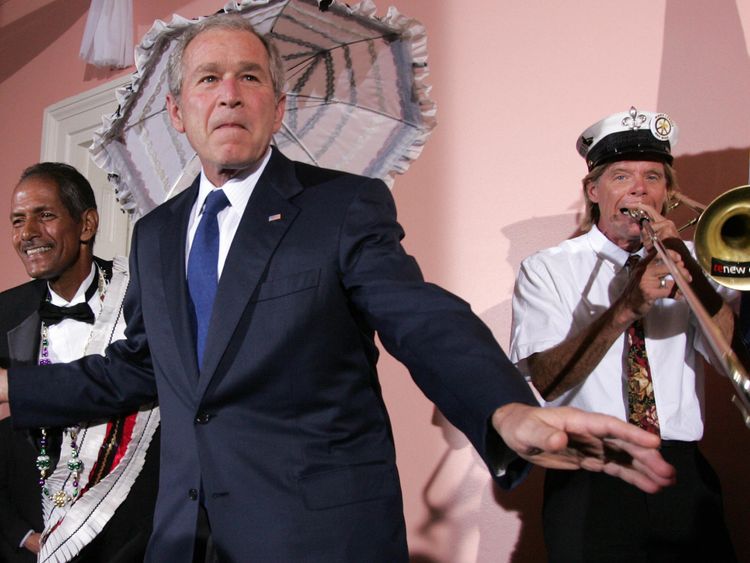 These were testing times but his greatest challenge came when Iraq's president Saddam Hussein invaded neighbouring Kuwait in August 1990.
It provoked an international crisis and Mr Bush rallied allies, the United Nations and the American Congress and sent 500,000 troops to the region. After six weeks of airstrikes, the land battle – with 100,000 troops from allied nations – was swift and effective, routing Iraqi forces who fled or surrendered.
Mr Bush called a ceasefire, and did not take the fight into Iraq in an attempt to topple the Saddam regime, insisting it would be too costly in American and Iraqi lives. Many people criticised him for not pursuing the war all the way to Baghdad.
Ironically his son, George W, did topple Saddam more than a decade later. The war boosted the president's popularity but it didn't last and despite triumphs in foreign policy he was undone by events at home.
He didn't have the answers to growing discontent caused by a faltering economy and high deficit spending and in 1992 he paid the price, losing his bid for re-election to Democrat Bill Clinton.
Mr Bush remained active, even sky-diving on special birthdays, and stayed in public life making regular appearances with his wife.
More from George HW Bush
Barbara's death in April 2018 took a terrible toll on her husband who was already suffering from a Parkinson's type illness.
Widely considered a good, rather than a great president, George H W Bush unquestionably had a remarkable life.
[contf] [contfnew]
[contfnewc] [contfnewc]