In good news for Americans, the storm was well into Canada on Saturday, CNN meteorologist Allison Chinchar said. But whipping winds of 20 to 30 miles per hour and below average temperatures remain, and they are expected to cause plenty of headaches this weekend, such as power outages and flight cancellations. To complicate matters, a widespread ice storm from Sunday into Monday is expected to blanket Eastern and Midwestern cities, including Chicago, Cleveland, New York and Atlanta, until normal and even above-normal temperatures prevail in the middle of next week."Suffice to say, it will be a brutally cold weekend," the National Weather Service said. "But some relief is in sight heading into early next week." In photos: Brutal cold torments the USThe misery extends from north to south.The storm dumped more than a foot of snow across 10 states, deluged streets in Massachusetts with icy water and is now bringing extremely strong northwest winds and frigid arctic air to the United States.In the town of Scituate, Massachusetts, the Nor'easter damaged cars and structures and left boulders and sand on flooded roads, CNN affiliate WBZ reported. Throughout the region, stories of dramatic rescues emerged, and residents pondered the repairs they need to make."I've got some work to do in the spring," said Mark Bramblett, a Scituate resident who evacuated his home.
Temperatures plunge below average
At major airports in New York, Philadelphia and the Washington area, more than 1,000 flights were canceled Friday, Chinchar said, though that number had dropped considerably by Saturday, according to the tracking site Flightaware.com. In Charleston, South Carolina, five inches of snow and ice shut the airport, which lacks ice and snow removal equipment and so isn't due to reopen until 7 p.m. Monday, according to the Federal Aviation Administration."They will have to wait until Mother Nature warms them up enough to melt the snow and the ice naturally," Chinchar said.The National Weather Service said the highs Saturday afternoon will likely be around 20 to 30 degrees below average in many locations, and daily temperature records are expected to be broken."Expected highs will be in the single digits across the lower Great Lakes down into Ohio. Meanwhile, readings in the teens are likely from Washington, D.C. up to New York City with single digits up into coastal New England," weather service forecasters said. "Based on the latest forecasts, overnight temperatures should go below zero degrees over most of New England with perhaps even some 5 to 10 degree numbers all the way into North Carolina," they said.
The wind chill factor
Millions will experience frigid wind chills this weekend from the Great Lakes to New England on Saturday, CNN meteorologists said.Wind chill is the perceived temperature that people and animals feel when exposed to the elements. Or as meteorologists say, it's the "feels like" temperature.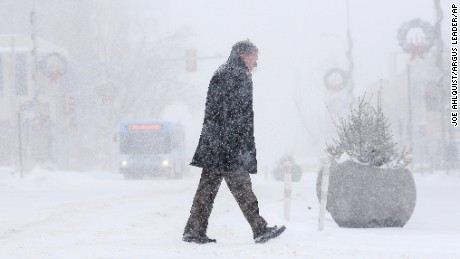 "As wind increases in speed, it increases the rate of heat loss on your body, making you feel colder than it actually is," CNN meteorologist Derek Van Dam said.Wind chill is calculated by the rate the body loses heat due to speed winds and cold temperatures. Saturday's cold snap has been called dangerous because it will make it easier for people to experience hypothermia and frostbite. If the wind chills range from 15 to 25 degrees below zero, as expected Saturday in much of western and northern Pennsylvania, the onset of frostbite can take as few as 10 minutes. And when the wind chill registers below minus 50, it would take only five minutes for exposed skin to develop frostbite.Track severe weather across the country
Deadly conditions
At least 19 people have died this week because of severe weather, officials said.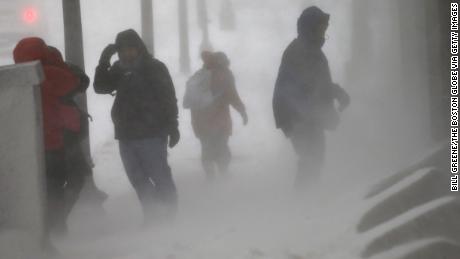 Six deaths were reported in Wisconsin, four in Texas, three in North Carolina, and one each in Ohio, Michigan, Missouri, North Dakota, South Carolina and Virginia.Among the dead was a 64-year-old man who died of hypothermia in Akron, Ohio. A Meals on Wheels driver found his body lying in front of his wheelchair on the porch of the man's home.In South Carolina, a man was killed after his pickup slid on icy roads, hitting a median and several trees, according to the Kershaw County Coroner.
Emerging from the storm
The storm heaped plenty of misery across New England. Waves from the sea washed into Boston streets. And the tide in the city — 15.16 feet — broke the record set during the blizzard of 1978, the National Weather Service said.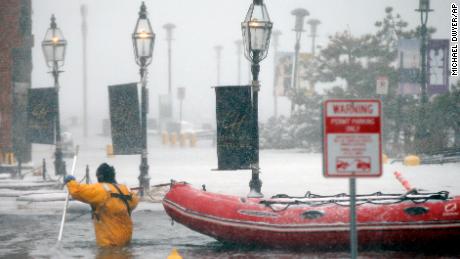 The storm flooded streets in some communities in coastal Massachusetts, turning roads into slushy rivers. Firefighters and the National Guard had scrambled to rescue dozens of coastal residents stranded by freezing water pushing in from the Atlantic. First responders braved the frigid waters using rubber rescue boats and high-water vehicles.On Friday, areas were freezing over."We'll use a big pump (to) move some of the ice around, but we really have to wait for the weather to warm up," said Rob Reardon, captain of the fire department in Duxbury, about 35 miles southeast of Boston.
CNN's Madison Park and Jason Hanna contributed to this report.
Original Article
[contf] [contfnew]
[contfnewc] [contfnewc]