As crime-ridden Baltimore continues its mission to "rebuild community trust" in law enforcement, a police officer is indicted by a grand jury for allegedly planting drugs during an arrest, as seen on bodycam video.
Pinheiro was charged on Tuesday with misconduct and fabricating evidence in connection with the body camera video after Baltimore City State's Attorney Marilyn Mosby announced that a grand jury returned an indictment against the officer, according to WBAL.
Prosecutors in the case claim Pinheiro attempted to use his body camera footage with intent to deceive attorneys and investigators regarding where evidence was found in a case involving an individual charged with possession of drugs.
Mosby said the charges in the case against Pinheiro reflect her pledge "to apply one standard of justice for all," according to the Sun.
Read more
"It's critical we remain transparent throughout the process to the extent the law allows as we continue to rebuild community trust," Mosby said in a statement on Wednesday, the Sun reports. "Yesterday's indictment is another example of our office applying justice fairly and equally."
In the announcement of Pinheiro's indictment, prosecutors said they also cleared three other officers involved in a separate body camera video incident in June. This was part of a total of three body camera videos released in the summer of 2017 that defense attorneys said depicted questionable activity by police, according to the Baltimore Sun.
The video on Pinheiro's body camera was initially brought to prosecutors' attention by an assistant public defender representing an individual charged with possessing the drugs in question that the officer allegedly planted on January 24, 2017.
Police body cameras automatically record the previous 30 seconds without sound when they are activated, and several seconds into the muted part of Pinheiro's body-worn camera footage from January 24, 2017, he is shown allegedly planting a bag of drugs in a yard that police had already been searching during an investigation.
Then, Pinheiro is shown going out to a sidewalk and activating his body camera. It is at this point on the video that he returned to the yard and picked up the bag of drugs where he had just dropped it, which led to the individual being charged.
However, Pinheiro's attorney, Michael Davey, said the officer did not break the law, and "simply tried to document the recovery of evidence with his body-worn camera that he had previously recovered," the Sun reported.
READ MORE: Baltimore's 2017 murder rate breaks records, as 2 fatal shootings kick off 2018
"This is just another overreach by the Baltimore State's Attorney's Office, and an attempt to prosecute a police officer when there's no evidence to do so," Davey said, the Sun reported.
Read more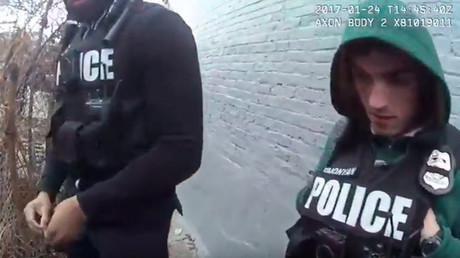 Chief of Media Relations for the Baltimore Police Department TJ Smith, wrote in an email that police have changed their policy since the incident, saying that officers need to keep their cameras on from the beginning of an event, until they have departed the scene, according to WBAL.
The charge against Pinheiro of fabricating evidence is a misdemeanor and carries a maximum of three years imprisonment and a fine of $5,000, the Sun reports.
Misconduct in office is a common-law offense, meaning that the court is free to impose any penalty on the officer that does not constitute cruel and unusual punishment.
[contf] [contfnew]
[contfnewc] [contfnewc]