Apple's latest smartwatch, the Apple Watch Series 6, gives us almost every feature one could ask for in a fitness tracker while reasserting Apple Watch's position as the most fun, connected, and complete smartwatch experience.
To be fair, the Apple Watch Series 5 also held those distinctions in its time. You could argue the same going for annual releases farther back in the Apple Watch's history. But with the Series 6 addition of native sleep tracking and blood oxygen measurements to complement the already solid fitness foundation, there isn't much more you could ask for in a fitness tracker, or smartwatch, at this point. So, to sweeten the deal, Apple finally gave us some fun colors to keep our eyes from wandering. And at the company's recent fall event, Apple also introduced the less-expensive Apple Watch SE.
With the Series 6 and SE sitting alongside the even more affordable and still available Apple Watch Series 3, we now have a hard time telling anyone they should buy any other smart watch instead of one of Apple's. Instead, the more pressing question in 2020 is, "Which one?"
All-around improved performance and some much-needed flare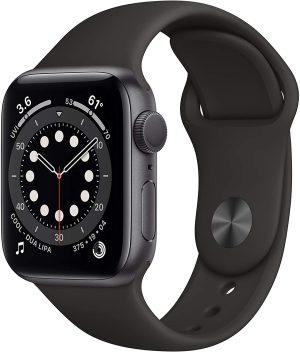 Apple Watch Series 6
(Ars Technica may earn compensation for sales from links on this post through affiliate programs.) As Apple does every year, it promised all-day battery life on the Series 6, and, as always, even with the introduction of new features, the company delivers. All day means about 18 hours to Apple, and in my experience—with workouts, sleep tracking, and moderate use—it could easily meet the 24-hour mark.
That's with the inclusion of two improved, always-on features, too—the altimeter and the now-brighter always-on display. The altimeter in the previous generation was only activated during specific activities or apps, but now it keeps track in the background around the clock for "more precise metrics," Apple says. As for the always-on display, which was first introduced in the Series 5, the Series 6's outdoor brightness is bolstered to 2.5-times brighter when your wrist is down, which makes an appreciable difference for at-a-glance information, be it in workouts or just to see the time, compared to the Series 5.
The blue case is casual, but versatile. Corey Gaskin

The woven Solo band fits comfortably without feeling loose or constricting. Corey Gaskin

The blue case looks best when the light hits it. Corey Gaskin

The woven band is a comfy choice for daily wearing. Corey Gaskin

The improved always-on display is 2.5x brighter outdoors with your wrist down. Corey Gaskin

The Solo loop and Sport band are perfect to switch between for activities. Corey Gaskin

It's a new look for Apple Watches, but all too familiar. Corey Gaskin

The rear of the casing packs the new SpO2 sensors for measuring blood-oxygen saturation. Corey Gaskin
Thankfully, Apple has achieved this while not only maintaining all-day battery, but also cutting down charge time and gaining 20-percent faster processing speeds over the Series 5. That improvement arrives thanks to better efficiency on Apple's latest S6 system-in-package (SiP). Faster processing speeds aren't going to be something you'll likely notice, but you will appreciate the quicker charging times of the Series 6. Apple says the Series 6 now takes 90 minutes to charge from zero to 100 and one hour to get from zero to 80 percent, as opposed to the two-hour zero-to-100 charge needed for the Series 5.
This is right on par with our experience, knocking off a little over a half hour of charging time from the previous generation. It may not sound like a lot, but getting a near-full charge from dead to 80 percent in an hour or leaving it 30 minutes more to top up fully is making me like the Series 6 a lot more. Dwindling battery shortly before bedtime or a dead watch right before you need to run out the door isn't such a drag anymore.
Speaking of charging, you may have heard that this year Apple Watches won't come with the 5-watt wall adapter. Since that's the case, you'll need to grab your own USB-A equipped adapter to plug up the charging cable Apple does ship you. Apple's thinking here is, of course, to create less waste. So generally speaking, we're on board with this—it's highly likely you have one (or many) of these lying around somewhere, anyway.
We're all for more performance, improved battery life, and saving the world, but one of the first things that will attract some people to this watch are the new colors. Our navy-blue test unit has a casual look that can become more or less subdued with different band pairings. The (PRODUCT) RED aluminum case pulls off a sexier, sportier aesthetic while still being decently versatile.
You also, of course, have the classic aluminum options of space gray, silver, and [rose] gold (the latter is listed as gold, but it's decidedly pink) as we've seen in the past. Stainless-steel options in graphite, silver, and gold, as well as titanium offerings in gray and silver are still available. This brings the highest total of color options ever to the Apple Watch lineup, with 10 bespoke colorways.
While these new colors do bring some much-needed excitement to the Apple Watch aesthetics (especially in red), it still basically looks like the first Apple Watch ever launched five years ago, which, at this point, looks uninspiring at the least. Though this aesthetic has become synonymous with the brand, it's still not prettier on your wrist than any of your favorite timepieces or hybrid smartwatches, due largely to the square shape that has remained mostly unchanged since 2015.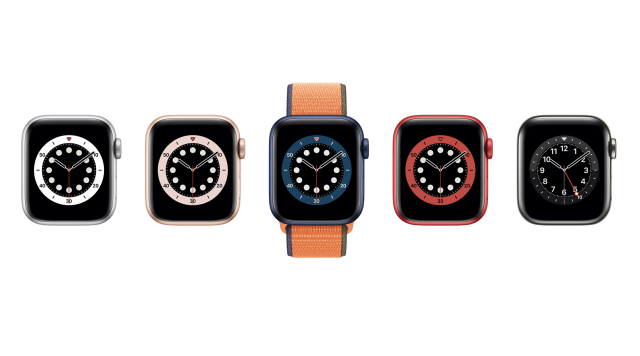 Customization via the wide-ranging band options has always been the Apple Watch's strong suit, though, and the new Solo Loop bands add yet another option to the wardrobe. They come in either pure silicone or silicone wrapped in woven polyester, and these feature a single, continuous band that simply stretches over your hand when you want to put it on or take it off. I'm someone with relatively big hands but bone-thin wrists, and either material Solo loop slips over my hand with relative ease while staying put rather comfortably on my wrist.
These bands come in whole-number sizes from one to 12, and Apple provides a printout sizing tool on its website. The tool just barely recommends me a size five when pulled around my wrist as tight as can be, but, of course, you don't want your watch to fit like that on you all the time. Luckily, Apple sent me a size six, which is the perfect fit for around-the-clock wear. I can move it up and down my wrist, between about two to three inches, but it stays put wherever I place it quite comfortably.
I prefer virtually no movement when exercising, though, so this is where the included Sport band we know from previous years comes in handy. In fact, I'd recommend using this strap or another that fits just a smidge tighter than the Solo loop, if you want the most constant blood oxygen monitoring. The sensor only takes measurements when the watch fits properly. For my needs, the sensor has given me enough readings throughout the day, but know there are some gaps in passive measurement, likely due to less-than-ideal fit.
Blood oxygen monitoring and ECG round out the medical sensors nicely
With the introduction of this SpO2 sensor for measuring blood oxygen levels, Apple also announced a trio of new studies it is undertaking with the help of a few research partners. Among these initiatives is: a study on asthma management, a study on detecting and preventing heart failure, and a study on identifying early warning signs of acute illness, particularly COVID-19. Much like Fitbit, these are currently aspirational endeavors not yet ready for consumer application, but Apple has expressed no explicit intention of bringing such features to the masses (unlike Fitbit).
In fact, as far as SpO2 monitoring goes, the Blood Oxygen app can offer spot checks on your blood oxygen saturation and gather data passively during sleep, for instance, but it doesn't offer diagnoses like the ECG app, which is FDA-cleared to detect Atrial Fibrillation (Afib) and regular rhythms, as well as a high or low heart rate. Don't expect any notifications in the morning telling you that your blood oxygen levels were low during your night of sleep, something that could be indicative of sleep apnea. In fact, don't expect much in the way of sleep assessment at all (more on that later).
Instead, Apple wants people to use the information found in the Blood Oxygen app to inform their overall health picture more broadly with the gathered medical data and educational excerpts found therein. The app, for instance, explains both the significance of SpO2 levels and what warning signs to look out for that may require medical attention. You could then, in theory, notice on your own a tendency to have your oxygen saturation levels drop significantly during sleep, make efforts to keep an eye on that, and potentially diagnose an issue with the help of a medical professional.
Beyond that, however, there isn't a whole lot of context for readings, mostly due to the nature of blood oxygen levels and individual conditions. Essentially, if your readings land between 95 and 100 percent, there's no cause for concern. If it's slightly lower, like the mid-to-upper 80s, then this may also be normal for you depending on your medical conditions, like COPD for instance, or environmental factors like high altitude (the watch should inform you of altitude during a spot check, by the way, thanks to the always-on altimeter). If you're unaware of any such conditions that could impact your blood oxygen levels, then readings lower than 95 percent may be worth having a conversation about with your doctor. But anything dramatically lower would generally exhibit demonstrative, acute symptoms that would require immediate medical attention.
Ultimately, SpO2 monitoring is nice to have, especially if you have cause to be concerned about your blood oxygen levels. It provides another reference point for your overall health, albeit one that takes a little more active monitoring on your part than Watch's other tracking features. If you're a Series 5 owner with lower risk for serious cardio-respiratory issues, the addition of a mostly passive SpO2 sensor doesn't seem like a particularly compelling reason to upgrade. But if you're new to Apple Watches and health is your primary concern, more data is always better than less, especially when it comes to health.
The ECG monitor on the Series 6, first introduced on the Series 5, continues to deliver direct medical assessment at an FDA-approved level, which is inherently more useful due to its specificity. It does require you to check manually if this is something you'd like to keep track of, but at least it offers direct medical assessment of potential underlying issues.
My weekly overview of SpO2 readings. Corey Gaskin

Daily readings can have some gaps, but summaries still provide insight. Corey Gaskin

The ECG app offers more specific medical assessment. Corey Gaskin

And it also shows summaries. Corey Gaskin
VO2 Max is another great indicator of cardio-respiratory health, but even with the newly added low-range measuring, certain conditions need to be met. Particularly, you need to at least reach the threshold of a brisk walk, hike, or run to obtain measurements. So, engaging in some level of activity is necessary to utilize this feature.
Unfortunately, you can't measure your VO2 max based off any other activities or workouts (my open boxing workout, for instance, gathered no such data), as Apple's algorithms for measurement use GPS as a key component. When measurements are recorded, though, they're not shown in the Fitness app along with the rest of your other workout data; you'll need to enter the Health app to see these readings.
Later this year, Apple will add a notification to alert you if your VO2 max drops to a lower level, which is strongly associated with poor cardio-respiratory health. Hopefully, along with this update, we can see these readings alongside our workouts and perhaps even gain the ability to measure VO2 max in more than just three activities.
The only big cardiovascular metric missing here that can be found on other devices is blood-pressure monitoring. While watches like the latest Samsung Galaxy Watch 3 offer BP readings, it hasn't been cleared to do so at a medical level by the FDA. At this point, it's generally only more specialized blood pressure monitoring wearables, like Omron's HeartGuide, that have obtained FDA clearance for blood-pressure readings, so it still seems best to stick with a dedicated device for such things if that's important to you.
Sleep tracking, finally!
Sleep tracking has finally made it to Apple Watches this year with the installation of watchOS 7. Watches from Series 3 and up now have the feature, and though it's long overdue, it still leaves something to be desired.
As with tracking any health metric, actionable insight and education turn numbers into lifestyle changes. Some fitness devices do a better job of this than others, though, and we're nonplussed with Apple's long-awaited foray into sleep guidance. We're so accustomed to the company holding out on popular features for years with the expectation that, when they do give us what we want, the features are more refined and useful than those that came before them. Unfortunately, with sleep tracking, that's not the case.
Instead, Apple Watch's sleep tracking just barely meets the status quo—it even lags behind in some respects. The presentation of nightly data, for instance, only shows what time you fell asleep, when you woke up, and if you hit your stated goal. It doesn't tell you how long you were in bed versus how long you slept, and neither does it even show you your sleep duration. You have to calculate that on your own. Some may prefer less nightly data as a means to avoid the daily anxiety of hitting sleep goals, but I fall in the camp of wanting more assessment, not less. Further insights can be gleaned from your weekly and monthly trends—that's where you'll see duration numbers in the form of averages for time in bed versus average time asleep, as well as how consistent your sleep patterns have been over time.
The Health app won't give you a sleep-efficiency percentage, which would be nice to have for each night's sleep or at least each week. The app also doesn't approximate sleep stages, as other wearables from the likes of Fitbit and Samsung do. I'm much less concerned with the absence of sleep stages, though, as experts tend to agree that sleep-stage tracking is mostly a guessing game without monitoring brainwaves, and there's not much one can do to impact their sleep stages directly.
In this regard, the Apple Watch does an alright job by integrating features like Wind Down, which can be scheduled to trigger Siri Shortcuts like launching your favorite bedtime podcast or turning on "Do not disturb." The new Sleep Mode toggle is handy, too, as it turns off your screen and displays an analog watch face if you tap to check the time in the middle of the night. That's an addition I personally have been waiting for forever.
Still, there were some glitches I encountered. Though I had set a sleep goal, it still says I haven't on my sleep chart, even though it shows up in my actual sleep-schedule settings. My phone also seems to have trouble launching third-party apps as part of my Wind Down routine via Siri Shortcuts; only triggering first-party apps happens without issue. Funnily enough, issues with Siri Shortcuts were also noted in our Apple Watch Series 5 review. These are some kinks I'm sure will be ironed out soon, but you can't help but wonder if the surprise iOS 14 and watchOS 7 drop had something to do with this.
The app claims I've set no sleep goal… Corey Gaskin

…but I have. Corey Gaskin

The app shows when you fell asleep and when you woke up but doesn't immediately tell you duration. Corey Gaskin

You can track consistency and consistency only.

These two excerpts are all you get in the way of guidance.
Letting you see a high-level overview of your sleep times and durations can be helpful, but Apple could certainly do more. We'd love to see more active applications of this data. Perhaps something as simple as letting users rate their mood and energy level and/or note other external factors each day could suffice to produce trends from which the Health app could point out and nudge you toward sleeping patterns or habits that have historically served you well.
We've seen insight-targeted questionnaires similar to this on some standalone sleep trackers and apps, while Fitbit even offers tailored insights and sleep programs through its premium subscription service. After so many years of waiting for native sleep tracking on the lauded Apple Watch, this introduction would have been a good time to step out ahead of what the competition offers. Oh well. We certainly hope to see more insightful updates to this function in the future.
New activity tracking and Apple Fitness Plus
Activity tracking on the Apple Watch has always been straightforward and expansive, offering tracking modes for everything from runs, cycles, and swims, to playing, Pilates, and pickleball. Most of these offer the minimum tracking level of an "open goal," which simply records your workout duration, calories burned, and heart rate throughout the exercise and recovery. This is what I chose for my boxing workouts, though I also had options to set a specific time or calorie goal. Other activities that involve distance, like running, cycling, and swimming, can also use this metric as a goal.
New to the activity list is dancing, functional strength training, core training, and post-workout cool-downs. Apple has had to take extra care in developing these, fine-tuning the sensors to more precisely quantify your energy expenditure during workouts that don't always involve your arms where a watch does its tracking. Now you don't have any excuse to skip leg day, bro.
Outdoor cyclers also have some new functionalities to enjoy, including turn-by-turn directions on your wrist and more comprehensive routes that detail elevation changes and suggestion points to mount and dismount your bike and take the stairs, for instance.
All tracked data is neatly laid out for you in the new Fitness app, formerly known as Activity. As we mentioned earlier, one thing we'd like to see added here is VO2 max data for more activities than just hiking, walking, and running. It would also be great to include this metric alongside your workout data in the Fitness app, rather than just the Health app as part of your health overview.
On a broader scale, we'd love to see more insights on how to impact your fitness goals and keep your health trends up. Much like the sleep-tracking feature, Apple is falling a bit behind with this. While companies like Garmin and Fitbit offer (typically paid) programs to enhance and tailor your fitness journey, Apple does little more than show you general trends. Some sporadic recommendations do come after at least 90 days of tracking. These show you very basic data comparing your past trends to current ones, recommending that you do more to reach your goals. It just won't tell you how.
Perhaps with the introduction of Apple's new fitness membership, Fitness Plus—which is set to launch late this year—enrollees will get more tailored insights and nudges toward their goals. We know that within the Fitness Plus app, Apple says there will be workout recommendations tailored to your skill level and past workouts, even if they were done in third-party apps, but we don't know how much of this will filter through via Apple Watch notifications and insights.
[contf] [contfnew]
[contfnewc] [contfnewc]