Alen Karaboghosian, 45, was charged with assault with intent to commit rape and four counts of sexual battery, the Los Angeles County District Attorney's Office said Friday. He pleaded not guilty during his arraignment Friday and is being held on a $180,000 bail, a district attorney's office spokesman said.The Los Angeles-area man was arrested days after a 51-year-old woman reported being attacked and groped by a man during an open house in Encino, California. Karaboghosian has been accused of assaulting four other women, including another real estate agent, in multiple incidents since February, the district attorney's office said. Three of the victims said they were groped on public streets, the office said. It was not immediately clear whether Karaboghosian, a resident of Encino, has a lawyer. He was set to appear in court Friday.
The attack was caught on camera
A real estate agent was at an open house Sunday in Encino when a man approached her, police said.The two had been talking outside the front door when the man removed his hat and looked into the camera, surveillance footage released by police shows.After shaking her hand, the video shows how the man pushed her to the ground and ran to stand over her.The video does not show what he did when she was on the ground. The woman said the man fled the scene.Deputy District Attorney Brendan Sullivan said he allegedly pushed her to the ground in an attempt to sexually assault her.The woman told CNN affiliate KCAL she fears she might have suffered much worse if not for her screaming.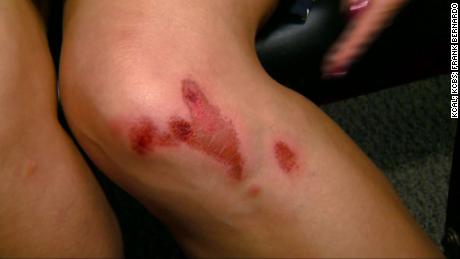 "I think he would have raped me, that's No. 1, and he would have killed me," she told the station. The agent said she had seen the man at a previous open house and felt uncomfortable.Because of that feeling, she asked a friend to stay with her during Sunday's open house. But once her friend left, the man arrived, KCAL reported. Feeling uncomfortable, she directed her conversation with him to the porch, the Read More – Source