The rights of those accused of sexual assault and harassment at US colleges are to be boosted under new proposals.
In a major overhaul of the way colleges and universities handle complaints, the new rules will narrow the definition of sexual harassment and increase protections for students accused of misconduct.
Colleges will only be obliged to investigate claims if the alleged misconduct was reported to certain campus officials and occurred on campus or other areas overseen by the school.
Education secretary Betsy DeVos said the proposals are designed to ensures fairness for students on both sides of accusations, while offering schools greater flexibility to help victims who don't want to file formal complaints that could trigger an investigation.
Ms DeVos said: "Every survivor of sexual violence must be taken seriously, and every student accused of sexual misconduct must know that guilt is not predetermined.
"We can, and must, condemn sexual violence and punish those who perpetrate it, while ensuring a fair grievance process.
"Those are not mutually exclusive ideas. They are the very essence of how Americans understand justice to function."
The scheme would narrow the definition of sexual harassment to mean "unwelcome conduct on the basis of sex that is so severe, pervasive and objectively offensive that it denies a person access to the school's education programme or activity".
If adopted, it would reverse the Obama administration's broader definition of sexual harassment as "unwelcome conduct of a sexual nature".
It would require schools to apply basic due process protections for students and allow the accused's advisers to cross-examine the accuser.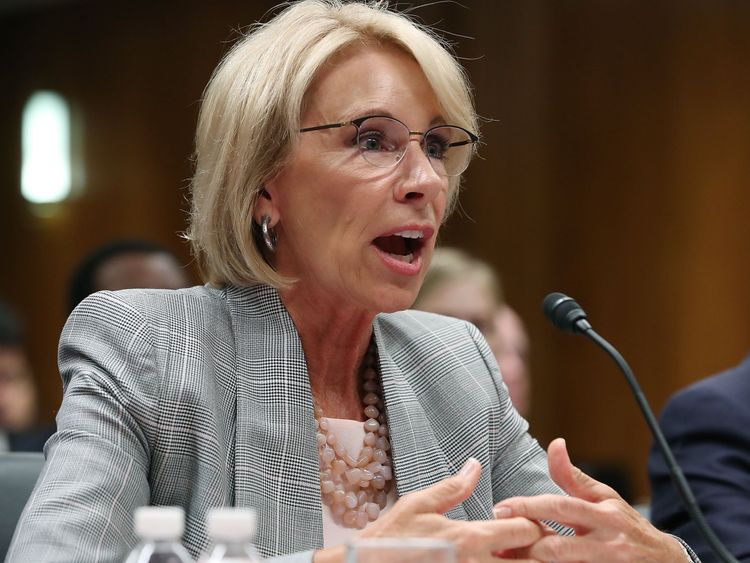 Jess Davidson, interim executive director of End Rape on Campus, described the changes as "worse than we thought".
"It will return schools to a time where rape, assault, and harassment were swept under the rug," she said.
More from United States
The department will invite public feedback on the new rules for 60 days before they are finalised.
Seven women have accused three former professors at Dartmouth College in New Hampshire, of rape and sexual harassment in a case filed in federal court.
[contf] [contfnew]
[contfnewc] [contfnewc]