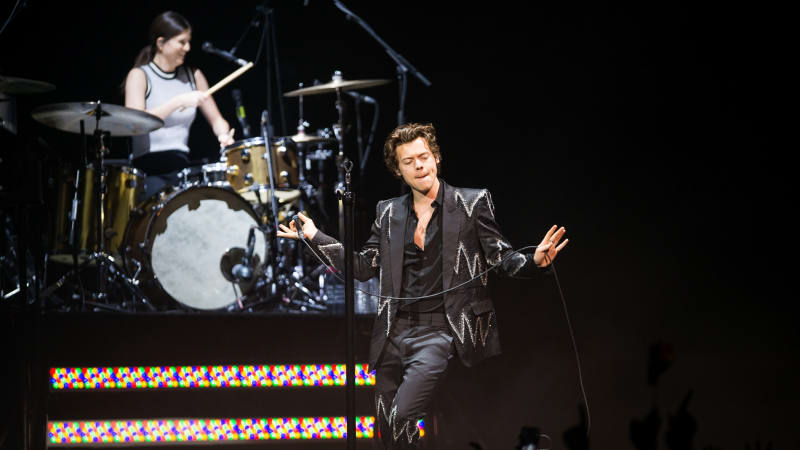 An authoritative voice of music's new generation, the self-proclaimed feminist, strong LGBT supporter and "kindness" advocate may have known he already had the crowd's adoration before even hitting the stage but he showed no signs of taking it easy.
After an electrifying opening from Sydney's the Preatures, a liberated and flamboyant Styles soared or, to be exact, strutted through most of his set in line with the hefty guitar riffs found in the dizzying opener Only Angel.
Many popular young artists follow the electronic/dance/slick-R&B route but Styles has headed in a '70s soft-rock-inspired direction. He proved on this night that he's in a class of his own.
Styles exhibited two equally endearing sides: on one there's the youthful exuberance of an artist who is having the time of his life emulating his influences, including Fleetwood Mac with a euphoric rendition of The Chain. On the other, for all his agile cavorting like Jagger and subtle instrumental homages (including one to George Michael in the unreleased Anna), Styles's coming of age boasts his own, clear artistic vision as a genuine rock star.
Bolstered by the stellar playing and ethereal harmonies of his four-piece band, Styles showed off compelling vocal and guitar chops. There was a sultry huskiness in the contemplative From the Dining Table and an impressive light falsetto in the spine-tingling crescendo of Sign of the Times but his real strength is in his more thunderous power: the vigorously provocative Kiwi; the unreleased Medicine.
He doesn't completely stray from his boy-band past, either, performing thumping rock versions of 1D's What Makes You Beautiful and Stockholm Syndrome, while his nods to Australia were also infectious (Daryl Braithwaite's Horses, John Farnham's You're the Voice).
When some of the world's legendary rockers are calling time on their touring careers, rest assured the future looks bright if Styles is a representation of what's to come.