It took Kimberly and Patricia ONeill four years and three heart-breaking miscarriages before welcoming baby London into the world.
A photographer shared an online image of the couple's two-week-old daughter surrounded by needles to represent the fertility struggles they endured – which has since gone viral.
Here, Kimberly describes the pain, tears and obstacles she and her wife faced before they could bring their baby girl home.
Our long-enduring fertility struggle has been captured in a photograph of our two-week-old daughter that can hopefully be a symbol of hope for many.
In the photo, baby London lies in the middle of two hearts created from the 1,616 vitro fertilisation needles we used to conceive her.
It was taken by Samantha Packer of Packer Family Photography, and encapsulates four years' worth of struggles, tears, fears and now complete happiness.
The 1,616 needles represent a combination of lovenox – blood thinners – and progesterone shots my wife Patricia, 30, took on a daily basis in our efforts to have a baby.
We wanted to create a memory to remember the babies we lost and the incredible journey we fought through.
Patricia and I married in 2017 in our home state of Arizona and had been trying to conceive since 2014, thinking we'd have a pretty easy ride.
After spending $40,000 (£31,260) and making seven attempts to get pregnant, including three devastating miscarriages and two rounds of Intrauterine insemination (IUI), we turned to a different doctor who recommended IVF.
Being two women, we knew we needed assistance, but we didn't realise it would come with so many obstacles.
The biggest challenge was overcoming the miscarriages. Having the dream put in front of you for it only to be ripped away was hard – especially with the last one.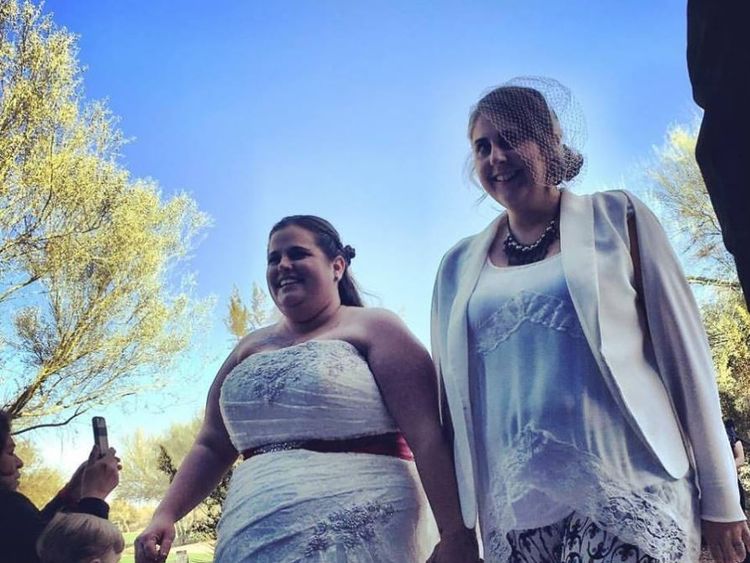 We knew it was a boy and we were so sure we were on the right path. Seeing the heartbeat had stopped was awful.
As parents, we can only hope that the photograph can somehow help and inspire other parents struggling to conceive.
We hope it brings hope to so many that are hopeless in this journey. It can be really lonely and we hope it helps people talk about it.
We thought a lot about baby names.
That our other children have names of cities just randomly happened and we liked London.
More from Opinion
Right after we found out we were pregnant we went out to a work party and the waitress walked up to us and said: "Hi, I'm London."
Since we had talked about the name a lot we looked at it as a good sign and from then we knew she was London.
[contf] [contfnew]
[contfnewc] [contfnewc]