Melania Trump has responded to criticism of her choice of Christmas decorations for the White House, saying they "look fantastic".
The US first lady posted a video and some photos earlier this week of the decorations, describing the residence as "sparkling".
But it was the 40 drooping bright red topiary trees lining the east colonnade that divided opinion.
Some asked if they symbolised the robes worn by women in dystopian novel The Handmaid's Tale and others said they represented President Donald Trump's alleged collusion with former communist state Russia.
Some claimed they displayed a lack of taste, while others described the display as creative and artistic.
Speaking at a panel event at Liberty University in Virginia on Wednesday, Mrs Trump said: "We are in the 21st century and everybody has a different taste.
"I think they look fantastic. I hope everybody will come over and visit it.
"In real life, they look even more beautiful."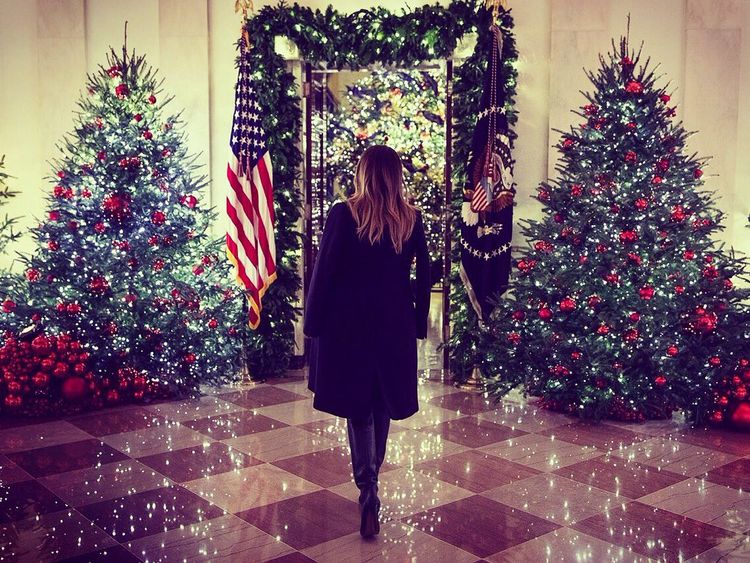 As first lady, one of Mrs Trump's jobs is to decorate the presidential homes for the holiday season, leading the annual team of White House staff and volunteers to prepare the "People's House" for Christmas.
This year the theme is America's Treasures, with red, white and blue evident throughout the White House.
More than 30,000 Americans will visit the residence as part of 100 public tours.
At the panel event, Mrs Trump also spoke about her son Barron, saying the 12-year-old is "all into sports" so did not spend time on social media.
But the event was aimed mostly at discussing the US opioid epidemic and she said she had taught her son "what is right, what is wrong".
More from Melania Trump
She added: "I will always tell him that drugs – they could be very dangerous and they could mess up your mind and body, and to love yourself more than you love drugs."
Nearly 48,000 people in the US died as a result of overdoses involving opioids last year.
[contf] [contfnew]
[contfnewc] [contfnewc]