Melania Trump has said she often disagrees with what her husband tweets and she tells him so – but he doesn't listen.
The First Lady was talking in Egpyt at the end of a tour of Africa during which she has been viewing American aid projects and talking to African leaders.
It comes after the US president allegedly called some African countries "shitholes" during a White House meeting on immigration in January.
Mrs Trump responded to a question about her role and whether the places she visits could be seen as "poking" at her husband by saying: "I don't always agree what he tweets. I tell him that.
:: Melania Trump embroiled in another plagiarism row
"I give him my honest opinion and honest advice. And sometimes he listens and sometimes he doesn't. But, I have my own voice and my opinions and it's very important for me that I express what I feel."
She added: "I tell him my opinions and maybe in some of them we don't agree. I'm not elected. He's the president."
No one in Africa brought up the "derogatory comments" Mr Trump was alleged to have made, she added, despite the African Union demanding he "retract and apologise" for them.
She was asked about her decision the day before to wear a safari hat that some people have criticised for its "colonial" associations, but refused to be drawn.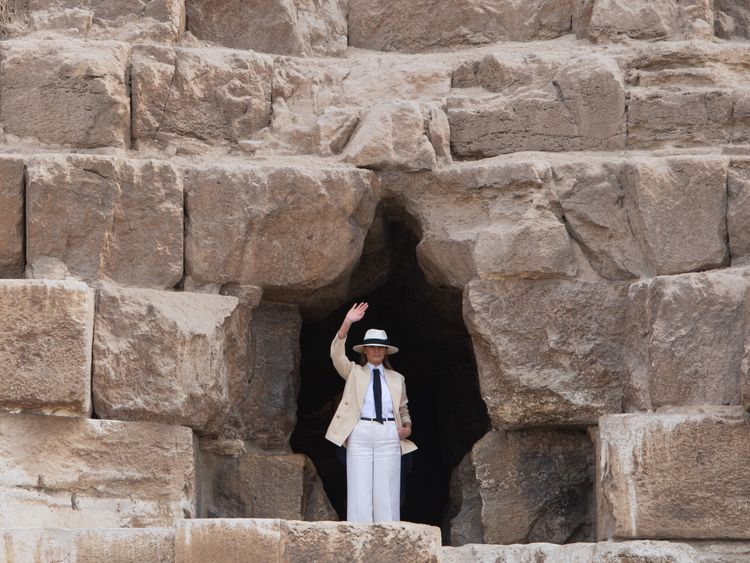 She said: "We've just completed an amazing trip. We went to Ghana. We went to Malawi. We went to Kenya. Here we are in Egypt. I want to talk about my trip and not what I wear.
"It's very important what I do, what we are doing with USAID, what we are doing with my initiatives. I wish people would focus on what I do, not what I wear."
She said her biggest achievement of the trip was "meeting people" and finding out about the "successful programmes that USAID is providing to the countries" that was "helping them on the journey to self reliance".
On Friday, Ms Trump was told she had made a "silly sartorial choice" by wearing a pith helmet while on safari in Kenya.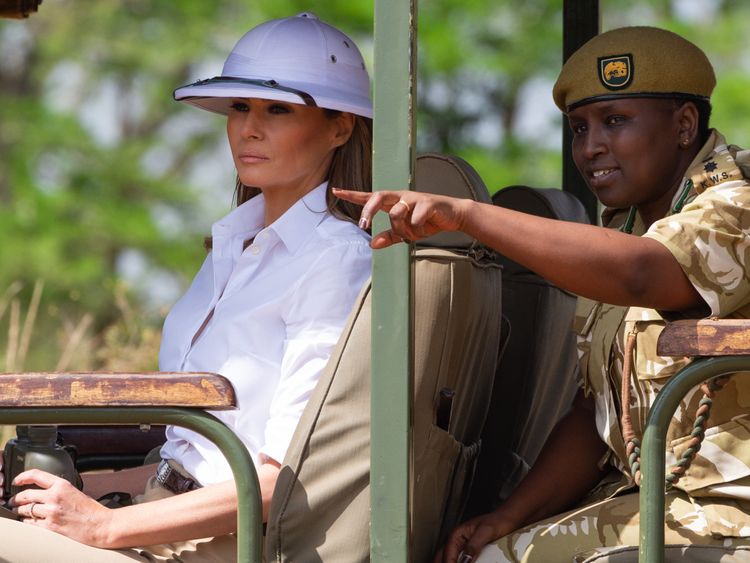 Pauleen Mwalo, from Nairobi, tweeted: "That Pith helmet you have carried was used by colonialists during the dark days. Doesn't sit well with us Africans. Who advised you?"
Egypt was the fourth and last stop of her African trip, which had seen her promoting the work of the US Agency for International Development (USAID), a department that has seen its funding cut twice by Mr Trump.
She was speaking in the shadow of the Sphinx, the mysterious carved monument that has stood on the outskirts of what is now modern-day Cairo for millennia, having earlier met with Egyptian president Abdel Fattah al Sisi and his wife Intissar Amer at the presidential palace in the Egyptian capital.
More from Donald Trump
She went on to climb the Great Pyramid and enter its interior.
Before she did so, asked if she would be asking her husband to increase USAID's budget when she returns, she said: "We are funding and we are helping the countries, so, er, and we are working hard, for helping them and we will continue to do so."
[contf] [contfnew]
[contfnewc] [contfnewc]