A federal judge in Washington has ordered the Trump administration to return the press credentials of CNN reporter Jim Acosta.
US District Court Judge Timothy Kelly, an appointee of the president, announced his decision on Friday.
The White House has said it will "temporarily reinstate" Mr Acosta's pass in response to the order.
The journalist has thanked Mr Kelly for the ruling and added in brief remarks: "Let's get back to work."
CNN and the journalist said in a joint statement: "We are gratified with this result and we look forward to a full resolution in the coming days.
"Our sincere thanks to all who have supported not just CNN, but a free, strong and independent American press."
The network had asked for the journalist's credentials to be restored while a lawsuit over his credentials revocation goes forward.
Mr Acosta was accused of "unacceptable" conduct during a heated news conference with Donald Trump after the midterm elections.
The president's press secretary Sarah Sanders took aim at him for "placing his hands on a young woman just trying to do her job as a White House intern".
After the judge's ruling on Friday she called for "decorum" at the White House and said they would be developing "rules and processes to ensure fair and orderly press conferences in the future".
Mr Acosta, CNN's chief White House correspondent, has clashed repeatedly with Mr Trump and Ms Sanders in briefings over the last two years.
Mr Kelly has said the US government could not say who initially decided to revoke Mr Acosta's hard pass.
The White House had spelled out its reasons in a tweet from Mrs Sanders and in a statement after CNN filed its lawsuit.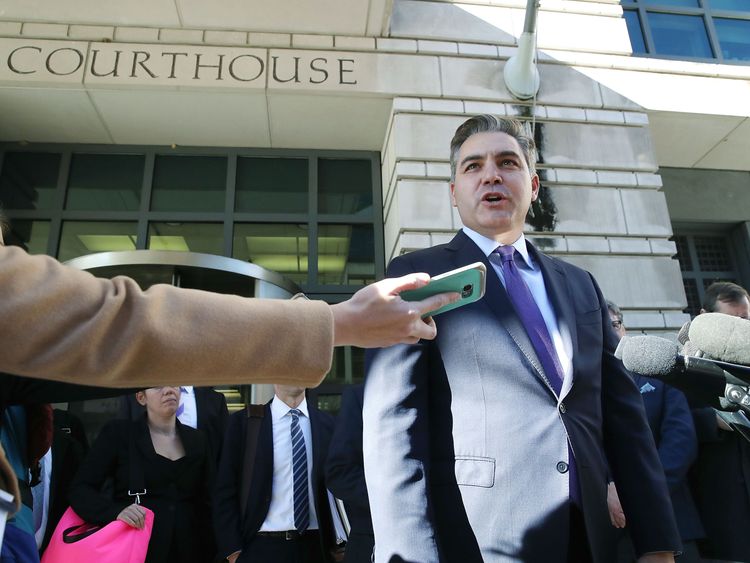 But the judge said those "belated efforts were hardly sufficient to satisfy due process".
Mr Kelly also found that Mr Acosta suffered "irreparable harm", dismissing the government's argument that CNN could just send other reporters to cover the White House in Mr Acosta's place.
Mr Trump has made his dislike of CNN clear since before he took office and continuing into his presidency, having described the network as "fake news" both on Twitter and in public comments.
The president was taking questions from reporters at a press conference when the row broke out with Mr Acosta, who asked him about his statements about a caravan of migrants making its way to the US-Mexico border.
Mr Trump told the CNN reporter "that's enough" several times while calling on another reporter to ask a question.
Mr Acosta then attempted to ask about a question about special counsel Robert Mueller's Russia investigation.
More from US
He then declined to give up a hand-held microphone to a White House intern.
Mr Acosta's credentials were pulled hours later.
[contf] [contfnew]
[contfnewc] [contfnewc]