Maximum sustained winds increased to 120 mph, with gusts to 150 mph on Tuesday afternoon. Michael is expected to intensify even more as it continues to head toward the Gulf Coast. Michael, which is spinning inthe Gulf of Mexico, is expected to make landfall Wednesday afternoon in the Florida Panhandle still a Category 3 storm. It is threatening dangerous storm surges to low-lying areas ill-equipped to handle them. Officials urged people to get out of the way now.Gov. Rick Scott called Michael a "monstrous storm" that could bring "total devastation.""Hurricane Michael is forecast to be the most destructive storm to hit the Florida Panhandle in decades," Scott said."You cannot hide from storm surge, so … get out if an evacuation is ordered," he said.Winds of tropical storm force will be felt in the area starting early Wednesday, and mandatory or voluntary evacuation orders already have been issued in at least 22 counties on the Florida Gulf Coast. Live updatesAbout 3.7 million people were under hurricane warnings in the Panhandle and Big Bend regions, as well as parts of southeastern Alabama and southern Georgia. Tropical storm warnings cover 8.5 million people in four states. Michael was moving at 12 mph, almost 300 miles south of Panama City, Florida and 435 miles southwest of Apalachichola, Florida, as of 4 p.m. ET, the National Hurricane Center said. Track the storm
The main threats
The storm's center and where it makes landfall with its destructive winds represent just one of several concerns. Among them:• Life-threatening storm surges could slam the Florida Panhandle, Big Bend and Nature Coast, with the deadliest storm surge of possibly 9 to 13 feet expected between Mexico Beach and Keaton Beach. "That means the water will come miles in shore and could easily be over the roofs of houses," Scott said.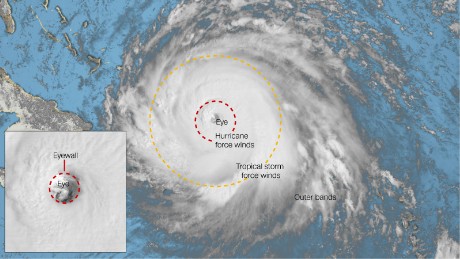 • Heavy rain and flooding are expected not just for Florida but also for other parts of the Southeast. Up to 12 inches of rain could fall in Florida's Panhandle and Big Bend, southeastern Alabama and southern Georgia, while parts of the Carolinas– recently deluged by Hurricane Florence –and southern Virginia eventually could see up to 6 inches, the hurricane center said.• Tornadoes could spawn in the Southeast on Tuesday night into Thursday, forecasters said.• Damaging winds are expected to rake not just Florida but also southeastern Alabama and southern Georgia.If Michael's core comes ashore as a Category 2 or higher, it would be the strongest storm in terms of wind speed to make landfall in the country this year. "You will see damage to infrastructure. You will see power outages," said Jeff Byard, associate administrator for the Federal Emergency Management Agency's Office of Response and Recovery.
'We need the residents to be leaving today'
A hurricane warning is in place from the Alabama-Florida border to the Suwannee River in Florida. Meanwhile, tropical storm warnings extend from Florida's Chassahowitzka River to the Mississippi-Alabama border. Tropical storm watches are in effect in some coastal areas of Mississippi, Florida, Georgia and South Carolina.Storm surge warnings are also in place along the Florida and Alabama coasts.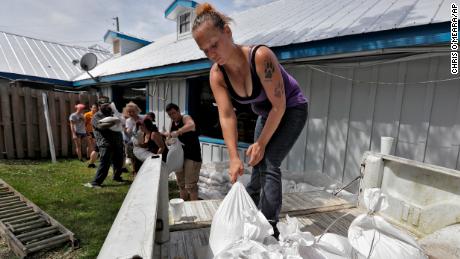 "This is a life-threatening situation. Persons located within these areas should take all necessary actions to protect life and property from rising water and the potential for other dangerous conditions," the hurricane center said.US Rep. Neal Dunn, whose district includes Panama City, urged people under evacuation orders to get out before tropical-storm-force winds arrived. He focused on islands off the coast whose bridges may close as the storm approaches."You haven't got anywhere to go (if the bridges close)," he said Tuesday morning. "And then you're riding it out in your car instead of something else. So we need the residents to be leaving today … because by this evening, those bridges are going to be in peril of being closed."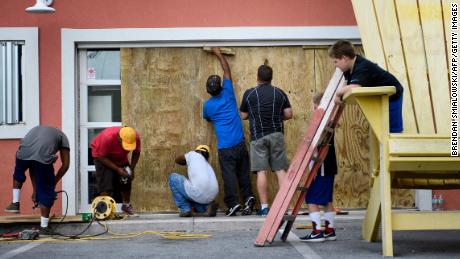 Scott extended a state of emergency to 35 counties and activated 2,500 National Guardsmen for hurricane duty. He saidtolls were being suspended in the state's northwest region to ease the evacuation process, and the Florida Highway Patrol is sending nearly 350 state troopers to the Panhandle and Big Bend areas.
A couple move up their beachside wedding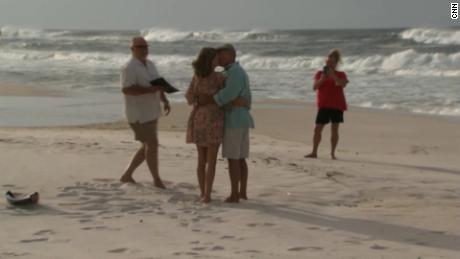 The hurricane forced Benny and Cindy Guinn to get married a day earlier.The couple was supposed to get hitched Wednesday in Florida's Panama City Beach, but Michael's approach forced mandatory evacuations there."We (first) bumped it up to Tuesday night … and then we bumped it up to Tuesday morning," Cindy Guinn said.With an officiant standing in front of them, the couple said their vows on the beach as brisk winds brushed them.Elsewhere at Panama City Beach, many businesses were closed and homes were boarded up.Cars were in long lines at one of the town's gas stations Tuesday. "Since 6 a.m. it's been backed up. We're just now running out of regular (gas)," worker Danny Hess told CNN affiliate WJHG.
Georgia, Alabama prepare for damage
In Georgia, Gov. Nathan Deal declared an emergency for 92 counties.In Alabama, Gov. Kay Ivey issued a statewide state of emergency, saying on Twitter that it was "in anticipation of wide-spread power outages, wind damage and debris produced by high winds & heavy rain associated with #HurricaneMichael." The governor's declaration activates the state's emergency operations plan, according to Ivey's office.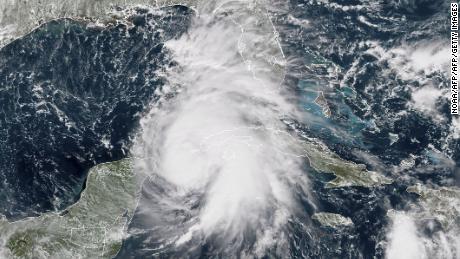 Deaths in Central America
Michael has been lashing western Cuba as it churned toward the United States. Up to 12 inches could fall there, threatening flash floods and mudslides, the hurricane center said Tuesday.Over the weekend, flooding related to Michael led to at least 13 deaths in the Central American countries of Nicaragua, Honduras and El Salvador, officials said.
CNN's Dianne Gallagher, Chuck Johnston, Devon Sayers, Dave Hennen, Judson Jones and Darran Simon contributed to this report.
Original Article
[contf] [contfnew]
[contfnewc] [contfnewc]