There are more ultra-mobile professionals now than ever before, which is why OEMs are developing increasingly thin-and-light laptops that will appeal to those users. No one wants to add heft to their bag, regardless of whether they're going off on a 10-hour flight or a 10-minute commute to work, thus increasing the appeal of thin-and-light laptops. But the most mobile among us will only go as thin and light as our performance needs allow us to—if a laptop isn't powerful or efficient enough to help you get work done, its svelte characteristics won't make up for that.
Enter the HP Elite Dragonfly two-in-one laptop, which is HP's answer to this problem. It's an ultra-slim laptop with a MIL-spec-tested design that weighs just 2.18 pounds, and it has the power and security features of one of HP's Elite series laptops. HP is betting on the idea that professionals will choose the thinnest and lightest laptop possible that doesn't compromise the performance or battery life they need to get things done regardless of their location—and that they'll pay top dollar to get it. We spent a few days with the Elite Dragonfly convertible to see how well-designed it actually is and to see if taking thin and light to the extreme hinders any necessities.
Look and feel
Specs at a glance: HP Elite Dragonfly two-in-one laptop
As reviewed
Lowest
Best
Screen
13.3-inch FHD (1920×1080) touchscreen
13.3-inch FHD (1920×1080) touchscreen
13.3-inch 4K (3840×2160) touchscreen
OS
Windows 10 Home
Windows 10 Home
Windows Pro 64
CPU
Core i7-8665U
Intel Core i5-8265U
Core i7-8665U w/ vPro
RAM
16GB
8GB
16GB
HDD
512GB PCIe SSD + 32GB Optane Memory
256GB PCIe SSD
512GB PCIe SSD + 32GB Optane Memory
GPU
Intel UHD Graphics 620
Networking
Intel AX200 Wi-Fi 5 (2×2), Bluetooth 4.2
Ports
2 x Thunderbolt 3, 1 x USB-A, 1 x HDMI, 1 x nano SIM, 1 x lock slot, 1 x 3.5mm headphone jack
Size
11.98×7.78×0.63 inches (304×198×16mm)
Weight
2.5 pounds (40 ounces)
2.18 pounds (34.0 ounces)
2.5 pounds (40 ounces)
Battery
56.2Wh battery
38Wh battery
56.2Wh battery
Warranty
1 year
Extras
Fingerprint reader, IR camera, optional vPro, optional LTE, TPM 2.0, absolute persistence module, power-on authentication, HP DriveLock and Automatic DriveLock, HP Sure Click, HP Secure Erase, HP Sure Start, HP Sure Run, HP Sure Recovery, HP Sure Sense, HP BIOSphere
Price
$2,169
$1,549 (available at this price point soon)
$2,369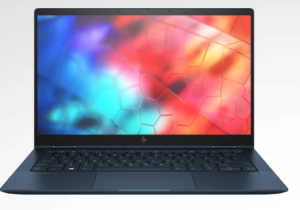 HP Elite Dragonfly laptop
Starting at $1,629 from HP (Ars Technica may earn compensation for sales from links on this post through affiliate programs.)
Design and durability
Being part of the Elite family, the Elite Dragonfly laptop had to adhere to certain durability and performance standards that users are accustomed to from that line. We'll get to the performance chops in a bit, but from a design perspective, the Elite Dragonfly surprised me.
Typically, laptops that pride themselves on being thin and light above all else tend to feel only a bit more durable than a precious heirloom that your kids aren't allowed to touch. The Elite Dragonfly feels sturdier than most laptops that I've used that share the same size and weight class. Measuring 16mm thick and weighing between 2.18 and 2.5 pounds, it's an easy backpack companion, and I was happy to see that neither its chassis nor its lid flexed at all when put under pressure.
That may be due to the extra layers of magnesium used in the laptop's keyboard area, cover, and bottom portions that reinforce its design, along with other internal structures that keep it steady and durable. The Dragonfly passed 19 MIL-STD-810G tests, and HP placed particular emphasis on testing the machine for drops, shocks, and vibrations.
Many flagship laptops aren't MIL-spec tested, or they only pass a limited number of tests, but this type of testing is standard for HP's Elite line. While these are not "rugged" laptops by any means, adding this level of MIL-spec durability means that you can accidentally drop this or leave it in a precarious situation and it will most likely return to you unharmed.
The Elite Dragonfly gets its name from the "dragonfly blue" finish that coats its chassis. For now, the machine is only available in this color, which will inevitably make some users scowl. It's most similar to navy blue but with a pleasant brightness that subtly comes through whenever light hits it. Whether the blue finish speaks to you or not, it's a welcome change from the sea of silver, barrage of black, and plethora of pink consumer electronics that dominate the market now. The entire chassis is made from magnesium, but HP also integrated post-consumer recycled plastic (including some ocean-bound plastic material) into the speaker box. That's not something that users will be able to see with their eyes, but it's an effort on HP's part to be a bit more eco-friendly.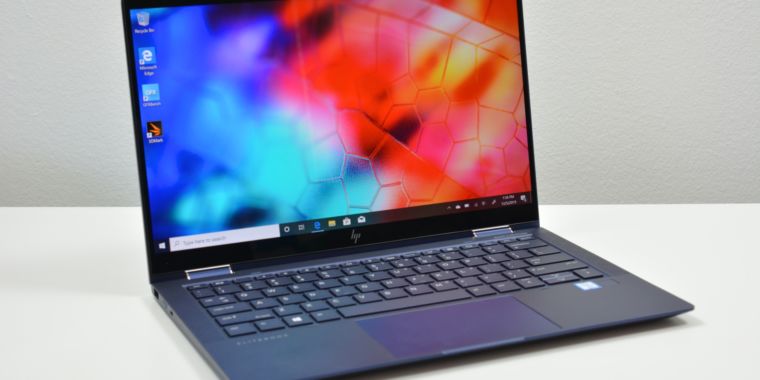 Screen and ports
Our review unit came with a 13.3-inch FHD IPS touchscreen, but there are two other panel options available: a 4K, HDR 400 touchscreen and an FHD touchscreen with HP's SureView privacy filter. While being the most basic panel, the one on our review unit will also yield the longest battery life possible out of the Elite Dragonfly.
The laptop is actually available in two battery configurations—a 38Whr and a 56.2Whr—so that's the other factor that will determine how much life you can get out of it. HP estimates a model with the FHD touchscreen and the 56.2Whr battery can get up to 24.5 hours of battery life.
Both 4K resolution and HP's SureView filter will use more power than a basic FHD display, so you'll have to take that into account when deciding what means the most to you on a device like the Elite Dragonfly. (Creatives may find the 4K panel is worth the battery life trade-off, and others will be fine sacrificing a few hours of battery life for the added security that SureView provides.) The regular FHD panel is perfectly fine for regular use—a bit glossy for my taste, which can lead to some glare when working in or near direct sunlight but otherwise standard. It's also, unfortunately, a 16:9-aspect-ratio panel, so you'll be doing more scrolling than you may like on this machine.
What's not standard are the number of ports on the Elite Dragonfly. Instead of only two Thunderbolt ports, HP added a number of additional ports to the laptop: one USB-A port, one HDMI port, one headphone jack, one lock slot, and one nano SIM slot (for optional 4G LTE). Any flagship or professional-level laptop now that's this thin and has more than a few scant Thunderbolt 3 ports is ahead of the game, and I'm sure many users will be happy not only for the USB-A port but for the HDMI port as well.
The biggest issue with the ports in general is the placement of the Thunderbolt 3 ports—both are on the right side of the machine, and they are the only ways to charge the Elite Dragonfly. That means you'll be stuck in some uncomfortable cord situations, as you can only plug in the charging cable on one side of the machine. It's a small decision that, while not a deal-breaker, will be inconvenient for most people at one point or another.
HP has been adding webcam privacy shutters to many of its high-end laptops, and the Elite Dragonfly is no exception. A small textured slider sits just above the top display bezel, and moving it side to side covers and reveals the webcam. I particularly like the black-and-white striped cover design because it easily signals when the webcam is covered (surprisingly, other laptops with a similar feature have a more nebulous cover design, making it difficult to tell when the webcam is actually shuttered and when it's not). I'm glad to see webcam shutters and kill switches becoming more common across all kinds of laptops, because more users, not just mobile professionals, are starting to demand such privacy features.
The new HP Elite Dragonfly two-in-one laptop. Valentina Palladino

It's the thinnest and lightest notebook in the Elite family, appealing to hyper-mobile professionals. Valentina Palladino

The "dragonfly blue" finish is a nice change from the silver, black, and pink electronics we usually see. Valentina Palladino

HP reengineered the keyboard to make it quieter. Valentina Palladino

The open webcam and IR camera. Valentina Palladino

The shuttered webcam. Valentina Palladino

The 360-hinges let you use the device as a tablet, in tent mode, and in other ways. Valentina Palladino

The whole chassis is made of magnesium as well as a bit of post-consumer recycled plastic. It's also MIL-spec tested. Valentina Palladino

Despite being thin and light, HP included an HDMI port as well as a USB-A port. Valentina Palladino

It will appeal to those who want a powerful machine with a lot of spec options but also an attractive, packable design. Valentina Palladino
Keyboard, trackpad, and stylus
The Elite Dragonfly's keyboard is quite similar to that on other Elitebooks, but HP claims the Dragonfly is quieter, and I think that's true to some extent. It's certainly not as clicky as previous Elitebook keyboards, but the keys also still have decent travel. When testing keyboards, I usually try to compare them to both the MacBook Pro's infamous butterfly keys and Lenovo's ThinkPad keys—the new keyboard on the Elite Dragonfly is much quieter and less clicky than that on the MacBook Pro, but the keys require slightly more force to actuate than those on the ThinkPad X1 Carbon. They also sound a tad bit mushier than the ThinkPad keys, which isn't great but also won't matter to most users.
Overall, it's a fine keyboard to type on, and I was able to use it as my primary keyboard for a few days and find it comfortable. I don't use arrow keys much, but those who do will likely find the smushed top and bottom arrow keys the biggest point of contention in this area. I should also note that there's a fingerprint reader right underneath those arrow keys, and the Elite Dragonfly also includes an IR camera next to its webcam.
The glass Precision touchpad is also just what I expected on a device like this—suitable, a tad narrow, and ultimately unexciting. It's smooth to use and handles multi-finger gestures well, and it's as large as it could be given the overall size of the Elite Dragonfly.
The same sentiment applies to the active pen, which is no different from the one you'd use with the HP Spectre x360 and other high-end HP devices. It's an accurate digital drawing tool that produces little to no latency, and it conveniently charges via a USB-C port hidden on its body. It won't be a necessary accessory for some users, but it would be great if HP included it with the Elite Dragonfly. Neither of the two configurations available for purchase now on HP's website includes the active pen, but there will be more configurations available in the future, so it's possible that HP will stick the pen in the box in one of those.
Performance
Our HP Elite Dragonfly review unit sits at the higher end of the configuration spectrum with a 10Read More – Source