The Pixel 4 XL. Ron Amadeo

We have the white version, which looks great with the contrasting black accents. Ron Amadeo

The top of the phone. There is a lot of bezel here. Ron Amadeo

In the right lighting conditions, you can begin to make out the components hidden in here. Most cutouts are for the 3D face unlock system. Ron Amadeo

Does the display look… kinda pink? That's the ambient EQ display mode in action. Ron Amadeo

Google camera block has two cameras, a 12MP main camera and a 16MP telephoto. Ron Amadeo

In the right lighting, the camera block looks like a surprised robot. The two eyes are cameras, the mouth is the LED flash, and a microphone is a small beauty mark on the right. See the sensor on the robot's forehead? Let's zoom in… Ron Amadeo

It's a color sensor! Neat. Ron Amadeo

The back has a soft-touch coating everywhere but on this "G" logo. You can catch a fingernail on the edge of it. Ron Amadeo

We get a neon orange power button, and in this shot you can see the camera bump. Ron Amadeo

There's just a USB-C port, a speaker, and a microphone on the bottom. The slots are just for symmetry. Ron Amadeo

There's just a microphone on top. Ron Amadeo

The black sides are metal with a heavy coat of paint on top, and there are actually plastic bumpers where the metal meets the two glass panels. Ron Amadeo
The Pixel 4 arrived on the market as one of the most leaked, most talked about smartphones of 2019. This year, Google seems like it is really trying to find something unique to offer, with new features like the Google-developed "Motion Sense" radar gesture system, face unlock, a 90Hz display, the next-gen Google Assistant, and a new astrophotography mode.
At the prices Google is asking, though, the Pixel 4 is hard to recommend. The company saddled the phone with an ultra-premium price tag, but the Pixel 4 can't compete with ultra-premium phones. The phone falls down on a lot of the basics, like battery life, storage speed, design, and more. The new additions like face unlock and Motion Sense just don't work well. It seems like Google just cut too many corners this year.
The strongest feature of the Pixel line—the camera—hasn't really gotten better, either. The camera sensor is the same as last year, and the big new software feature, astrophotography mode, is also available on older Pixel devices and the much cheaper Pixel 3a.
The Pixel 4 isn't bad in a vacuum, but the rest of Google's Android competition gets better every year, while Google stands still. This year, Google turned in a weak, timid update to its flagship smartphone, and I'm not sure who to recommend this to at $800 or $900. Google just can't do premium right. So, when can we have the Nexus line back?
Table of Contents
Design and build quality
We'll start with the best part of the Pixel 4: the back. The Pixel 4 is, as usual, a glass and aluminum sandwich, with a Gorilla Glass 5 front, an aluminum frame exposed along the sides, and a glass back. When we talk about the rear design of the Pixel 4, note that between the three available colors, there are two totally different finish options that greatly affect the feel of the device.
The black version has a standard glossy glass back that uses Gorilla Glass 5, and the black version feels like the usual slippery fingerprint magnet that all glass phones are. The white and orange colors use a different glass panel that isn't Gorilla Glass, though, and these get a special soft-touch treatment. While this soft-touch glass back might be reminiscent of the soft-touch back on the Pixel 3 last year, this year there have been a number of improvements.
SPECS AT A GLANCE
Pixel 4
Pixel 4 XL
SCREEN
2280×1080 5.7-inches (440 ppi)

OLED, 19:9 aspect ratio

3040×1440 6.3-inches (523ppi)

OLED, 19:9 aspect ratio

OS
Android 10
CPU
Eight-core Qualcomm Snapdragon 855

Four Cortex A76-based cores (One 2.84GHz, three 2.41Ghz) and four Cortex A55-based cores at 1.78GHz

RAM
6GB
GPU
Adreno 640
STORAGE
64GB or 128GB
NETWORKING
802.11b/g/n/ac 2×2, Bluetooth 5.0 + LE, GPS, NFC, eSIM
Bands

(NA model)

GSM: 850, 900, 1800, 1900

UMTS/HSPA: 1, 2, 4, 5, 8
CDMA: BC0, BC1, BC10
LTE: 1, 2, 3, 4, 5, 7, 8, 12, 13, 14, 17, 18, 19, 20, 25, 26, 28, 29, 30, 38, 39, 40, 41, 46, 48, 66, 71

PORTS
USB Type-C 3.1 Gen 1
CAMERA
Rear: 12MP main camera, 16MP telephoto (x2)

Front: 8MP camera

SIZE
147.1×68.8×8.2 mm
160.4×75.1×8.2 mm
WEIGHT
162g
193g
BATTERY
2800mAh
3700mAh
STARTING PRICE
$799
$899
OTHER PERKS
USB-PD quick charging, face unlock, IP68 dust and water resistance, Active Edge, Pixel Neural Core, Titan M security module
First, the new soft-touch backs can no longer be dented by a fingerprint, and they feel noticeably more durable than the soft-touch coating on the Pixel 3. Second, while the Pixel 3 coating tended to absorb and hold onto fingerprint grease, the Pixel 4 hides fingerprints very well. The soft-touch Pixel 4 back looks and feels clean all the time, and I'm not compelled to scrub it down with soap and water every five minutes like with the Pixel 3.
I'd rather we just not make phones out of glass at all, but if we have to, the soft-touch coating on the white and orange Pixel 4 really is the best in the market. The back provides an agreeable amount of grip that you don't get with regular glass. It looks great, it stays clean, and it seems durable. This is one of the few parts of the Pixel 4 that is different and better than the competition, and I hope other manufacturers copy the soft-touch implementation here.
The entire back of the Pixel 4 is great, actually. This year, Google jumped on the multi-camera bandwagon and added a 16MP telephoto lens. The whole camera assembly—which includes an LED flash, microphone, and spectral/flicker sensor—now lives in a big black square tucked neatly into the corner of the phone. It's a similar solution to the iPhone 11, but I daresay Google's camera block looks better. In person the black interior does a good job of hiding the clutter of the camera hardware, which I think looks cleaner than the purposefully highlighted lenses of the iPhone 11. People love to imagine shapes in these camera assemblies, so if the iPhone 11 Pro camera block looks like a stovetop or fidget spinner, the Pixel 4 looks like a shocked robot or Pikachu face. Thanks to the black interior, though, the Pixel 4 is considerably more subtle about it.
The black camera block provides a pleasing contrast to the white or orange backs, and the black ring around the perimeter of the phone ties it all together pleasantly. The back really is handsome. While the sides are eventually aluminum, you won't be touching any bare metal when you hold the Pixel 4. The sides have what Google calls a "matte finish hybrid coating," which just feels like a hard plastic shell. It doesn't seem any grippier than anodized aluminum, so I'm not sure why Google bothered.
As usual, the front design for the Pixel line looks dated this year. The Pixel 4 has a sizable bezel only on the top of the device, which gives the phone a lopsided, top-heavy look. Most phones have aimed to reduce the bezels as much as possible, going for only a minimal camera blemish or, sometimes, no blemish at all. But not Google. The Pixel 4 design reminds me of the Galaxy S8, a phone that came out two years ago, and the stats back that up. The Pixel 4 has an 81.3% screen-to-bezel ratio, while the Galaxy S8 has a more efficient use of space, with an 83.6% screen-to-bezel ratio.
The top bezel might look like something from 2017, but it is being put to use, as Google is packing the top of the phone with sensors and features. Besides the normal 8MP selfie camera, earpiece, and ambient light/proximity sensor, there's a whole system for 3D face unlock, which uses two IR cameras, an IR dot projector, and an IR flood illuminator. There's also a Google-developed Soli radar sensor, which is used to detect air gestures above the phone as well as the user's presence.
Among the biggest upgrades in the Pixel 4 this year is the addition of a 90Hz OLED display. Faster refresh-rate displays are quickly becoming the new trend in smartphone design, with Razer, Asus, OnePlus, and a few other Chinese brands getting in on the action. We loved the 90Hz displays on the OnePlus 7 Pro and 7T, where the higher refresh rate and FPS made scrolling, animations, and navigation feel buttery smooth.
If we were huge fans of the OnePlus' 90Hz display, then we have to be huge fans of Google's 90Hz display, right? Well, not so much, as Google's 90Hz display doesn't run at 90Hz all the time. Like many new features on the Pixel 4, the 90Hz display sounds good on paper, but in reality, it comes with myriad gotchas.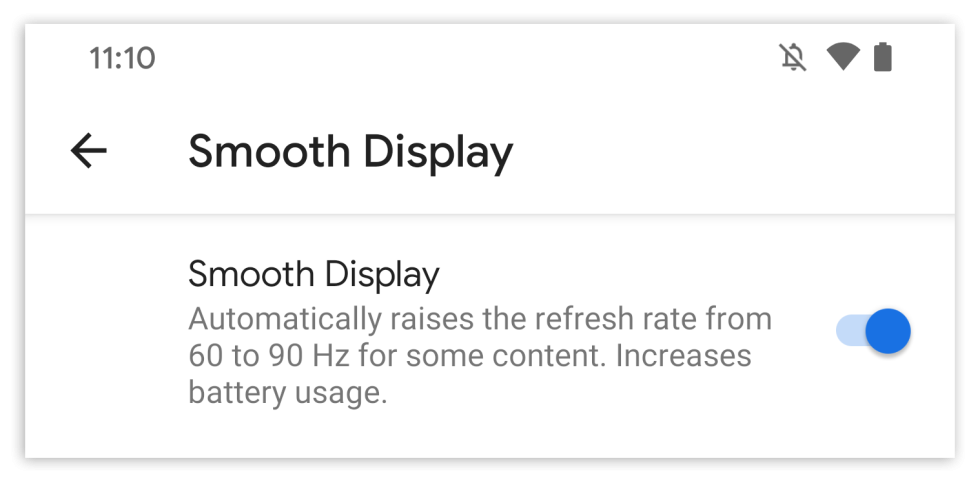 Not running in 90Hz all the time is justifiable in some cases. If you're running a full-screen video at 24fps, 30fps, or 60fps, a 90Hz refresh rate won't do anything other than burn battery. Some games are not compatible with 90Hz, so limiting the display there is appropriate, too. The Pixel 4 goes much further than this, though, and turns off 90Hz any time you use Google Maps, Waze, WhatsApp, and Pokémon Go. Pokémon Go is a game that is limited to 30fps, so that's fine. WhatsApp was blacklisted by Google "due to poor performance under 90hz" according to an Android commit. Google Maps and Waze, Google's two mapping apps, don't really have an explanation attached as to why they are limited to 60fps on the Pixel 4. We can only assume it's because Waze and Maps are already battery-heavy apps, and Google is worried about the Pixel 4's battery life.
The second big refresh rate issue is that the 90Hz mode is tied to the phone's… brightness? Shortly after the phone hit the market, users discovered that, depending on the ambient light, the Pixel 4 would run in 90Hz mode when above 75% brightness and drop to 60Hz when below 75%. Google PR responded to this discovery, saying the behavior was "preserving battery when higher refresh rates are not critical." XDA did some digging and found the Android source commit for this behavior, which explains that "Due to [a] hardware limitation, flickers are seen when switching between 60 and 90Hz at low display and ambient brightness." Apparently any time you're in the dark, switching from 60 to 90Hz mode would be noticeable, so Google turns off 90Hz mode completely.

You can opt out of Google's 90Hz shenanigans by digging into the hidden-by-default developer settings, which you can access after entering Android's version of the Konami code (go to Settings -> About Phone and tap on "build number" seven times). In here, you'll find an option to "Force 90Hz refresh rate" all the time, which then makes the Pixel 4 work like every other 90Hz phone.
With this developer checkbox on, the Pixel 4 matches the buttery smooth performance we've seen from other 90Hz phones: the animations, scrolling, and transitions are all faster and smoother feeling. With this checkbox off, eh, it's a crap shoot. The Pixel 4's brightness and ambient light requirements for the 90Hz mode are very high, and this seems to require bright overhead light. Just keeping the display on and wandering around my house in the daytime is enough to have it ping-pong between 60 and 90Hz. The very brightly lit bathroom with the overhead lights? That's good enough for 90Hz. The moderately lit bedroom with the lamp in the corner and light coming through the window? That's going to drop to 60Hz. Even just something like my head casting a shadow over the light sensor from an overhead light is enough to have it drop to 60Hz.
You know how auto brightness is totally crazy and unreliable? Now imagine that technology being used to control the refresh rate of your device. It is just all over the place based on the tiniest light fluctuations. You won't necessarily notice every drop from 90Hz to 60Hz, but the end result is that it happens so frequently that the Pixel 4 doesn't feel as fast or fluid as other 90Hz phones in the default mode. It really is detrimental to the experience. It's great that you can turn all these half-measures off, but the overwhelming message from Google is that its 90Hz phone doesn't have a big enough battery to support 90Hz mode all the time.
Google issued a patch in November that made the 90Hz mode work in slightly brighter conditions, but the end result has not changed much: the Pixel 4 runs in 60Hz mode most of the time.
The display on the Pixel 4 XL looks great in indoor lighting, but it's not very bright, and you might have issues in sunlight. There's actually a hidden high-brightness mode that was recently discovered by XDA. The display has a sunlight mode, but Google chose not to expose it to users. I would guess this is because it would use a ton of the device's limited battery.
This year the Pixel 4 supports "Ambient EQ," a display white balance adjustment that changes based on the surrounding light. It's basically the Google version of Apple's True Tone. Ambient EQ previously appeared on the Google Home Hub, which came with a special hardware color sensor and aggressive automatic brightness and white balance controls. I was a big fan of the Home Hub implementation, which was so aggressive that it allowed the display to blend into the environment, completely removing the glaring, blasting light that normally comes out of a display panel. The Pixel 4 doesn't have the special color sensor and only lightly tweaks the display based on the surrounding light. It's subtle enough that it doesn't make a huge difference, and I could take it or leave it. I'm still very interested in seeing what a Home Hub-style implementation would look like on a smartphone, though.
The Pixel 4's terrible value proposition
When using the Pixel 4, looking at the specs, and comparing it to other devices on the market, I just can't shake the feeling that the Pixel 4 is a cheap, cut-rate device. It feels a bit like reviewing an early OnePlus phone, where the company would cut some corners to deliver a lower price, and you would have to ask "Are these the right corners to cut?" There are clearly some corners missing from the Pixel 4, but Google doesn't pass any of that hardware stinginess on to the consumer. The Pixel 4 is priced at $800 and $900 dollars—fully priced but not fully specced. For so many sub-par, uncompetitive hardware decisions, the only explanation I can come up with is "Google wanted higher profit margins."
Looking elsewhere in the Android universe, you can do so much better for your money. The Pixel 4 only comes with 64GB of storage, which is a storage tier most other Android manufacturers have moved on from entirely. The Galaxy S10 and the latest OnePlus phones both start at 128GB of storage, so it's fair to compare the 128GB competition not to the $800 and $900 64GB Pixel 4 and Pixel 4 XL, but to the 128GB versions that add $100 to both price tags. Apple is really the only other major company that starts its smartphones at 64GB, but there are even times when Apple offers a better value than Google. The 64GB iPhone 11 starts at $700, $100 cheaper than the Pixel 4—and, by the way, the iPhone 11 has a bigger screen and a bigger battery. There is even more separation at 128GB: a 128GB iPhone 11 is $750, and a 128GB Pixel 4 is $900.
Have we mentioned that Google is using older, cheaper UFS 2.1 flash storage in the Pixel 4? Samsung and OnePlus are already shipping UFS 3.0, which offers faster read speeds, faster app launching, and smoother, more consistent performance when background tasks are happening. The most important of those are the read speeds, which are used for loading, and the Pixel 4 gets blown away by the latest OnePlus and Samsung phones. The read speeds of the Pixel 4 are actually slower than the Pixel 3.
The Pixel 4 only comes with 6GB of RAM, when similarly priced phones from Samsung or much cheaper phones from OnePlus have 8GB or 12GB of RAM.
Since Google is jumping on the multi-camera bandwagon this year, it's also worth saying that the company only ships two rear cameras. Almost everyone else ships three or four cameras at this point. I'm skeptical about the multi-camera craze, but if you're going to pitch the idea that more is better, you might as well compete. Ship at least a main camera, a wide-angle camera, and a telephoto like everyone else. But the Pixel 4 lacks a wide-angle camera. Last year, the Pixel line shipped a second, wide-angle selfie camera, but that has been cut this year, too.
The Pixel 4, which is supposed to be a great camera phone, is actually a bad video camera as a result. It supports 4K, 30FPS video, but not 4K 60FPS. Google was asked about this on Twitter, and the official account mentioned that 4K60 would take a lot more storage space than 4K30. Like with the limiting of 90Hz mode to protect the phone's paltry battery, here we have another feature that was turned off to protect the phone's cheap, cut-rate hardware.
The Pixel 4's slow-motion video mode is also pretty weak, offering only 240FPS video. The current high-speed champion is the Huawei Mate 30, which offers an astounding 7680fps video (which looks amazing, by the way). Samsung and OnePlus only offer 960FPS, but that still puts Google, as usual, in last place. Both of these limitations work against a company that owns YouTube, the world's largest video site. You would think Google would want people out there making compelling, high-quality videos that they are eager to share with the world through its ad-supported video platform. YouTube, for the record, supports up to 8K, 60FPS video, and the platform has done so since 2015.
There have been profit-increasing cuts to the Pixel 4 accessories, too. The Pixel 3 and Pixel 4 don't have a 3.5mm headphone jack, but at least the Pixel 3 came with a USB-C-to-3.5mm headphone jack dongle and a set of USB-C headphones. The Pixel 4 doesn't come with either of these accessories. A lack of a 3.5mm adapter is bad in particular, because there are two competing "standards" for USB-C audio, so careful compatibility research is required before buying a third-party adapter.
There's no Wi-Fi 6 support, which is actually supported by the Pixel 4's Snapdragon 855 SoC. Google would have needed to add a Wi-Fi 6 RF module to the Pixel 4 to enable Wi-Fi 6, but instead Google went with a (presumably cheaper) RF module that only supports Wi-Fi 5. Wi-Fi 6 drags Wi-Fi into the modern era with foundational improvements like bi-directional communication and the ability for multiple devices to transmit at the same time. But you'll need a new router and a phone other than a Pixel 4 to try it out—for instance, like either of the last two releases from OnePlus or Samsung.
Google is also cutting off the cloud storage freebie that has typically come with Pixel phones. Before, photos uploaded from a Pixel phone to Google Photos would be stored at "original" quality for free, with none of the space counted against your Google account storage limit. This offer is gone from the Pixel 4, which now only offers unlimited storage for compressed "High-quality" photos. This stinginess works against the design of the Pixel 4, which puts one of the industry's best cameras on a phone with small storage options and no options for expandable storage. Before, the Pixel line seemed designed to push people toward using free cloud storage for their pictures, but now the Pixel 4 seems designed to push people to start paying for cloud storage. Hey Pixel 4 owners: 100GB of "Google One" cloud storage starts at just $1.99 a month! Act now while supplies last!
Our battery tests run the Pixel 4 in 90Hz mode, because that's the only stable refresh rate available. It's also the mode that's comparable to the other 90Hz phones.

This has turned into the performance section, so here are the other charts. It's just the usual Snapdragon 855 numbers.
The place where the Pixel 4 has really been cost-cut to death, though, is the battery. The smaller Pixel 4 got the worst of it, with an absolutely microscopic 2800mAh. This is smaller than the 2915mAh in the Pixel 3, and remember, Google has added more power-hungry components, changing from a 5.5-inch, 60Hz display to a 5.7-inch 90Hz display, adding more RAM (which uses more power) and adding the Project Soli sensor, which is on all the time. The similarly sized Galaxy S10 has 20% more battery than the Pixel 4 with 3400mAh. Finding a Samsung flagship with this small of a battery would mean going all the way back to the Galaxy S6, which is almost five years old. We, sadly, don't have a smaller Pixel 4 to test, but the battery life is, by all accounts, a disaster. It should be a complete deal-breaker for the smaller device.
The Pixel 4 XL's 3700mAh battery isn't great, but it is, at least, an upgrade over the Pixel 3 XL's 3430mAh battery. The only competition Google can beat here is itself, though. Samsung has a 4100mAh battery in the comparably sized Galaxy S10+. OnePlus has a 4000mAh battery in the OnePlus 7 Pro.
In smartphone design, there is always an argument to be made that specs don't matter, and what genuinely matters is the device performance in the real world. The iPhone is a good example of this, which, despite often shipping smaller batteries and less RAM, still manages to have a long runtime and great performance. That's not the case with the Pixel 4, though, where Google's cost cutting negatively affects the end-user experience in the form of lower performance and cut features. The 90Hz display doesn't run in 90Hz all the time due to battery concerns, and that makes the phone feel slower than its 90Hz competition. The limited storage means the phone doesn't support 4K60FPS video, and finding a place to store all your pictures could be a challenge now that Google doesn't offer unlimited full-quality photo storage anymore. The battery is small, and the runtime is poor.
The thing that most concerns me about the Pixel 4, though, is longevity. Batteries degrade over time and don't hold a charge for as long. Flash memory degrades, more apps get installed, more data is generated, and the OS degrades. Day one is the best and fastest a smartphone will ever be, and the Pixel 4 already feels like it's just squeaking by to hang in the realm of "high performance smartphone." Power users are already documenting long app hangs and stuttering video, and I'm sure the problem will only get worse in time. How will the Pixel 4 perform months down the line? With such little headroom available on day one, I don't think this device will have the longevity of its competition.
Face unlock—Slow, unreliable, and frustrating
The Pixel 4 doesn't have a fingerprint reader. Instead, for biometrics, it has a 3D face unlock system that is an outright clone of Apple's FaceID. Turn on the display, and an IR dot projector shoots an invisible grid onto your face. Dots closer to the projector are smaller than dots farther away from the projector, and two IR cameras use this dot grid to build a 3D map of your face. The final item, a "flood illuminator," is just a bright IR light that allows the face unlock system to work even in the dark. There's also a motion and Soli-activated wake feature, where if you lift the phone, or the phone senses you above it, the face unlock system will turn on automatically and unlock the phone.
That's all the theory, anyway. In reality, the Pixel 4's face unlock is slow, inconsistent, and frustrating to use. Security issues were discovered almost immediately. It's an across-the-board regression compared to a fingerprint reader and a big downside to the Pixel 4.
One of the things I don't like about face unlock is that it's just so passive. With a fingerprint reader, the phone unlocks as quickly as you can press on the fingerprint reader: it feels like I'm the one using the phone, the speed is up to me, and I'm an active participant in how fast my phone is unlocking. With face unlock, I can't actively do anything to make it work. I just turn the screen on and stare at the lock screen, hoping it will work. Face unlock feels like I'm waiting. It feels like I'm waiting for the phone sensors to spool up and process my face, and that feels, subjectively, slow.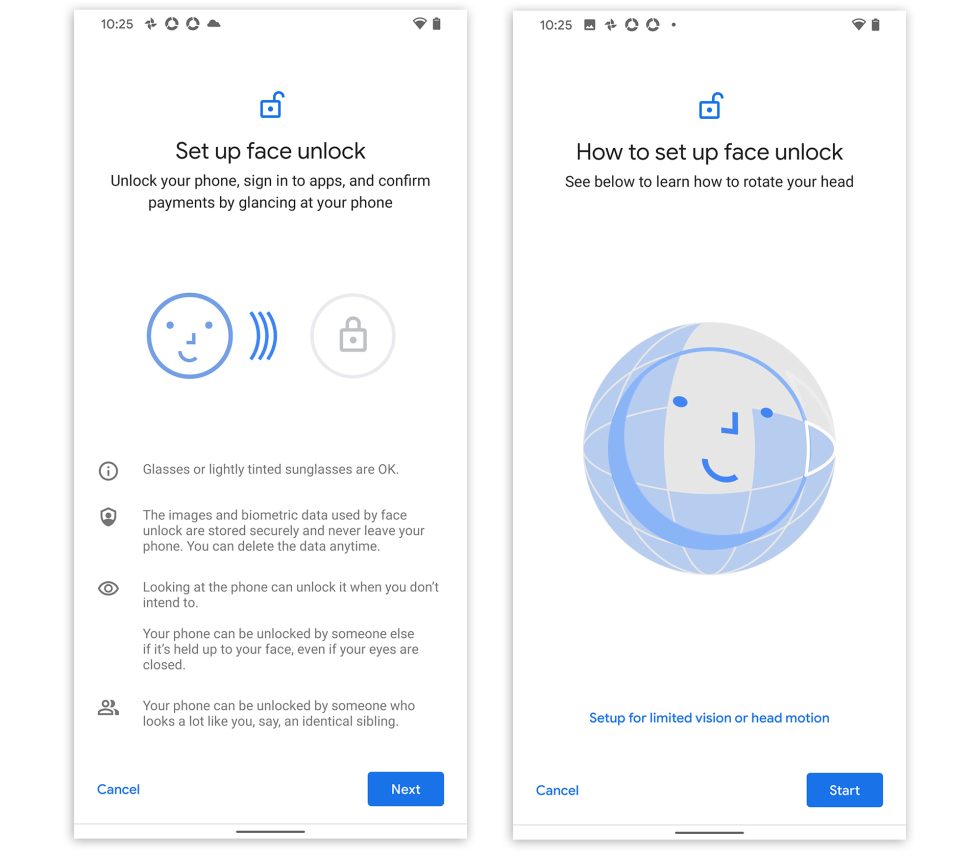 The Pixel 4's face unlock is objectively slow, too. It's easy to grab a second phone and do a race-to-homescreen, and I can fingerprint unlock pretty much any phone in less time than it takes for the Pixel 4 to recognize my face. Your typical fingerprint reader goes through just one step to unlock the phone, whereas the Pixel 4's face unlock is a multi-step process. First, the Pixel 4 must light up and show the lock screen, which happens either from the (inconsistent) motion detection or from the user directly pressing the power button. Then, the face unlock sensors spin up and start recognizing your face, and if it works, you'll see the home screen.
Fingerprint readers don't have this two-step process. Rear-mounted capacitive fingerprint readers are always on, and in-display fingerprint readers are usually motion activated to be on most of the time, before the screen even lights up in full-power mode. Fingerprint readers also double as power buttons—even the in-display readers. A single press does everything for fingerprint unlock: it turns the display on, it processes your fingerprint, and it unlocks the phone. Most of the time you don't even see the lock screen on a phone with a fingerprint reader; it just shoots right to the home screen or your last app.
If you're pulling your phone out of your pocket or purse, you can also use fingerprint unlock sooner in the process than face unlock. Face unlock can only start working once you've lifted the phone up to your face, whereas with a fingerprint reader, you can unlock the phone before you even look at it.
For the frequent times when something doesn't work with Google's face unlock system, the passive nature of the interface makes it doubly infuriating to use, because it feels like there's nothing I can do to fix it. Sometimes the lift-to-wake feature just doesn't wake the phone up, and I'm left staring at a mostly blank phone because the face unlock system never turned on. Sometimes face unlock just doesn't like the angle my face is at, so I need to turn my head a bit for it to recognize me. Sometimes face unlock is disabled by the system for security reasons, like after a reset. In all of these situations, I can only start to take a corrective action after a few seconds of waiting. Since this is a passive system, and I have no idea what is going on behind the scenes, it always takes a few seconds for me to realize "oh, it didn't work again" before I can try to take some action to make it work.
All of these speed advantages for fingerprint unlock are just a matter of seconds, but that's a huge deal for something you do dozens of times a day. Unlocking a smartphone is the first thing you do every time you use your phone. And since unlocking is a requirement to use every other function on your phone, that means unlocking is also the most frequently used function on your phone. It is not OK for the unlocking process to have regressed as much as it has on the Pixel 4. Unlocking is something a phone has to get exactly right, and unlocking the Pixel 4 is just frustrating, slow, and inconsistent.
If you use any third-party apps that normally hook into the fingerprint reader, like financial apps, you'll run into compatibility issues with the Pixel 4's face unlock. The fingerprint API has been around since Android 6.0 Marshmallow, and in these four years, plenty of apps have picked up support for it. That API does not support a face unlock system, though, so in Android 10, face unlock (and generic biometric support) was added to a new "biometrics" API. Since most apps support the older fingerprint API and not the newer biometrics API, you won't be able to use face unlock with them.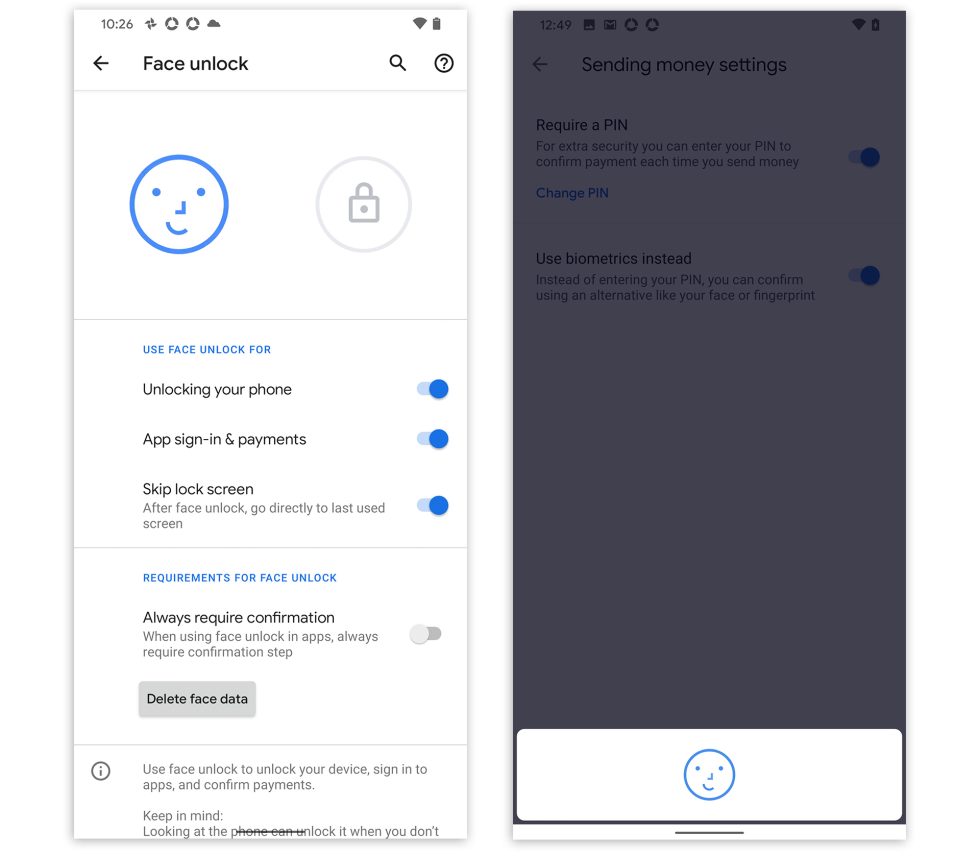 Since unlocking a phone is so critical to the user experience, I have to ask, why doesn't the Pixel 4 have both options? Why isn't there a fingerprint reader and a face unlock system? Again, this is the most frequently accessed function of a phone. Unlocking is a prerequisite to do anything else, and phone manufacturers should absolutely invest a ton of money in making unlocking work as swiftly and securely as possible.
Samsung's Galaxy S8 and S9 shipped both iris scanners and fingerprint scanners on a single phone, and OnePlus offers selfie camera face unlock in addition to the fingerprint scanner. You can argue about the security merits of each of these biometric implementations, but the multi-biometric idea is absolutely the right way to go. Give me a passive and active form of biometric identification, and let there be a race-to-unlock between the fingerprint reader and the face unlock system. If these device designers have no problem throwing a huge amount of money at multiple camera lenses, which you might not even use every day, then they should be fine throwing a ton of money at the biometrics system, which the average user activates dozens of times a day.
I also don't understand why Google is building a face unlock system now. A major downside to a good face unlock system is the multitude of components that need front bezel real estate. The alternative, an in-display (or even rear-mounted) fingerprint reader, requires zero bezel space, allowing more of the front of the phone to be devoted to useful pixels. What, exactly, is the justification for even beginning to build a face unlock system? Even if the Pixel 4's face unlock was as fast and easy as a fingerprint reader (which it isn't), it would still be an inferior option since a fingerprint reader can quickly and easily unlock the phone while using zero bezel space. What are we even aspiring to accomplish here?
Motion Sense with Project Soli—Not at all what was promised
Google first unveiled Project Soli, a radar-based air gesture system, at Google I/O 2015. The project has been in development at Google's ATAP (Advanced Technology and Projects) group since at least a year before the unveiling, making it five years old now. Project Soli was originally pitched as an input solution for smartwatches and other wearables, which have displays small enough that many standard smartphone touch interactions don't translate well. Soli, in the original sales pitch, was a sensor that could capture "sub millimeter motions of your fingers," and Google had developed a number of gestures that could control a smartwatch interface. You could rub two fingers together to spin a virtual dial, tap your thumb and forefinger together to click a button, or scroll through a virtual plane by making a loose fist and sliding your thumb across your forefinger.
After at least five years of development, Project Soli has finally made it to market. Google put its smartwatch navigation solution in … a smart phone (??), and the feature has been rebranded on the Pixel 4 as "Motion Sense." Immediately, we've lost the initial target. Project Soli was always meant for devices that are too small to house a sizable touchscreen, as the whole goal was bringing some common interface gestures to wearable devices. In a smartphone, which has the sizable touchscreen Soli is trying to replace, Soli makes zero sense.
Even if Soli worked as well as originally advertised, it would have a tough time competing with the ~6-inch touchscreen in the Pixel 4, which gives more direct and immediate feedback than an air gesture. The Pixel 4 doesn't even have the Soli gestures that were originally promised, though. During the Pixel 4 presentation, Google demoed the Project Soli designs that were shown off in 2015 and 2016, and despite those being pitched as for a smartwatch at the time, Google said it "still wasn't small enough" to fit in a Pixel 4. The company had to "shrink [Soli] down even more." It seems like, in this need to make the chip ever smaller, a lot of the resolution and functionality of Project Soli was compromised.
Instead of the collection of gestures that were originally shown off, Pixel 4 has one control gesture for Project Soli, a horizontal swipe, where you pass your entire hand over the smartphone from left to right or right to left. Soli is very picky about recognizing this gesture, too. You need to make a big arm movement all the way across the entire phone body for it to register—don't use your wrist, use your elbow. In the move to consumerization, Soli has gone from detecting "sub millimeter motions of your fingers" to "elbow-actuated arm waving."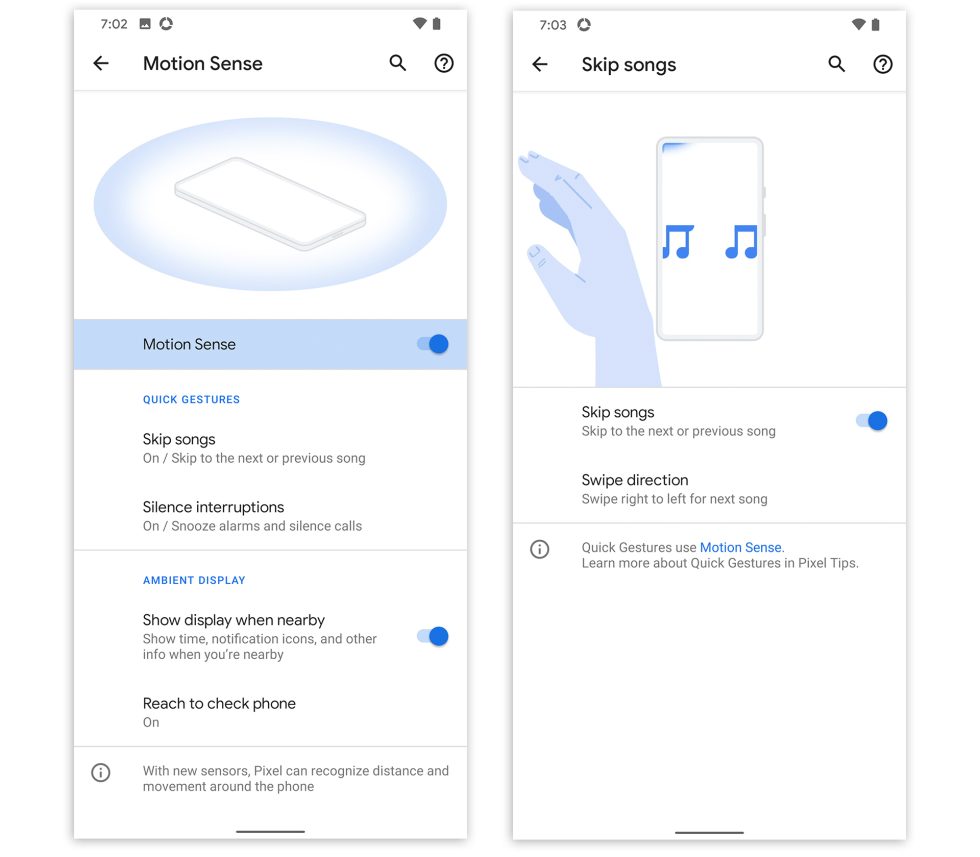 It's clear that shrinking the Soli chip down made Google move from detecting finger movements to elbow movements. The original Project Soli smartwatch chip, which was shown off at Google I/O 2015, used six radar antennas. Two would transmit a broad beam of radar to your hand, and four antennas would capture the reflected radar as your hand moved around. The Pixel 4 implementation only has four antennas, arranged in a 3+1 configuration. If this follows the same distribution of antennas as the 2015 chip, then one antenna transmits the radar to your hand, and three antennas pick up the reflected signal, a clear loss of resolution. The original Soli chip put its two transmit antennas on opposite ends of the chip, almost as if it wanted to get stereo radar coverage of the object in front of it. With only one transmit antenna, we would be down to a much simpler form of tracking.
So we're down to only one gesture, the horizontal swipe, and with this wave gesture you can navigate "next" or "previous" in a music player, silence alarms, or answer calls. That's about it. The one nice thing about the music implementation is that the Soli sensor works even if the music app is not in the foreground, so you can change tracks, whenever, with a hand wave. This is also something you can do with nearly any pair of Bluetooth headphones, though, so it's not exactly revolutionary.
Motion Sense on the Pixel 4 is not open to app developers, and Google has no plans to create an SDK in the near future. Google did allow two companies to make short tech demos for Motion Sense, though. One game, Pokémon Wave Hello (like it says on the tin),uses the horizontal swipe to allow you to "wave hello" to various Pokémon. Another, Headed South, just uses the horizontal swipe as a replacement for a button—it activates a speed boost in an on-rails flying game. Pokémon uncovers one more extremely limited gesture: a "reach in" gesture where you just block the sensor with your hand for a few seconds. Neither of these apps are things you'd want to play for more than a few minutes.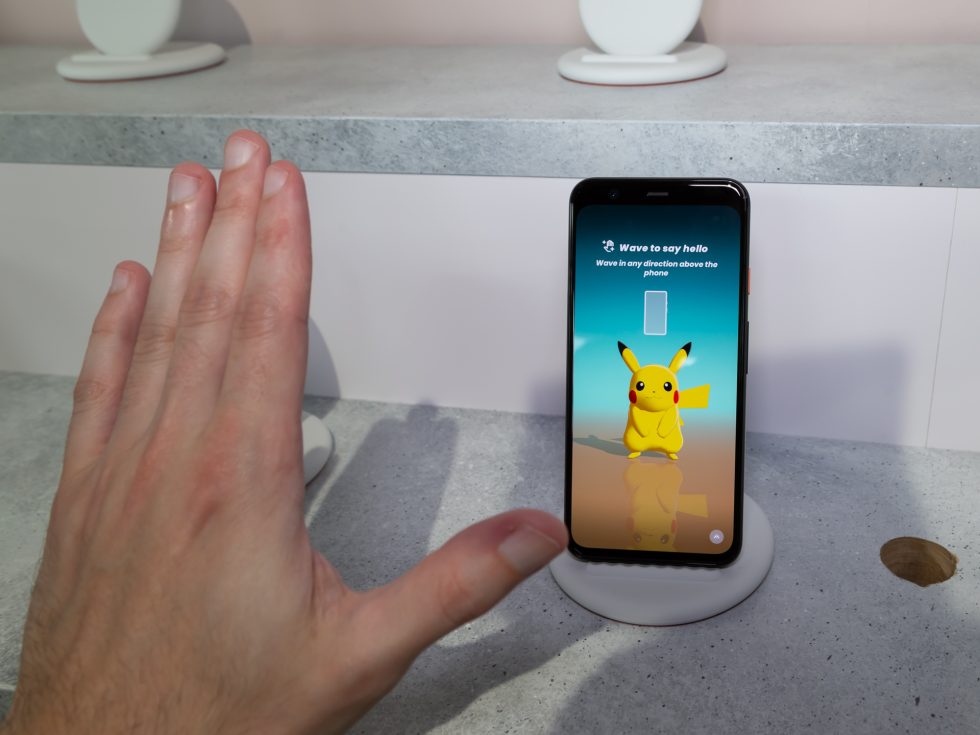 If it's not clear by now, even these very limited gestures for Project Soli feel terrible. The sensor only notices my arm waving about 75% of the time, and that's just an unacceptable failure rate for an input device. No one would use a mouse, touchscreen, or keyboard that worked 75% of the time (well, maybe Macbook users), especially when you have a giant 6-inch touchscreen in front of you that can accomplish the same task more accurately and with less effort. Soli might have had a shot when it was attempting "sub millimeter motions of your fingers," but waving your entire arm across the body of the phone is a hassle when a much smaller touchscreen input would accomplish the same thing. The Pixel 4's use of Soli reminds me of the Nintendo Wii and how bad games would use the system's motion controls. Why would users want to make this big arm motion when a simple button press would accomplish the same thing?
Besides the one active gesture, Soli is on all the time and provides "presence detection," which is used for a few things. If an alarm is going off and the Soli sensor detects movement, the alarm volume will lower. Soli can turn on the display when it detects someone, or if you don't want the low-power display mode to be on all the time, it can trigger it when someone approaches. Soli is also tied to the face unlock sensors, which can get a jump on starting up when motion is detected. It would be nice if the Pixel 4 could do something like detect when you are looking at it on a table, turn on the display, and activate face unlock. However, the range of Soli is only about 7 inches, so triggering any of these presence features means sticking a hand out over top of the sensor. You can kind of feel the beginnings of an interesting feature set here, but the range is just too limited.
As a device that broadcasts radar, Soli has to comply with local regulations, and it's not allowed to be used worldwide. A Google support page lists the countries where the Soli sensor has approval: "Currently, Motion Sense will work in the US, Canada, Singapore, Australia, Taiwan, and most European countries." Soli usage is based on your current location, not where you bought the phone. Google's support page notes that "If you travel to a country where [Motion Sense is] not approved, it wont work," meaning the feature is geo-fenced based on your current location. In the US, Google has gone back and forth with the FCC about the allowable power levels of Soli, and according to a January report from Reuters, Soli was granted a power level lower than what Google initially wanted. Perhaps this also contributes to the unreliability and limited range of Soli—it's not running at the power level Google initially specced out.
Google says that the current Soli implementation is "just the beginning" and that the company will ship more Pixel 4 functionality "in the coming months." I'm not very optimistic, though, given what we know about the antenna reduction and the poor detection Soli has now. Overall, it feels like a very simple, binary gesture system, like you're just breaking a laser beam with your hand. None of the originally promised Soli functionality seems present here, and I suspect we'll have to see one or two more hardware revisions (hopefully in non-smartphone form factors) before Soli shows any kind of benefit.
The next-gen Google Assistant
The software on the Pixel 4 is mostly just stock Android 10, which we have covered to death in our full Android 10 review. There are a few Pixel-specific additions, which mostly boil down to a few packed-in apps. The biggest of those is the new Google Assistant.
The Pixel 4 is the first device that features what Google is calling the "Next Gen Google Assistant." This is a scheme to augment the cloud-based voice recognition system with some local voice processing. This feature was announced at Google I/O 2019, where Google said it created "completely new speech recognition and language understanding models, bringing 100GB of models in the cloud down to less than half a gigabyte." With voice models down to half a gigabyte, they can now be stored locally on the phone, reducing the need for a round-trip to the Internet.
For processing these local voice algorithms, Google has something it calls the "Pixel Neural Core." Is this a chip? Is it a collection of software? Nobody knows! Google published detail specs on the "Pixel Visual Core" for the Pixel 2 and 3, but there has been no such information available for the Pixel Neural Core in the Pixel 4. Google has only ever said "Pixel Neural Core is the engine for on-device processing, always-on computing, and machine learning, meaning more tasks are done on the device for performance and privacy." Note that this does not even identify the Neural Core as a physical chip, only "an engine."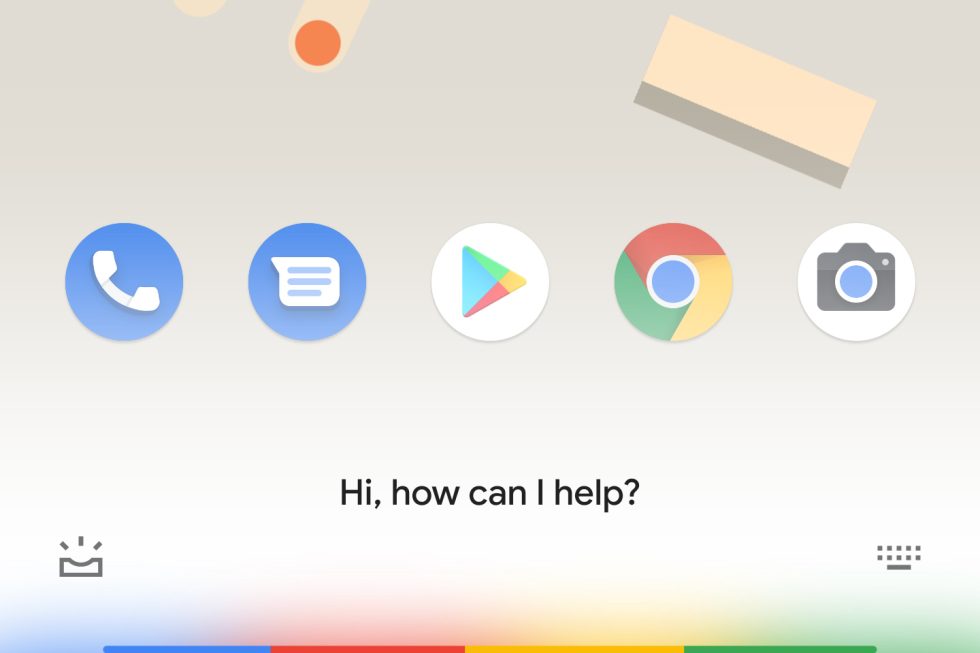 The Pixel Visual Core in the Pixel 2 and 3 was an extra chip. It was a custom SoC designed by Intel and Google, with eight Image Processing Units (IPU) capable of more than three trillion operations per second. The Pixel Visual Core was also not used for much. In one of the most Googley hardware decisions ever, Google put a custom camera chip in the Pixel 2 and then did not use it in the Google Camera app. The chip was only used in third-party apps like Snapchat and Instagram. The chip returned in the Pixel 3, where it was only used for the "Top Shot" burst mode feature. Since the Pixel Visual Core was barely used, I could easily see the custom SoC approach getting dumped for the Pixel 4.
iFixit tore down the phone and found two chips that might live under the "Pixel Neural Core" umbrella. There is a Knowles 8508A quad-core audio processor inside the Pixel 4, which could help with the assistant's voice processing. There's also a mysterious chip with a big "P" on it. Is this the Pixel Neural Core? No one knows, and Google won't provide a clear answer.
Regardless of the actual hardware, is the next-gen Google Assistant a revolution Read More – Source