George Michael's family has asked fans to remove tributes from the late star's former homes, saying he "would not want to disturb" the neighbours.
Fans of the Faith singer have created memorial areas filled with flowers, messages and candles outside his former homes in Highgate, London, and Goring-on-Thames, Oxfordshire.
Michael, who sold 120 million records during his career as a solo artist and member of Wham!, died in his Oxfordshire home on Christmas Day 2016.
Michael's sisters Mel and Yioda Panayiotou, his father Jack Panos and friend David Austin wrote on the pop icon's official site: "We've been touched by your many tributes celebrating and remembering Yog, reminding us how very much he is missed and loved."
The statement reads: "We feel we cannot expect our Highgate and Goring neighbours to continue to accept as normality, the memorials so personal to you all, to remain as and where they are any longer, although we do appreciate your recent efforts to minimise their impact."
They asked for the tributes to be removed by 27 May, so both properties can be returned "to their former simple state".
The family have told Michael's fans to "leave any you wish us to have", suggesting they will remove tributes that are not collected.
Using an affectionate nickname for the star, the family add: "Yog liked his privacy, his homes were true havens for him (such a Cancerian!) and, ultimately, long term, we know he would not want to disturb or change the quiet neighbourhoods he so loved, for the people in the local area, who honestly, despite reports otherwise, have been gracious and very understanding."
They asked that his fans, referred to as "lovelies", to instead make a donation or volunteer at a charity.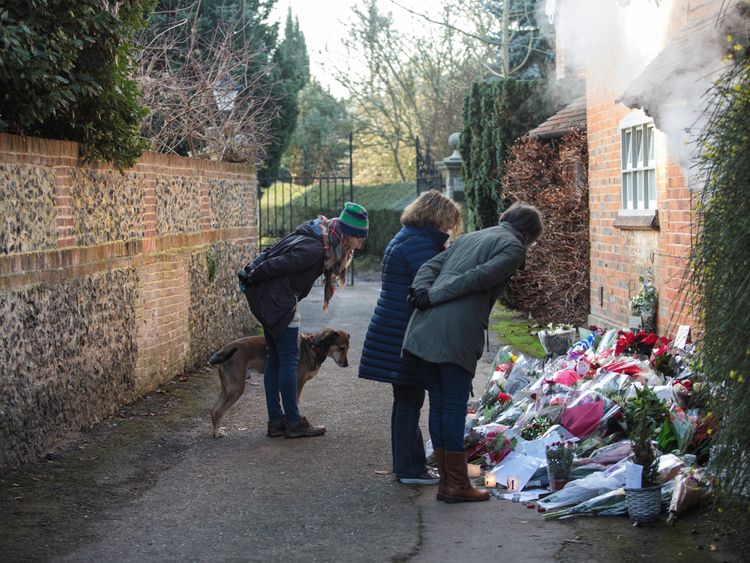 After Michael's death a post mortem found the 53-year-old had succumbed to heart disease and a build up of fat in his liver.
The ailments can be linked to drug and alcohol abuse.
He was buried in a private funeral at Highgate Cemetery, near his north London home, three months after his death.
More from UK
Michael first rose to stardom in Wham!, one of the most successful 1980s pop acts.
He went on to have a successful solo career with hits including Jesus To A Child and Careless Whisper.
[contf] [contfnew]
[contfnewc] [contfnewc]