An American pastor freed from jail in Turkey has prayed with Donald Trump – and asked God to lend the president "supernatural wisdom".
Andrew Brunson, who was flown to the US on Friday, received a hero's welcome at the White House for a meeting that signalled a let-up in the diplomatic crisis sparked by his case.
Sentenced to more than three years in prison in Turkey over a terrorism conviction, he was released on the grounds that he had already spent two years in jail in what has been perceived as a victory for Mr Trump.
Kneeling to pray and placing his hand on his shoulder, the evangelical said the president had "really fought" for him and his family.
"I ask that you pour out your holy spirit on President Trump, that you give him supernatural wisdom to accomplish all the plans you have for this country and for him," he said.
"I ask that you give him wisdom on how to lead this country into righteousness."
Mr Trump went on to thank Turkish President Recep Erdogan for "making this possible", saying relations between the countries had been "harsh" because of the detention of the pastor.
Mr Trump had threatened sanctions on Turkey over the imprisonment in July.
Both leaders, however, denied reports that Brunson had been released in exchange for the US easing economic pressure on Ankara as part of a secret deal between the two countries.
"There was NO DEAL made with Turkey," Mr Trump tweeted. "I don't make deals for hostages."
He added, however, that the United States had a great "appreciation" for Turkey's actions, "which will lead to good, perhaps great, relations" between the countries.
He also noted that Mr Brunson had been transferred from a Turkish prison to the White House in 24 hours, calling the quick turnaround "very cool".
Mr Erdogan, responding in a more muted fashion, said he hoped the states would "continue cooperation in a manner that befits the two allies".
He insisted that the decision over the pastor had been made by an independent judiciary.
The cooling in relations could be relevant to the unfolding case of journalist Jamal Khashoggi, who is feared dead after disappearing from Saudi Arabia's Istanbul consulate last week.
Both Turkey and the United States have pressed Riyadh on what happened to the journalist.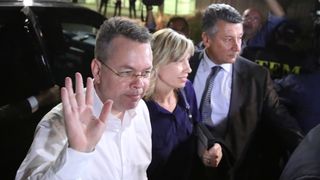 Mr Brunson, 50, who has become a celebrity among conservative Christians in the United States, lived for nearly 25 years in Turkey, working at a small church and living with his wife and children before being arrested in 2016.
He was accused of having links with the outlawed Kurdistan Workers' Party (PKK) and the Gulenist movement, which he denies.
More from Donald Trump
The ensuing diplomatic dispute led to a crash in the Turkish lira that revealed Ankara's economic fragility.
US secretary of state Mike Pompeo urged Turkey to "quickly release" other Americans in detention, pledging to "continue to work hard to bring home all American hostages and all those wrongfully imprisoned and detained".
[contf] [contfnew]
[contfnewc] [contfnewc]