Fitbit's first smartwatch may have been the Ionic, but the company is throwing all of its resources behind the Versa. While the Ionic targeted serious athletes, the original Versa was more accessible in design, features, and price. That combination won over a lot of users, so much so that Fitbit made an even more affordable version with the Versa Lite.
But now the $200 Versa 2 is revamping the original Versa by bringing some special edition features down to the regular model and including all-new ones—voice commands, Spotify playback control, and the like—that Fitbit likely added to keep up with the Joneses of the smartwatch world. Fitbit only added to the Versa 2—it didn't remove anything that was already present in the original Versa. Even so, that doesn't make it a no-brainer upgrade for happy OG-Versa owners.
Whats new
Hardware
The Versa 2 retains that rounded-square case design that the original Versa had, only now it has a new AMOLED display, one side button, and an improved processor. The AMOLED panel gives the watch a higher-quality look and feel with deeper blacks and more vibrant colors. Images should also look crisper, and indeed the photos used in the Exercise app appear to have more detail than they did before. But Fitbit OS doesn't use too many photographs, so you'll mostly enjoy the improved screen through the operating system's color iconography.
The single-button design mimics the Versa Lite and will arguably be better suited for most users. Smartwatches with more than one physical button are made for athletes who need a more reliable way to control their wearable when sweat, water, and other deterrents hinder the touchscreen. While the Versa 2 tracks loads of activities, it's still not as hardcore as something like a Garmin Fenix 5 Plus and doesn't really need more than one button. That button navigates back on the display and, when pressed and held, activates Amazon Alexa (a new feature we'll discuss more in a bit) or Fitbit Pay depending on your customized preferences.
Physical improvements usually give us immediate, visual satisfaction that a device has been sufficiently upgraded, but the new processor inside the Versa 2 is my favorite physical yet invisible upgrade in this watch. The original Versa wasn't slow, but you will immediately notice the difference in performance and overall operational smoothness in the Versa 2. Transitions between pages are seamless, opening and closing apps takes a second or two less time than before, and loading data in the Today dashboard is almost instantaneous.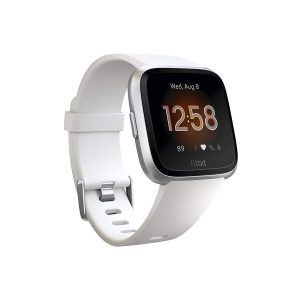 Fitbit Versa 2
Preorder Now (Ars Technica may earn compensation for sales from links on this post through affiliate programs.)
Software
Most of the hardware improvements go hand in hand with new software features in the Versa 2. The AMOLED panel supports a new always-on display mode, activated by an icon in the new quick-access menu that's accessible by swiping down from the top of the display.
By default, the Versa 2's display will turn on only when you turn your wrist upward, revealing the time and any other glanceable stats on your watch face. But with always-on display mode activated, the display will continuously show the time, date, battery level, and two small circles showing steps and exercise progress for the day.
This screen isn't the same as your selected watch face. Instead, it's a simpler black-and-white watch face with a digital clock, presumably to conserve battery power as much as possible. This minimalistic look carries over to other activities as well, like tracking exercise when using the always-on display mode. To access the watch's interface, you only need to tap on the display a few times or press the side button.
Fitbit's decision to change the design of the watch face while using always-on display mode was a smart one because it ensures that you're getting as much battery life out of the device as possible. Keeping the display on all the time uses more battery life in general, so stripping that display of anything unnecessary will help it last longer. Fitbit claims the Versa 2 will last 2+ days in always-on display mode and 5+ days in regular mode. I got two days and two nights of life with always-on display mode and about four days and four nights of life when using the turn-to-wake display feature.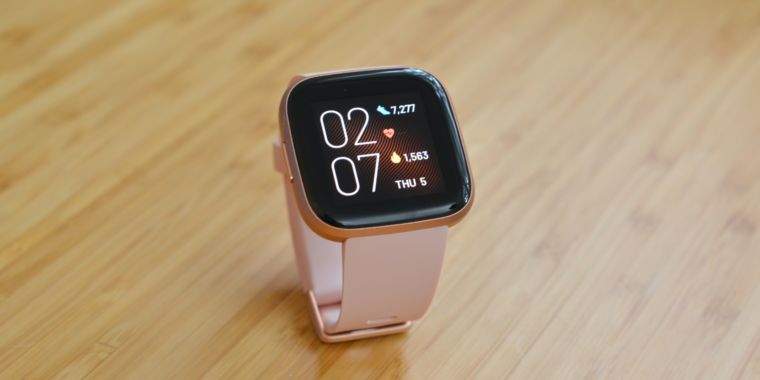 Fitbit Pay and Spotify
Also accessible in that new quick-access menu are Fitbit Pay and music controls. The Versa 2 now has NFC for Fitbit Pay as a standard feature, so you don't have to pay extra for it like you did with the original Versa and its respective Special Edition models. The music-control menu allows you to play, pause, skip, and otherwise control playback for music on your smartphone or saved to the Versa 2 itself. The device has space for about 300 songs, and users can download them from their own personal music libraries (using Fitbit Connect for desktops, which remains clunky at best) or from their streaming libraries if they are premium Pandora or Deezer subscribers.
No, Spotify is not included in that, and I was just as surprised as you probably are right now. The Versa 2 introduces a dedicated Spotify app to the device, but that app can only control Spotify music playback from your connected smartphone. Currently, even if you are a Spotify Premium subscriber, you cannot download playlists and tracks to the Versa 2.
According to a Fitbit representative, the company is exploring ways that it could expand the integration in the future, but there are no more details to share on that front right now. Considering Garmin and Samsung wearables with onboard storage can download Spotify playlists, I hope Fitbit can negotiate this feature with Spotify so it becomes available in a future software or firmware update.
The Fitbit Versa 2 smartwatch. Valentina Palladino

The new AMOLED display has slightly smaller bezels surrounding it. Valentina Palladino

The heart-rate monitor is just as accurate as the one in the original Versa. Valentina Palladino

The updated processor helps things like the Today dashboard load much faster. Valentina Palladino

The settings in the quick-access menu let you turn on Do Not Disturb, always-on display mode, and more. Valentina Palladino

You can control the music playing on your smartphone, or music that's stored on the Versa 2 itself. Valentina Palladino

New Alexa integration lets you ask questions, set timers, and give the watch other voice commands. Valentina Palladino

The Versa 2 costs $200, the same prices as the original Versa when it debuted. Valentina Palladino
Alexa integration
Instead of building their own virtual assistant, Fitbit partnered with Amazon to make Alexa a companion on the Versa 2. In order to use Alexa on this watch, you have to pair it with your Amazon account and download the dedicated Alexa mobile app. That means that if you have no desire to call upon Alexa on your watch, you can skip this completely. But those who already use Alexa to play music, control smart home devices, or do other things around their home may want to give this integration a shot.
The best thing about the Alexa integration on the Versa 2 is that it's fast, and the worst thing is that it's not completely hands-free. The improved CPU inside the watch makes processing voice commands quick and easy. I never waited more than three seconds for Alexa to show me the answer to my question on the Versa 2's display. (Unlike other Alexa devices, the Versa 2 doesn't audibly answer you—instead, it shows text-based answers on the watch display.)
But also unlike other Alexa devices, you can't just say "Alexa, set a timer for five minutes." You must press and hold the side button and bring up the Alexa interface first before you can ask it anything. While text-based, on-screen responses are arguably better when using this feature in public, forcing that physical prompt makes voice commands useless if you're cooking, wrangling children, or doing something else that occupies both of your hands.
If you're going to bring voice commands to a device, make sure that the inherent convenience of that feature isn't lost. Unfortunately, Fitbit removed most of the convenience of voice commands by adding that press-and-hold activation feature. To add insult to injury, you also need to leave the Fitbit app open in the background on your smartphone to use Alexa voice commands at all.
Sleep features
The Versa 2 tracks sleep just like the original Versa did, but now users will see a Sleep Score in their data that attempts to rate how well you slept using just one number. Fitbit calculates this 0-to-100 number by considering heart rate, restlessness, time awake, and time spent in various sleep stages from the night before. Unsurprisingly, I never got close to a 100 Sleep Score and most of my scores were between the 60 and 75 range, which Fitbit declares "fair."
I'm interested to see how this Sleep Score changes over time because I only have data from the past week or so of using the Versa 2. However, unless I make dramatic changes in my sleep routine, I don't expect it to change much because the Sleep Score just puts a rounded number on the data that Fitbit devices were already collecting. It also doesn't mean you'll get any more specific insights into how you could sleep better because those are reserved for Fitbit Premium subscribers. You'll still get the generic recommendations, such as changing your pillow or mattress to improve overall sleep quality, but you'll have to pay $9.99 per month to get anything more personal.
This is where I should mention that I haven't had the opportunity to test out Fitbit Premium yet. Announced with the Versa 2, Fitbit Premium is the company's new subscription service that provides deeply personalized health and fitness insights, guided health and workout routines, and other perks to those who cough up $10 per month or $80 per year. I'd love to know how effective my personalized sleep recommendations would be because I don't need an app (or a sleep doctor, at that) to tell me that a newer, nicer mattress or fancy pillows would help me sleep better. (If any good souls out there have recommendations for side-sleeper pillows, leave them in the comments below.)
In reference to sleep, it's also worth noting that the Versa 2 (like the original Versa) has a relative SpO2 monitor inside, but it's not active. SpO2 sensors can help wearables track blood oxygen levels and, according to Fitbit, help identify health factors such as sleep apnea. The newest Garmin wearables (including the Vivosmart 4) have similar sensors and actually put them to use.
Meanwhile, Fitbit's smartwatches dating back to the Ionic have had such a sensor but have never seen them activated. According to a Fitbit representative, the company is still "exploring how this could manifest the consumer experience." So again, we have a new Fitbit smartwatch and no definitive timeline for the use of the SpO2 sensor.
A more practical new sleep feature lives in the quick-access settings menu, and it allows you to toggle on and off Sleep Mode, which temporarily disables notifications while you're sleeping. You can also set Sleep Mode on a schedule, like every day from 10pm to 6am, so you don't have to remember to turn it on every night. This is one of my most-used features on any smartwatch that I wear to bed, and it's one that Fitbit overlooked for quite some time, so I'm happy to see it made so accessible on the Versa 2.
Whats the same
While the above changes make the Versa 2 feel like an upgrade (in most ways) from the original Versa, plenty of things remain the same between the two smartwatches. The design skeleton has been completely untouched, so the Versa 2's case is relatively thin and unassuming, and it supports interchangeable bands and a water resistance of up to 50 meters. The bezel around the display is technically thinner, but the change isn't big enough to be remarkable—unlike the Apple Watch, you can clearly see where the Versa 2's active screen space ends and the bezel begins.
Inside the new Versa 2 is a heart-rate monitor, altimeter, and the traditional suite of fitness sensors that allows it to track all-day activity and sleep. It also supports connected GPS like the original Versa, so you can map outdoor workouts when you have your smartphone with you. Onboard GPS is the biggest thing, on the fitness side, that the Versa 2 still lacks, and it would have gone well with the newly standard NFC support. But I understand why Fitbit wants to keep that hardware feature on the Ionic, which is more premium, more advanced from a fitness perspective, and more expensive.
The Versa 2 is just as capable of tracking exercise as the original Versa was. The heart-rate monitor is accurate, typRead More – Source