Donald Trump and Kim Jong Un will hold a one-on-one meeting for 45 minutes during their summit – with retired American officials warning the high-stakes talks pose an "unacceptable danger to US national security".
Both leaders will only be accompanied by a pair of translators during the intimate huddle at the very start of the summit. Later in the morning, the meetings will be expanded to include US president's chief of staff, national security adviser and secretary of state – as well as members of the North Korean leader's entourage.
Concerns have been raised over how the monumental talks, which begin 15 minutes after they meet each other for the first time, will take place without anyone on hand to take notes or witness what is being said.
:: Live updates on Trump-Kim summit
Paul Haenle, a former China director at the White House's National Security Council when Barack Obama and George W Bush were in power, said: "Bad idea. I could see Trump giving up a lot for very little in return."
Barry McCaffrey, a retired US army general, went one further – warning America's security was at stake.
He said secretary of state Mike Pompeo and defence secretary Jim Mattis should oppose the one-on-one meeting "in writing" – and called for the National Security Council to have a transcript of all interactions with "brutal, nuclear armed dictator".
:: Schedule for Trump-Kim summit revealed by US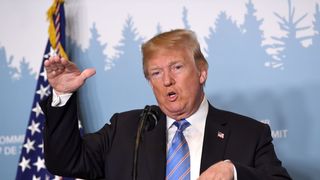 Having aides present in meetings with adversaries is regarded as a way of providing a president with protection, as it prevents remarks from being misinterpreted.
But despite the apprehension over Mr Trump and Mr Kim's one-on-one talks, presidents have long met privately with foreign leaders – including enemies – with only interpreters on hand as witnesses.
Barack Obama occasionally held impromptu chats with fellow leaders at major global summits, with only their translators in attendance.
:: Trump-Kim summit: Everything you need to know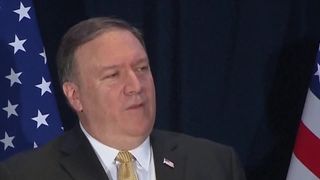 Indeed, early on in his presidency, Mr Trump met Russian President Vladimir Putin during a conference in Germany, and only a translator from the Kremlin was present then.
Back in November 1985, Ronald Reagan met then-Soviet leader Mikhail Gorbachev in Switzerland, accompanied only by their trusted translators. That meeting in Geneva was only meant to last for 15 minutes, but it continued for a full hour.
:: Weapons of mass destruction expert joins Trump at summit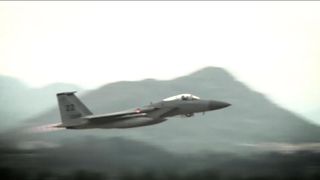 It is not known who will be translating for Mr Trump at the Sentosa Hotel in Singapore.
More from World
However, when Mike Pompeo met Mr Kim in Pyongyang earlier this year, translations were provided by Andrew Kim – a Korean-American who formerly served for the CIA in Seoul.
Andrew Kim has been spotted at the Singapore hotel where Mr Trump is staying. However, he was not listed as a member of the official US delegation.
[contf] [contfnew]
[contfnewc] [contfnewc]