Facebook Inc said on Oct. 26 that it had removed an ad falsely claiming that Senator Lindsey Graham (R-S.C.) supported the Green New Deal, demonstrating that it will fact-check ads from political groups but not politicians.
The ad, which ran on Friday, was put up as a stunt by a left-leaning Political Action Committee, or PAC, called The Really Online Lefty League, to test Facebooks political ad policies.
The ad was rated as false by Lead Stories, a fact-checker service used by Facebook. Lead Stories stated in an article posted on its website that "since The Really Online Lefty League is not a politician (or running for office) Lead Stories has rated their ad as "False."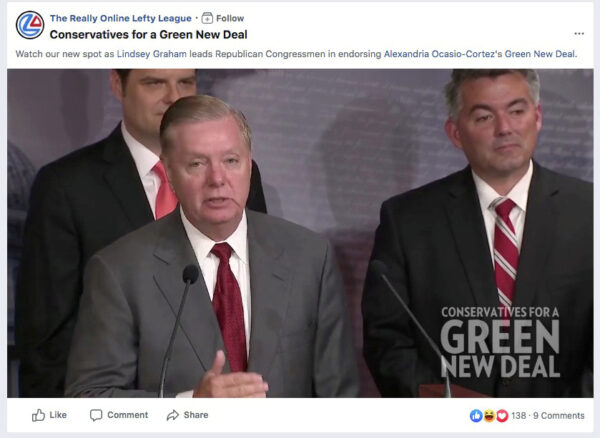 The Lead Stories article also explained that due to Facebook policy, any Facebook posts, including ads made by a politician, "are not eligible to be rated by the third-party fact-checkers Facebook is working with," like Lead Stories.
Facebook has been criticized in recent weeks over its decision to not fact-check ads run by politicians, drawing ire from Democratic candidates running in the 2020 presidential election such as former Vice President Joe Biden and Senator Elizabeth Warren.

Last week, Facebook Chief Executive Mark Zuckerberg defended Facebooks policy, saying that the company did not want to stifle political speech.
Facebook spokesman Tom Channick told Reuters on Friday that since the new ad came from a political action group, rather than a politician, it was eligible for review by the companys third-party fact-checking partners.
At the time of writing, the ad could still be viewed on the PACs Facebook page, but paid distribution had ceased.

The ad was posted days after Representative Alexandria Ocasio-Cortez (D-N.Y.) grilled Zuckerberg on whether Facebook would permit her to run such an ad, during a congressional hearing on Wednesday.
The Washington Examiner reported that "OcRead More – Source