After a stunning six-week rally, our head of markets explains why investors are still piling in today.
If the market was waiting for signs of an immediate improvement in Burberry (LSE:BRBY) fortunes, it will not be disappointed as the fashion house has delivered an update which is much better than expected – and on a number of fronts.
Positive progress is in evidence, even since the recent full-year results. The Riccardo collection is gaining traction, new products are for the first time making a meaningful contribution and the company is beginning to benefit from a stronger digital presence. It is building its own "brand heat" with social media increasingly becoming a driver, with its innovative offers keeping the iconic brand fresh.
Retail revenues have grown by 4 per cent, which is well ahead of expectations, and there should be much to look forward to this year, in that operating profit is likely to be skewed towards the second half.
In the meantime, tourist spend has increased, which is of particular benefit in the UK and perhaps equally importantly, the Asia Pacific region and China in particular have shown a return to form. This remains an important target area for Burberry, where the emerging middle class is a ripening market.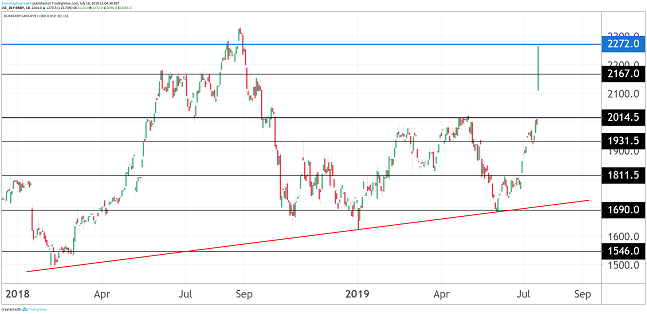 Source: TradingView Past performance is not a guide to future performance
Of course, flies in the ointment remain, and it will be important that these are dealt with effectively. US sales are flat and Canada down, accessories have also had a soft quarter and the companys guidance assumes a stable economic environment.
As such, a "no deal" Brexit would have a material operational and financial impact on the business, which the company is part preparing for. More broadly, the full implications of the US/China tariff spat are yet to wash through fully to those economies and this could also have a negative impact.
Meanwhile, the dividend yield of 2.1 per cent remains light given that Burberry was holding net cash at the year end, although this does potentially leave some room for manoeuvre in increasing the payout in the future.
Perhaps not surprisingly, the statement has been warmly greeted by investors and adds to the 13 per cent hike in the share price over the last six months. The picture over the last year is not so bright, with the shares having dipped 6 per cent as compared to a loss of 1 per cent for the wider FTSE 100.
Transformations such as the one Burberry is undertaking are a marathon, not a sprint. While the market may lack conviction at the moment – the general view of the shares comesRead More – Source