By Graeme Evans from interactive investor.
The UK consumer is the driving force behind very different outcomes for this pair of tiddlers.
Over 50s fashion chain Bonmarche (LSE:BON) raised the white flag last week after seeing the British weather scupper its defence against a £5.7 million takeover by billionaire Philip Day.
The retailer, which was valued at £100 million when it floated on the stock market in 2013, said its about-turn had been swayed by auditor PwC saying it may include a going concern caveat in forthcoming annual results unless the trading outlook improved.
Shares today slid 26% to the 11.4p offer price proposed by Mr Days Dubai-based investment vehicle Spectre, with the retailer now recommending that shareholders accept the offer from the Edinburgh Woollen Mill owner and majority shareholder.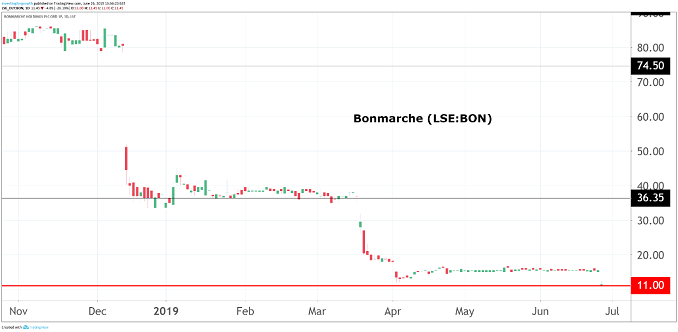 Source: TradingView Past performance is not a guide to future performance
Bonmarche said that trading in the first quarter of its financial year had been poor, not helped by a lack of favourable weather to offset continued weakness in the clothing market.
It said:
"In previous years, there would have been an expectation that at some stage during the selling season, better weather would generate a sales peak to offset the dip experienced during the first quarter but, in our experience, the current clothing market is not following the patterns of previous years."
The retailer said risks were now more heavily weighted to the downside and, while it has adequate liquidity after a cost-cutting programme it is still reliant on the support of its bank with a £5 million overdraft and other facilities.
Bonmarche continues to believe the tycoon is getting the business on the cheap, but the way it has traded over the first quarter of its financial year "makes the certainty represented by the offer potentially more attractive in the short term".
It said:
"The board believes that once the near term has been weathered, the medium and long-term prospects for the Bonmarche business are good."
Bonmarche, which was part of Peacock Group before that group went into administration, trades from more than 300 stores. Last year, the stock provided investors with a yield of 9.6% after a surprise increase in the dividend pay-out of 8.5% to 7.75p a share.
While Bonmarche has suffered from particularly poor trading conditions in recent months, other consumer-related industries continue to show resilience. This was shown by personal care and beauty products specialist Creightons (LSE:CRL) after annual results caused its shares to jump 17% to 41p and within sight of 2017s record high.
Earnings per share more than doubled to 4.16p as sales of retail own label products surged 42%, helped by range extensions with its largest customer and continued growth with a major retailer in the UK.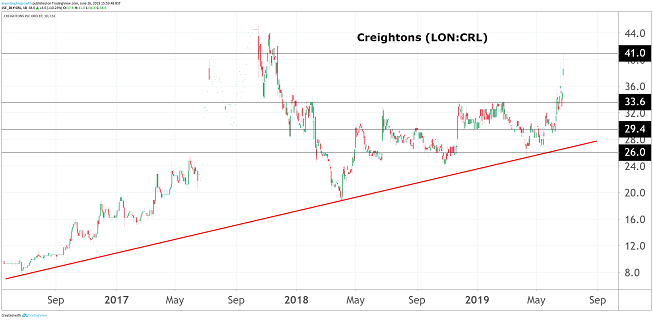 Source: TradingView Past performance is not a guide to future performance
Sales of its branded products increased by 1.4% in the year to March 31 thanks to premium brands such as Feather & Down and The Curl Company. The discount sector, however, was more challenging as many grocers moved away from brands to focus on private labels.
Chairman William McIllroy said it had been an outstanding year forRead More – Source