A recording has been released of Donald Trump discussing payment to a playboy model who claims she had an affair with him.
The audio was recorded in 2016 by Mr Trump's former personal lawyer Michael Cohen.
The pair were discussing buying the rights to the story that Karen McDougal had sold to American Media, which publishes the National Enquirer.
In the recording, Mr Cohen tells then-candidate Mr Trump about his plans to set up a company and finance the purchase of the rights.
At one point the president can be heard saying "pay with cash" – but it is unclear if this is a question, and what he says immediately before cannot be heard clearly.
The recording was given to CNN by Lanny Davis, who represents Mr Cohen.
The tape is among audio recordings that were seized by the FBI in a raid of Mr Cohen's home and office in April.
Mr Cohen is under investigation for possible bank and tax fraud, and for possible campaign law violations linked to a payment to adult film star Stormy Daniels and other matters related to Trump's campaign, according to a person familiar with the investigation.
Mr Davis says he released it to dispute an assertion by Mr Trump's current lawyer, Rudy Giuliani, that the tape would show that Mr Trump made clear that if there were to be a payment, it should be done by cheque, which would be easily traced.
Mr Giuliani has said the payment was never made.
The audio comes weeks after the National Enquirer's parent company reached a $150,000 (£114,000) deal to pay former Playboy model Ms McDougal for her story of a 2006 affair, which it never published.
Mr Trump denies the affair.
When Mr Cohen begins to discuss financing, Mr Trump interrupts him and asks: "What financing?"
"We'll have to pay," Mr Cohen responds.
The audio is muffled, but Mr Trump can be heard saying to "pay with cash" and Mr Cohen immediately says: "No, no."
Mr Trump can be heard after saying: "Cheque."
The recording was first aired on Tuesday, and on Wednesday Mr Trump tweeted: "What kind of a lawyer would tape a client? So sad! Is this a first, never heard of it before? Why was the tape so abruptly terminated (cut) while I was presumably saying positive things? I hear there are other clients and many reporters that are taped – can this be so? Too bad!"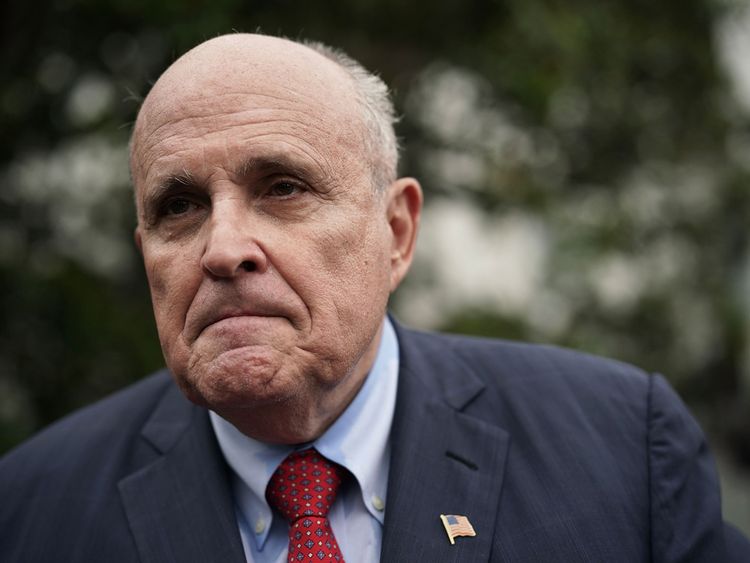 Mr Giuliani provided a transcript to CNN in which Mr Trump tells Mr Cohen: "Don't pay with cash… cheque."
"The transcript that we provided CNN accurately reflects the taped conversation," Mr Giuliani later said.
"Listen to the tape. Donald Trump is not shocked money is being paid about someone named Karen McDougal," Mr Davis said during an interview with CNN.
Mr Davis said his client Mr Cohen "has been disparaged and insulted and called all kinds of things".
More from Donald Trump
"He's got truth on his side and he'll continue to tell the truth," Mr Davis said.
Under US election law, presidential candidates must disclose campaign contributions which are defined as things of value given to a campaign in order to influence an election.
[contf] [contfnew]
[contfnewc] [contfnewc]