Lance Armstrong has agreed to pay $5m (£3.5m) to settle a federal fraud case over claims he defrauded the US government during his doping years.
The shamed cyclist was due to face trial next month over allegations he doped while riding with a US Postal Service sponsored team, so defrauding the government.
The Postal Service and his former teammate Floyd Landis sought $100m (£71m) in damages and the trial was due to begin on 7 May.
Mr Armstrong's lawyers and the US Justice Department brokered a deal on Thursday.
The department's lawyer Chad Readler said: "No one is above the law.
"This settlement demonstrates that those who cheat the government will be held accountable."
The former Tour de France champion, who was stripped of his medals, will also pay $1.65m (£1.1m) for Mr Landis' legal costs.
Mr Landis is to receive $1.1m (£78,000).
Mr Armstrong, 46, said in a statement: "I am glad to resolve this case and move forward with my life.
"I'm looking forward to devoting myself to the many great things in my life – my five kids, my wife, my podcast, several exciting writing and film projects, my work as a cancer survivor, and my passion for sports and competition. There is a lot to look forward to."
His lawyer, Elliot Peters, said the settlement "ends all litigation against Armstrong related to his 2013 admission that during his career as a professional cyclist he had used performance enhancing substances".
Mr Armstrong said the case against him by the US Postal Service was "without merit and unfair".
Mr Landis told ESPN: "I really didn't want to relive it in a courtroom, and I don't think Lance did either, and I don't know that that would have really accomplished anything.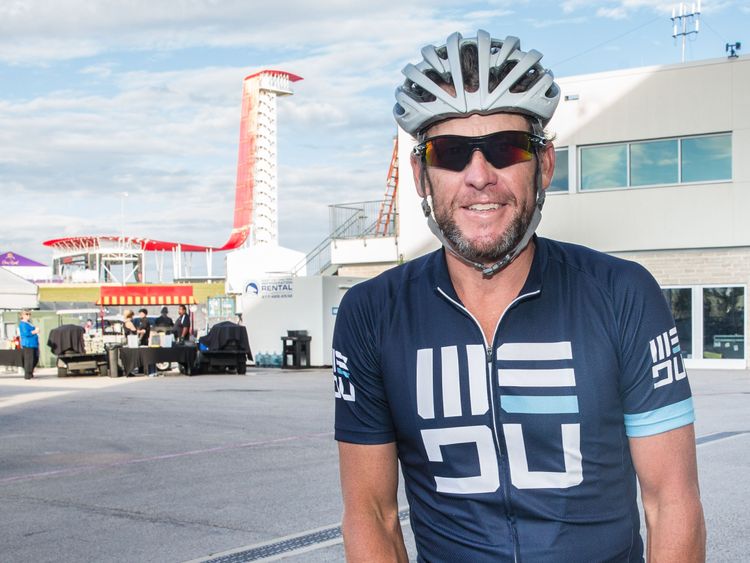 "Rather than going through that humiliation again, we're better off. I mean, it was up to Lance, but I think he probably feels the same way."
However the wife of another of Mr Armstrong's former teammates, Betsy Andreu, who is married to Frankie Andreu, was not so pleased.
She posted online: "My thought is a vengeful, unremorseful pathological liar was revealed and got a lifetime ban so all is not lost.
"In the end he is who he is and money can't buy class, respect or reputation."
More from US
Mr Armstrong was stripped of seven Tour de France titles after he admitted doping between 1999 and 2005.
He had battled cancer to return to the sport before winning the iconic event seven times in a row. He lost several sponsorship deals and was ordered to repay millions of dollars in bonus payments for Tours between 2002 and 2004.
[contf] [contfnew]
[contfnewc] [contfnewc]